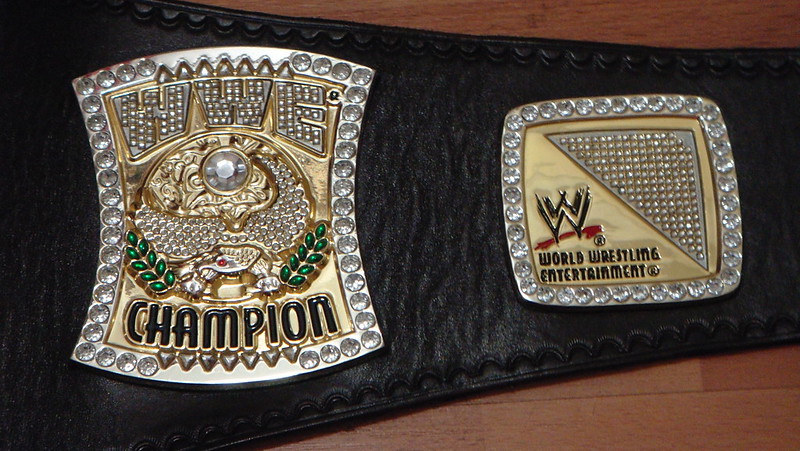 Customized Championship
Customized Championship Belts are being made for Superstars; like Stone Cold Steve Austin's Smoking Skull Belt to John Cena and "Rated R Superstar" Edge's Spinner Belt.
This year, Daniel Bryan did his own customization to the WWE Heavyweight title with a 100% "Eco-Friendly" sustainable organic hemp; carved from a naturally-fallen oak.
Now the latest legend to get the "custom" championship is: "The Deadman", "The Phenom", The Undertaker. Taker did not win any championship recently; it's more of a title that celebrates his legacy.
WWE's official announcement!
"The Undertaker Legacy Title is the latest and most elaborate offering in the Signature Series line developed to celebrate the legacy. And achievements of some of the most prolific Superstars in WWE history.

This custom-crafted limited-edition title incorporates meticulous design elements that capture the true essence of Undertaker. Exclusively available at WWE Shop, only 500 individually number titles are produce; making it a must-have for collectors and fans alike."

"The first thing you'll notice is that this championship comes in a vintage, coffin-shaped box with Undertaker's logo on the outside. And a plush purple velvet interior, perfect for displaying."

"Every detail of the title itself is design to evoke the spirit of The Deadman. The polished chrome main plate is reminiscent of a tombstone and prominently features The Undertaker's logo in translucent purple jewel tone; complete with the date of his Survivor Series TV debut on November 22, 1990, and his famous moniker, "The Phenom."  This is set against a stone ring and flanked with heraldic flourishes.

The side plates combine the WWE and Undertaker logos, paying tribute to this legendary pairing. There's even an additional urn-shaped side plate with all of Undertaker's many nicknames. The title contains a total of 24 amethyst-hue rhinestone gems; representing his 24 WrestleMania victories to date."
Customize Championship in a different category called Signature Series.
WWE's definition of what Signature Series is:
"Introducing our Signature Series Replica Titles; Championship Titles celebrating the amazing careers of notable WWE Superstars throughout history.  Each title is meticulously craft and design to pay homage to each Superstar and their unique persona."
The Undertaker's "limited edition" title is by far the most expensive collectible "Legacy Title" in Signature series; selling for 772.49$. Meanwhile, the other two legends with their signature titles are:
Shawn Michaels's red & black ring gear strap on WWF/E Winged Eagle Heavyweight Championship Replica.
Hollywood Hogan's face logo ring gear on the back of the NWO/WCW Heavyweight Title Replica.
Who will be the next in line to get a legacy title; Will it be Sting, Goldberg, or Triple H?
We won't be getting Bret Hart's Legacy Title for sure; showing up on AEW's Double or Nothing PPV and presenting their first World Heavyweight Championship Title.
Anyways, what do you think about The Undertaker's new Legacy Title?
Leave a comment below!
Follow Andrew and TSJ: WWE on Twitter!
Photo credit to PATRIOT_RS.174 via Flickr
Follow TSJ on YouTube and Twitter
//embedr.flickr.com/assets/client-code.js