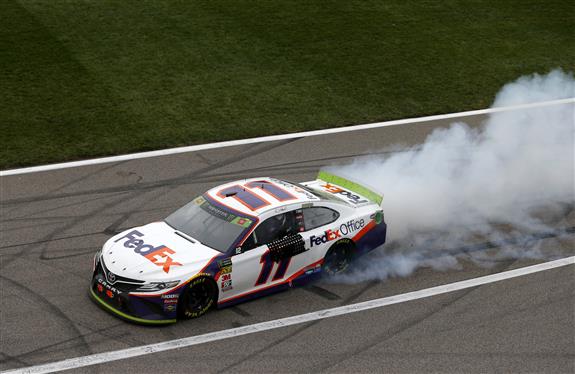 Denny Hamlin Takes Kansas Elimination Race, 5th Win of Season for #11
Is Denny Hamlin the favorite for the 2019 Cup Series championship? He took another step towards that ultimate goal on Sunday, by winning the Kansas elimination race to close out the Round of 12. Behind Hamlin, four other drivers saw their hopes at the title come to an end. This marks the fifth win of 2019 for the #11 team. Hamlin is in the midst of his best season ever as he chases the elusive championship.
Surprising Front Row Cedes Top Spots to Contenders
Saturday afternoon's qualifying session gave way to a truly unique front row for Kansas. Earning his first career pole, rookie Daniel Hemric would start alongside David Ragan, likely making his final Kansas start. Only three of the 12 Playoff contenders would actually start the race in the top 10, but that would soon change.
By lap 4, Kyle Larson had the lead after starting fifth. The #42 would swap the lead early on with Brad Keselowski, until Larson began to pull away. Prior to his first pit stop, Larson had a lead of more than eight seconds.
Late Caution Alters Stage 1 Results
Larson appeared to be on his way to a commanding Stage 1 win, until a late debris caution. Ryan Newman triggered this caution by hitting the wall after trying to pass teammate Ricky Stenhouse, Jr. With most of the front runners pitting, Larson's team suffered a slow stop that saw them exit in ninth. With four cars staying out, Larson was outside of the top 10 for the two lap dash to close Stage 1.
This final restart for Stage 1 was potentially a highlight of the year. With old tires up front, new tires behind them, and Stage points on the line, the field went five wide down the backstretch and somehow stayed together. Up front, it was Joey Logano who edged ahead of the melee and took the Stage win. The ten points awarded to Logano were integral in his efforts to ward off elimination. Right behind Logano was Chase Elliott, who entered the Kansas elimination race below the cut line. For the top two finishers, Stage 1 was a huge points win.
For Elliott, a day the 9 team saw as a must-win to make the Round of 8 continued at the start of Stage 2. With Logano pitting, Elliott inherited the lead. However, the 9 would soon fall to the clutches of Daniel Suarez. Lap 93 would then see Martin Truex, Jr. take the lead for the first time all day. As a two-time Kansas winner, Truex was pegged as a pre-race favorite for a three-peat.
Larson Not Happy With Lapped Traffic
While Truex was up front cruising, Larson was trying to regain lost ground and charge through the field. Larson's surge wound up in a caution when the #66 of Joey Gase went spinning off of the 42's bumper. Gase blocked Larson in turn 4 as he tried to pass in the high lane. Larson did not appreciate being raced this hard by a lapped car and sent a clear message to Gase.
To make matters even worse for Larson, under this caution the 42 got busted for an uncontrolled tire penalty. This infraction sent Larson to the tail of the field.
Another Playoff contender would also face adversity during this pit stop. Kyle Busch's hood went up briefly due to reports of his throttle sticking. The 18 crew was able to rectify this issue and continue forward.
Teammates Race for Stage 2 Win
With 40 laps left in Stage 2, Martin Truex, Jr. restarted alongside Denny Hamlin. While Truex got the jump on the restart, Hamlin stayed with him and took over the top spot on lap 126. Hamlin would inch away from Truex, and took the Stage 2 win. Stage 2 in the Kansas elimination race would be the fifth Stage win of 2019 for Hamlin.
Stage 2 would see two spots in the Round of 8 clinched on points. Hamlin and Truex would both lock up their positions for the upcoming Playoff round. With 100 laps left in the Kansas elimination race, the 11 and 19 would simply be gunning for the trophy while eight others fought off the cut line.
Bubble Battle Tightens as Hamlin Hammers Home
Up front the final Stage would be dominated by Hamlin, as the 11 would lead all but eight of the final 111 laps. Meanwhile, the battle for the final transfer spot into the Round of 8 was as close as ever between Brad Keselowski and Chase Elliott. While Elliott was up front contending for the win, Keselowski was falling backwards. Keselowski entered the Kansas elimination race with a 20 point cushion above the cut line, which was quickly evaporating. With under 50 laps to go, The 2 car went a lap down. Keselowski's buffer was down to just a few points, and shrunk with every spot Elliott gained.
Debris from Keselowski's teammate Ryan Blaney scraping the wall would bring out a yellow on lap 254. This caution was not what Keselowski wanted, as the restart allowed Elliott to continue passing cars and gain more points. Elliott would get as high as second when another caution came out.
Bubba Wallace losing his left rear wheel and hub assembly would send the #43 spinning in turn 2, meaning another caution. This caution would set up an overtime finish to the Kansas elimination race. For the restart, Elliott was 2nd while Keselowski was 15th. Brad needed to retain the 15th spot if he was to beat Elliott into the Round of 8.
Hamlin Inches Away from a Premature Win, Second Overtime Finish
The overtime restart would soon turn into chaos. Both Daniels, Suarez and Hemric, would spin coming to the white flag. Also involved would be Joey Logano, taking a spin through the grass. Keselowski also suffered slight damage here.
Hamlin was just feet away from taking the white flag, effectively ending the race, when the caution lights flashed. Another overtime restart would be on hand for the Kansas elimination race. The front runners did nor change over the final two laps, as Hamlin led Elliott to the checkers.
Further back though, Keselowski had his hands full with a very ill-handling 2 car. Keselowski was dropping like a rock through the field, and made wall contact off of turn 2 on the last lap. The 2012 champion would fade to 19th, missing the Round of 8 by just three points.
Significance of the Win for Hamlin
By dominating the second half of the Kansas elimination race, Denny Hamlin secured his fifth win of 2019. Five wins for Hamlin is the most since 2012, and only trails his 8-win season from 2010. Despite lacking in wins, Hamlin is having his statistically-best season to date. His top 5 finishes tally of 17 is a career-high, and his average finish of 9.3 is also his best since 2006. Fresh from the Kansas win, Hamlin will head to one of his strongest venues at Martinsville Speedway.
"Yeah, I love where we are at, no doubt about it. I cannot wait to get to Martinsville," Hamlin said after the win. "This week was just supposed to be a fun week for us, kind of check things out and make sure that we are good once we get down the road as we get to other tracks and I'm pretty happy about where we are at."
Denny Hamlin's Kansas win was also a turning point for Joe Gibbs Racing. Sunday marked their 16th win of 2019, which is a team record. Their 16 victories this season have come at the hands of all four drivers, as three of them are in the Round of 8.
End of the Road for 4 Contenders
While Hamlin is riding the high of the victory, four other drivers were on the losing end of the Kansas elimination race. The Round of 12 is the end of the championship chances for Brad Keselowski, Clint Bowyer, William Byron, and Alex Bowman. Keselowski is the only one who came into the Kansas elimination race above the cut line, as he blew his 20-point cushion. This quartet of drivers totaled four wins in 2019, and will be chasing more victories over the last four weeks.
Other Notables in the Top 10
Elliott Exuberant on Advancing
Right on Hamlin's bumper in second was Chase Elliott, who will move onto the Round of 8 as the only Hendrick car. "Honestly, I was just trying to win the race and the rest of it just kind of fell into our hands a little bit, with the 2 (Brad Keselowski) having a misfortune and the 22 (Joey Logano) being in that crash," Elliott said. "Luckily, we got a good bit of stage points in that first one, got five more in the second stage, and battled for the win. I was proud of that. We weren't the best car by any stretch, but I did feel like we came here with the mindset to win and I was proud of the fact that we came here and fought for a win."
Making the Round of 8 for the third-straight year, Chase Elliott is gunning for his first Championship 4 appearance. With Martinsville and Phoenix being two of his best tracks, Elliott could be sitting pretty. Chase will enter the Round of 8 in the sixth seed.
Busch Brothers Both in Top 5
Both Kyle and Kurt Busch ended Kansas in the top 5, with Kyle (3rd) just edging out Kurt (4th). Kyle is in the Round of 8 for the fifth time, as the new points leader. Much like Elliott, the three tracks in the Round of 8 line up great for Kyle, as he has recent wins at all of them. Each of Kyle's five Round of 8 appearances has preceded a Championship 4 trip, can the 18 keep that streak alive?
"It's about how we're supposed to run," Kyle said. "I guess if you're not in control on the last restart then you don't have a chance to win." Kyle was clearly not happy with how his day ended, as he failed to lead a single lap.
Top 5 Result is Not Enough for Byron
Coming behind the Busch duo in the top 5 was William Byron. The youngest man in the 2019 Playoffs will not advance past Kansas, as the fifth place effort was not enough to overcome their points deficit. "It's just a bummer," Byron said. "But we had a great run today and we can take pride in that, for sure. We had a great car, one of the best cars we've had on a 1.5-mile track. It was fun, but we just needed to win and we couldn't do that. But it is what it is. It was a great day for us overall, we'll move onto the next couple of weeks and keep fighting. If we can go out and win, that's all that really matters now."
Truex Fades Late
After leading late in Stage 2, Martin Truex, Jr's Toyota fell back to finish sixth. While it's short of the third Kansas win Truex wanted, Sunday was still a solid day for the #19 team. "It was a good race and we had a good Bass Pro Toyota all day long," Truex said. "We just got off there those last couple runs of the race. When it got cloudy, we got tight and we couldn't quite get it dialed in where we needed to. Overall, a solid day and we did what we needed to do." Truex will enter the Round of 8 as the #2 seed. The 2017 champion is racing for his fourth trip to the Championship 4.
Jones Completes JGR in Top Seven
As the last of the JGR Toyotas, Erik Jones brought the #20 home in the seventh position. Jones is the lone JGR Camry not in the Round of 8, so a solid top 10 run is excellent for this non-Playoff team.
"It was a good day. Kind of up and down," Jones said. "We lost some track position there in that middle stage and it was just a struggle to get it back all day. I thought the Reser's Camry was really good on the long run and we were kind of running those guys down before we had the caution come out late for the first of those final restarts. We just didn't have a great short run car and it didn't play out the way we needed it and not a clean enough race to contend. It's frustrating when you have that fast of a car, but a good day." Jones is simply aiming for consistency after being eliminated from contention, as Kansas is his first top 10 since winning at Darlington.
Not Quite There for Bowyer
Hometown hero Clint Bowyer leave the Kansas elimination race on the wrong side of the cut line after finishing eighth. After struggling to show speed or execution on intermediate tracks for much of 2019, a top 10 is a welcome surprise for the #14. "Obviously we wanted to be in victory lane," Bowyer said. "I like the situations that we could put the car in and it would withstand. We got a little bit of damage there on that last stage. I don't really think that affected it that much. It was a decent day. It wasn't a stellar day by any means. I am proud of our effort. I am proud of trying something there and it working out."
Coming off of a year where he won twice, 2019 was a trying season for Bowyer. It's no small feat that Bowyer was able to make the Round of 12, given that he had so few bonus points. Bowyer is facing some of his better venues for the remainder of the season though, so the #14 could still be up front.
Harvick Not Happy All Weekend
After an unusually quiet day on-track, Kevin Harvick brought the #4 home in ninth. While he is still very much alive in the title fight, Harvick showed great displeasure after Kansas. "That was not a very good weekend from top to bottom," Harvick said. "I just didn't have a very good car today and didn't have a very good day on pit road. Nothing went right all weekend. It was definitely one of the worst weekends we have had in awhile. We had to start in the back and had a tough day getting through traffic. A couple times we got up there and then had bad stops and got mired in traffic. It didn't go as planned with our Jimmy John's Ford but we did what we needed to do to get to the next round and now we get to start over."
Harvick enters the Round of 8 as the fifth seed, just 2 points back of transferring into Homestead. While Martinsville has never been Harvick's strongest track, Texas and Phoenix are perhaps his two best venues. The #4 team is a two-time defending winner of the fall Texas race, and Phoenix has been Harvick's hotbed. Harvick has only missed Homestead once in the five seasons of this format. With this in mind, his odds of making the Championship 4 are right up there with the JGR cars.
Top 10 Recovery for Johnson
One of the most consistent drivers in the Playoffs has been the highest profile non-contender, Jimmie Johnson. The 7-time champion earned his fourth top 10 in the past six races by finishing 10th at Kansas. This came after Johnson made early wall contact too, so it was a solid recovery for the #48. "I think someone said fourteen spots on the radio. We passed a lot of cars, so that was cool," Johnson said.
Johnson was involved in one of the more surprising moments Sunday as well. On the last lap of Stage 2, leader Denny Hamlin slowed enough to allow the 48 to catch and pass him, getting back on the lead lap. Hamlin was "just trying to be a nice guy," he said to NBC post race. "Never can have too many friends out there, especially this point of the season.  You go a lap down, it changes your race.  Obviously he was up there racing in the top five there towards the end. Just putting another coin in the deposit box."
How to Watch the Next Race
The next stop for the NASCAR Cup Series is the Round of 8 opener at Martinsville Speedway. The Half Mile of Mayhem has provided season-best highlights in recent years, as the First Data 500 has been integral to multiple championship seasons.  Coverage begins on Sunday, October 27 at 3 PM EST on NBCSN, MRN, and SiriusXM NASCAR Radio Channel 90. TSJNASCAR will have two reporters in attendance, so follow along with both Peter Stratta and Noah Lewis. The Martinsville Playoff race is must-see TV, as the past few seasons have given a year's worth of drama.
Written by Peter Stratta
Be sure to follow us on Youtube and Twitter.
Be sure to follow the writer on Twitter.
Photo credit to NASCARMedia