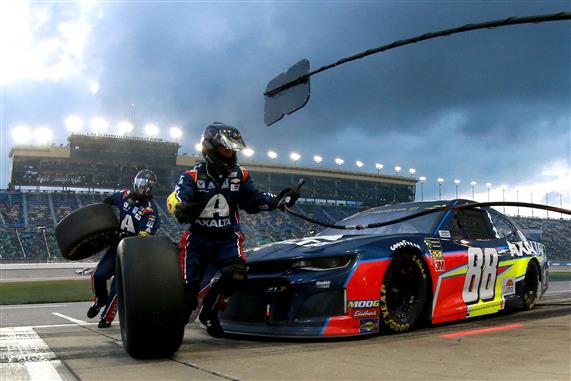 Hendrick Drivers Enter Kansas Under The Playoff Cut Line
Following last weekend's wild race in Talladega, three Hendrick Motorsports drivers find themselves under the playoff cut line. Alex Bowman sits just 18 points below a transfer spot. Under him is teammate Chase Elliott who is -22 points away in 10th. In 12th is fellow Hendrick driver William Byron who sits 27 markers back. The team certainly has their work cut out for them if any driver is going to advance to the round of 8.
Alex Bowman
Alex Bowman is the Hendrick driver with the most recent success in Kansas. His 2nd place finish at the track earlier this season shows he knows how to get around this place. In his 8 Kansas starts, he's recorded 1 top 5 and 3 top 10s. However, Bowman didn't seem very happy with the car following qualifying.
"I'm pretty bummed with how we've been throughout the weekend, especially with how strong we were here in the spring," Bowman said. "We were a 30th place race car yesterday in practice, so I'm pretty worried."
Although Bowman showed he was worried, he also gave some optimism. "We have a lot of really smart people working hard to make it better. The 24 I thought looked really good in practice yesterday, at least compared to us. Hopefully, we can lean on them and just try to get all four of our cars better than where we were yesterday."
Chase Elliott
As we look at overall stats, Chase Elliott seems to be in the best shape leading up to today's race. Elliott finished 4th at Kansas earlier this season and was the winner in last year's October race. In total, he's claimed 1 win, 3 top 5s, and 4 top 10s at the track. When asked about how he approaches this race Chase made it simple. "It's a must-win." Elliott will roll-off from the 14th starting spot today.
William Byron
William Byron statistically is the worst-ranked HMS driver this weekend. In his 3 Kansas starts, he has two DNF's and a best finish of 20th earlier this season. However, Byron feels good about this "stressful week."
"It hasn't been a super easy week, it's been pretty stressful," Byron stated after qualifying. "But, we kind of know what we have to do and we didn't really do anything different this week. We just spent our normal time in the simulator. I feel like this is a good track for us as a team, hopefully, that pays off tomorrow.
I felt that way throughout practice, in terms of how the car felt and how confident I could be with my moves," Byron said on how his car handled. "Feel like the feeling I had was similar to when I ran the truck here. Hopefully, that's the confidence that we need. Honestly, even if it's not really there, you just have to go for it. It's just going to be all hands-on deck to try to go out there and win. If we can do that, that would be awesome. It's honestly what our approach is for the rest of the year. If we make it through this round, we're going to have to win in the next one anyways."
Which Hendrick Driver Do You Think Could Find Victory Lane?
Will one of the HMS drivers make the next round? Make sure to tune in to the Hollywood Casino 400 to see which four drivers get eliminated from the Playoffs. You can find the race on NBC, SiriusXM NASCAR Radio, and MRN.
Written by Noah Lewis
Be sure to follow us on Youtube and Twitter.
Be sure to follow the writer on Twitter.
Photo credit to NASCARMedia.