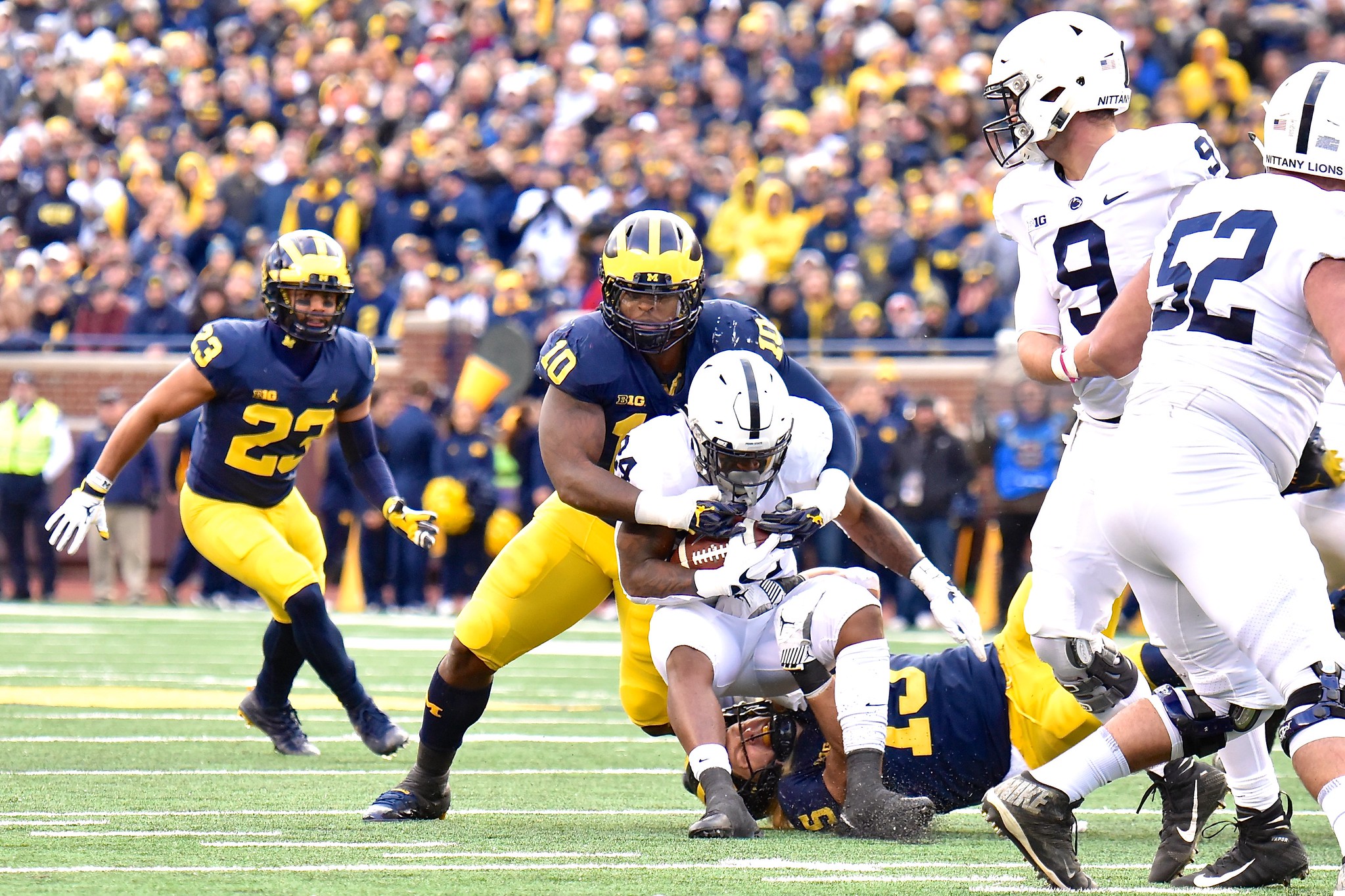 Penn State's White Out Against Michigan
After a defensive slug fest in Iowa City. Penn State will now revamp and prepare for its annual White Out game against No. 16 Michigan Wolverines. This top-20 matchup is so big that ESPN's College GameDay has already confirmed they'll be in State College on Saturday.
Penn State
The Nittany Lions come into this matchup unbeaten at 6-0. They've won every single Big Ten matchup thus far and are entering the gauntlet of their schedule. Currently, Penn State is favored by 8.5 points against the Wolverines ahead of this Saturday's game. Furthermore, the game in Iowa City snapped quarterback Sean Clifford's five-game streak of passing for 200 plus yards. On the other hand, freshman running back Noah Cain came up huge late in the game. Cain had yet another 100-yard rushing game and scored the late touchdown to secure the victory for the Nittany Lions.
Furthermore, K.J Hamler has continued his dominance as an elite target for Penn State. To date, Hamler has 26 catches for a total of 455 yards. Furthermore, Hamler averages 17.5 yards per carry and has tied his touchdown total from last season with five. Hamler has proven to be a tough target to cover for opposing defenses.
Michigan
The Wolverines come into this game with a 5-1 record overall and 3-1 Big Ten conference record. The only blemish to Michigan's record this season is a loss to Big Ten West opponent Wisconsin. Jim Harbaugh enters his fifth season as Head Coach of Michigan and has yet to claim a Big Ten title. On the offensive side of the ball, the Wolverines are led by quarterback Shea Patterson. On the season, Patterson has thrown for nine touchdowns and has completed 57 percent of his passes. The Wolverines also have a true freshman running back in Zach Charbonnet. Charbonnet is averaging 62.67 yards per game. On the other hand, Charbonnet is coming off a game in which he rushed for over 100-yards.
Fun fact, Penn State and Michigan are the only two teams in the Big Ten that have true freshman running backs who've rushed for 100 plus yards. As for the defense, defensive coordinator Don Brown has a couple lethal weapons he'll utilize. No. 7 Khaleke Hudson and No. 19 Kwity Paye. Hudson is a senior linebacker who ranks third in the Big Ten with 9.7 tackles per game. Like wise, Hudson has led Michigan in tackles five of their last six games. Paye is a defensive lineman who leads the Big Ten with seven tackles for loss. Thus far, Paye has registered 4.5 sacks and three quarterback hurries this season.
History And Penn State's White Out
Overall, there have been 22 meetings between both schools with Michigan winning 14 and Penn State winning 8. This is the annual White Out game. The atmosphere is going to be electric in Beaver stadium. The last time Michigan visited Penn State, it was for the White Out game in 2017
Written By Tom Johnston
Photo credit to MGoBlog via Flickr