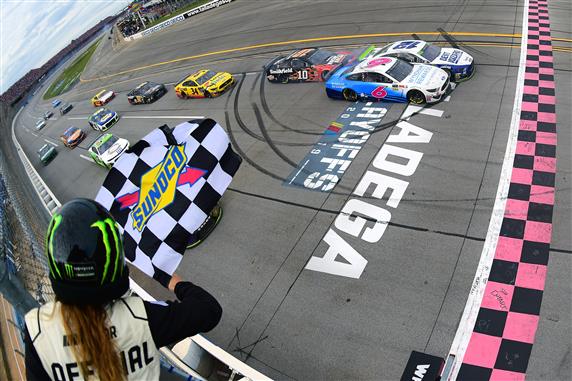 Ryan Blaney Survives and Wins Another Bonkers Playoff Race, This Time at Talladega
In a race that took over 24 hours to complete, carnage was at a premium. The 2019 running of the Talladega Playoff race was not kind to the 12 contenders. After a 2-lap dash to the checkers, Ryan Blaney survives and moves on in the Playoffs. This is Blaney's first win of 2019, as well as his second Playoff victory. Blaney's margin of victory over Ryan Newman was a photo-finish worthy 7 thousandths of a second.
The Playoffs are now halfway complete, as the Round of 12 elimination race looms next week. After a chaotic Talladega, several drivers are in deep holes entering the Round of 12 finale at Kansas.
Calm Before the Storm in First Stage on Sunday
With the threat of rain hanging over Talladega all day Sunday, NASCAR moved up the race's start time. At the initial start, it was Brad Keselowski and Kyle Busch who would lead early. Lap 19 would be Ryan Blaney's first time out front all day, as he took the lead away in the second lane.
Blaney would hold the lead until green flag pit stops on lap 35, when the 12 spun coming into the pits. The speeding penalty from this botched pit road entry would send Blaney to the tail of the lead lap, but the 12 would recover. A near-immediate yellow for a stopped car would allow Blaney to regain his lost position. After a costly mistake, Blaney survives to continue onward.
Stage 1 would end on Sunday without any further issues. After the green flag cycle of pit stops, the lead swapped between Brad Keselowski, Kurt Busch, and Chase Elliott. On the last lap of the Stage though, William Byron had the point. After holding off a late charge from Joey Logano, Byron scored the Stage win.
After the Stage 1 conclusion Sunday, rain quickly moved into Talladega. The persistent rain, combined with a lack of lights, would push the final two Stages to Monday afternoon at 2 PM.
Huge Crash to End Stage 2
For the beginning of Stage 2 on Monday, it was the Penske trio of Blaney, Keselowski, and Logano all taking turns out front. That would change on Lap 77 however, as Chase Elliott led a train of Chevrolets by Logano. Under the extended red flag, all Chevrolet teams had a meeting where Jim Campbell told them to work together to put a Camaro in victory lane. After another round of pit stops, another Chevrolet would lead with Jimmie Johnson. Johnson's teammate Elliott would pass him in a matter of laps though.
After the tandem-drafting duo of Clint Bowyer and Joey Logano cleared themselves, the pack quickly caught them late in Stage 2. With Stage points on the line, the intensity ratcheted up. The Fords were dueling the Chevrolets for the Stage win, and chaos would ensue.
After getting pushed well clear of the pack, Alex Bowman's #88 was quickly caught by Joey Logano. Bowman threw a late block on Logano, sending the 88 spinning entering turn 3. The 88 would collect several of his Chevy teammates: the 9, 48, 42, 1, 47, and others on lap 108. This massive crash caused by Bowman's late block would bring about a premature end to Stage 2, giving the ten points to Clint Bowyer. For Johnson, Bowman, Larson, and others, the damage was day-ending. After working together to stay up front, many of the Chevrolet Camaros crashed out after 110 laps. Bowman would simply describe this carnage as "I threw a block that I shouldn't have."
Cooler Heads Prevail Early in Final Stage
With many of the heavy hitters taken out of contention, the drivers took a collective chill pill and began to simply log laps. Early in the final Stage, there were 2 brief cautions for Bubba Wallace crashing on lap 123, and for debris on lap 133. Up front, it was Clint Bowyer, Kyle Busch, and Joey Logano taking turns leading. Under the debris caution, Bowyer would pit again to top off with fuel. This put the #14 Mustang behind any possible mayhem that could ensue, with just 51 laps left.
Unfortunately for Bowyer, his plan of riding around in the back did not play out to fruition. Lap 149 would see the 14 graze the wall off of turn 2, and he would cause the next yellow on lap 154. Bowyer's car spun in turn 3 and got stuck, forcing the track workers to use the push truck to get him righted. To add insult to injury, Bowyer lost 2 laps while trying to get his car righted. After being one of the strongest cars pushing or leading all day, Bowyer was trapped laps down. His chances at the win were over with 34 to go.
Restart Leads to Near-Airborne Moment for Logano
After the race resumed with 30 laps to go, the intensity would ramp up again. Ricky Stenhouse, Jr. muscled his way past Byron for the lead in the outside lane, as the #17 was looking for his second Talladega win. This intense racing up front would only last six laps though, until a badly-timed push triggered another big one.
With a big surge of momentum behind him, Kurt Busch got pushed into William Byron. The pointed nose of Busch's Chevrolet Camaro sent Byron's #24 spinning, right up into Joey Logano. With Logano's #22 getting hit hard in the left rear, it's a miracle that he did not get airborne. The ensuing crash would collect Erik Jones, Ryan Preece, Matt Crafton (subbing for Menard in the #21) and others. After leading and being the aggressor all day, Logano was forced to pit and make heavy repairs. Logano would somehow recover though to finish in 11th. This wreck would also end the days of both Byron and Jones.
One Final Chaotic Crash Sets Up 2-Lap Dash
After the lengthy cleanup, the restart came with less than 20 to go, with Stenhouse leading David Ragan. On the jump, Stenhouse would get away, but this run would only last three laps. A quick caution came out for Daniel Suarez spinning in turn 4, and eventually retiring his #41 machine.
The next restart would see Kurt Busch at the point once again, looking for his first-ever Talladega win. The elder Busch would go 3-wide for the lead against his brother Kyle as well as Stenhouse. With 7 to go, this race was as heated as ever. This would come to an abrupt stop when a hellacious crash unfolded once again entering turn 3.
Gaughan Goes Over
While being pushed to the lead by Keselowski, Brendan Gaughan's #62 Camaro would pirouette mid-air after contact from Kyle Busch. Aside from the 18, 62, and the 2, this crash also collected Ragan, Stenhouse, and Matt Dibenedetto among others. The fact that Gaughan flipped over took away the breaths of many onlookers. Thankfully Gaughan would leave the infield care center without issue.
The cleanup from this caution would set up a 2-lap dash to the checkers. Ryan Blaney restarted alongside Aric Almirola for this closing run. Blaney would quickly clear Almirola at the stripe and moved down to block the 10's charge.
Going down the backstretch for the final time, Denny Hamlin's wounded FedEx #11 car gave a monster push to Ryan Newman's #6 Mustang. Their duo easily cleared Almirola and Blaney entering turn 3. However, Hamlin had to back off after Newman got loose. Newman got too far ahead of Blaney, allowing the 12 to catch him again. Blaney and Newman made contact in the trioval and across the stripe. Blaney's Mustang just beat Newman across the line by about two feet.
Significance of the Win for Blaney
Career win number three for Ryan Blaney locks him into the Round of 8 for his second appearance. Blaney survives to fight among the elite 8 for a spot in the Championship 4. His Talladega win comes after he started 9th and led 35 laps. This also marks Blaney's first victory since last year on the Charlotte Roval.
"It was an amazing effort the last two days to be honest with you," Blaney said post race. "We spun out early yesterday and missed some big ones today. We were able to weave our way through. I can't thank Aric Almirola enough for helping me out there at the end. That big push that Newman and the 11 got I knew I wasn't going to be able to block it. They were coming so fast and they wanted to split me. I wanted to stay to the bottom and kind of pulled the 11 off the 6 and then had a big enough run to get to the six.
We kind of hit above the line and that pushed me below the line. That is a big judgement call. You never know. I definitely wasn't going to go below the line before we made contact. I can't say enough about this Dent Wizard team. It has been super fun the last couple of days. We are moving on! This is super cool."
Blaney's win is also significant for Ford, as it extends their active streak of Talladega Playoff victories to six. Both of Blaney's teammates and Aric Almirola also have Talladega wins in this span. Team Penske has also won seven of the last 11 Talladega races, now with all three of their drivers.
Other Notables in the Top 10
Not Quite There For Newman
After being eliminated from the Playoffs in the first round, Ryan Newman put together his best race of 2019 at Talladega. While it's not the win Newman and the Roush-Fenway #6 team want, a runner-up result is a large step in the right direction.
"It's disappointing to not win that one, to be so close," Newman said. I've been that close here before. Quite a few years I've tried, but just crazy racing and proud to get our Wyndham Rewards Ford a good finish. I'm disappointed obviously we didn't win – to be that close. It's part of racing. I've always said you've got to lose some that way before you can win some that way, and I guess our wins are coming."
By finishing 2nd, Ryan Newman ties his career-best finish at Talladega. His first runner-up on the Alabama superspeedway came in this race two years ago.
Hamlin Hammers Away at Consistency
After being trapped a lap down early after damage, Denny Hamlin survived the carnage to bring it home in third. Hamlin chose to utilize the strategy of riding around in the back until the last restart. On the final lap, he just about pushed Newman to the win. Hamlin's patience definitely paid off, as the Daytona 500 champion left Talladega in a great points position.
"I was just trying to play chess out there," Hamlin said. "I knew my odds and percentages with the wrecks. Once my competitors started to fall there, I knew that I had to be smart. I just knew the end of these races usually end up like a crashfest and I was just going to take all the crash positions I could get once I got back on the lead lap. Once I saw that the percentage was better for me to go race up front for the win versus just taking the end of the lead lap even if we were to crash, I knew it was in my best interest to try to go there at the end and we almost won it anyway."
Hamlin heads into the Kansas elimination race well above the cut line for the Round of 8. The FedEx #11 is third on the Playoff leader board, 56 points ahead of elimination. Hamlin should clinch his spot in the Round of 8 after Stage 1 at Kansas, as the 11 team continues their consistent 2019 campaign.
Almirola Almost Repeats
After the crash where Gaughan flipped, Aric Almirola found himself in prime position to repeat his 2018 Talladega Playoff win. The #10 Smithfield Bacon Mustang lined up second on the last restart, but would fade to fourth by the checkers. Almirola thought he was in position to play spoiler with a win, until Newman got by him.
"When you get that close to the end and you feel like you're in position you want to win," Almirola said. "Man, it's hard. It's hard to make the right move and do the right thing at the right time. It's so situational. There's maybe a couple of things, maybe one thing I could have tried to get up in front of the 6, but he was coming so fast. There was no way I was gonna block that run. He was just gonna get to my outside and then I was gonna be stuck in the middle three-wide.
All in all, it was a good day. We needed a good run. We've had a string of just average finishes, so it's nice to get a top-five and run up front, finish really well for the Fords, get a Ford Mustang to Victory Lane. I just wish it was my Ford Mustang."
Following a mid-season lull that saw him eliminated from contention after the Round of 16, Almirola's fourth place run is a much needed highlight for the 10 team. After the Talladega win last year, Almirola was able to put together a string of races that saw him almost make the Championship 4. Can that 2018 effort be repeated in 2019? The next several tracks line up well for Almirola, so we shall see.
Another Superspeedway Top 5 for McDowell
Each of the four superspeedway races every year are circled on the calendar for Front Row Motorsports, as they know their drivers excel here. That was certainly the case for Michael McDowell, who rounded out the top 5 from Talladega. This is McDowell's second top 5 of 2019, with his first being the Daytona 500.
"You're always looking for anything to build momentum," McDowell said. "Results always do that and that's always part of it. Talladega and Daytona in particular are unique race tracks and a unique style of racing. I don't know how much it helps you going into Kansas, but it's always good to get a top-five and to have a strong day and be in position to push a Ford to Victory Lane. That's good, too."
With an uncertain future ahead of him, a strong result could do wonders for McDowell's chances as a free agent. McDowell's name has been thrown around the silly season rumor mill, so it will be interesting to see where he ends up racing for 2020.
Austin Dillon Leads Chevy at Finish
After Team Chevrolet held a very publicized garage meeting on Sunday stressing team orders, their plan quickly fell apart. Many of the victims in the lap 108 crash were Chevys, leaving the bow tie brand outnumbered for the final 80 laps. The first Camaro to take the checkers would be the #3 of Austin Dillon, who ends Talladega in sixth.
"It pushed really well and to get up through there at times, it just didn't seem to be able to maintain the lead," Dillon said. "But I'm glad we were able to get a good finish. Sixth place, we needed that. The No. 17 (Ricky Stenhouse Jr.), he had a heck of a run down the backstretch. If he could have picked me up, it would have been nice. We did everything we could for what we had, and the race was very close."
Austin Dillon is quickly becoming quite the superspeedway ace. The 2018 Daytona 500 Champion led the most recent superspeedway race at Daytona in July until the big race-ending crash. He was also up front consistently this time at Talladega. While 2019 has been far from expectations for the RCR team, Talladega was a bright spot.
Strong Run for Lajoie
Yet another underdog name in Talladega's top 10 was Corey Lajoie in seventh. At 29th in points, any top 15 let alone top 10 result is a win for Lajoie and the GoFas Racing team. "We call that stacking pennies," Lajoie ecstatically said. "You take a 33rd-place car and finish seventh with it, so we'll take it and run. That always helps, so that's good. Archie is happy I'm sure. The car is in one piece and we'll go on to Kansas."
Talladega marks Lajoie's second top 10 of 2019, after he finished sixth at Daytona in July. Any result in the top 20 is a win for the #32 team, as they operate on a fraction of the budget of top-level teams. Lajoie is another name that has been swirling around the silly season talks, so this Talladega result could land him in a better ride next year.
Ever-Impressive Recovery by Elliott
After spinning out in the lap 108 crash, Chase Elliott rebounded to an eighth place result. After winning at Talladega in the spring, eighth place may not sound like much for the #9, but they did survive compared to others.
"We had our ups and downs for sure today," Elliott said "Got caught up in that crash but my guys did a nice job of putting it back together as best we could. Just head out west to Kansas now and try to get a win out there. That's about all we can do now."
After the momentous win on the Charlotte Roval, Chase Elliott heads to Kansas almost facing a must-win to survive. He is tenth in the Playoff standings, 22 points below the cut line. If not a win, Elliott needs someone above the cut line to have major troubles if he is to advance. Elliott did win this Kansas race last year though, so his chances are not entirely over yet.
Stenhouse's Superb Effort Ends Short of Win
In his last superspeedway start for Roush-Fenway Racing, Ricky Stenhouse, Jr. made the most of his opportunity. The #17 SunnyD Mustang was up front all day, and led 32 laps as one of the strongest cars. While Stenhouse did fade at the end to ninth, he is still optimistic about his future and thankful for the great car he had this week.
"It's nice being that close," Stenhouse said. "We put ourselves in the right positions, got to control the race for a little while. I felt like my spotter and I did a really good job blocking the right lines at the right time and just trying to learn for the end of that race. That one restart we picked the bottom and I don't know if that hurt us and it let the 1 get to the outside and the third lane formed, so, all in all, we had a really fast car. I'm bummed we couldn't finish it off. There at the end I felt like we were still plenty fast enough to get the job done, but I just ran out of laps to get back up there."
With his name in the thick of silly season, the rest of 2019 for Stenhouse is in essence a job interview for 2020 and beyond. Stenhouse capitalized on his chances at Talladega, he was one of the front running cars all day long and his aggressiveness allowed him to lead for much of the day. With this level of talent on superspeedways, Stenhouse should be in a competitive car for 2020.
Ty Dillon Triumphs in Another Superspeedway Race
Coming home from Talladega in the tenth spot was Ty Dillon. Talladega marked the younger Dillon's third top 10 of the year, all coming on superspeedways. This Talladega race in particular was extra special for Dillon. He raced a throwback paint scheme to honor Richard Childress' car from the first Talladega race 50 years ago. To come home tenth was a much needed result for the #13 Germain Racing team, as they continue to grow with Ty.
"When there's so few cars left running at the end of the race, the top just seemed to never really go," Ty Dillon said. "On the last restart, there were only eight or nine cars running, so I knew we were in a little bit of trouble. I needed a push in the outside line as far as I could to try to get us in position where we were in second or third and I just couldn't get any help from behind. We had a nice, big run there at the end, but couldn't really do a whole lot with it. Another top-10 finish for our team, which is good at the superspeedways. A top-10 finish is always good for us."
Much like his brother Austin, Ty is becoming a superspeedway master. Each of his four career top 10s have come on either Daytona or Talladega, with a best result of fourth in July. With these two venues favoring upset winners, can we see the #13 win big one of these years?
How to Watch the Next Race
Up next for the NASCAR Cup Series is the Round of 12-ending elimination race at Kansas Speedway. The Hollywood Casino 400 is Sunday, October 20, at 2:30 PM EST on NBCSN, MRN, and SiriiusXM NASCAR Radio Channel 90. With two drivers already into the next round, Sunday will be a battle to see who survives.
Written by Peter Stratta
Be sure to follow us on Youtube and Twitter.
Be sure to follow the writer on Twitter.
Photo credit to NASCARMedia