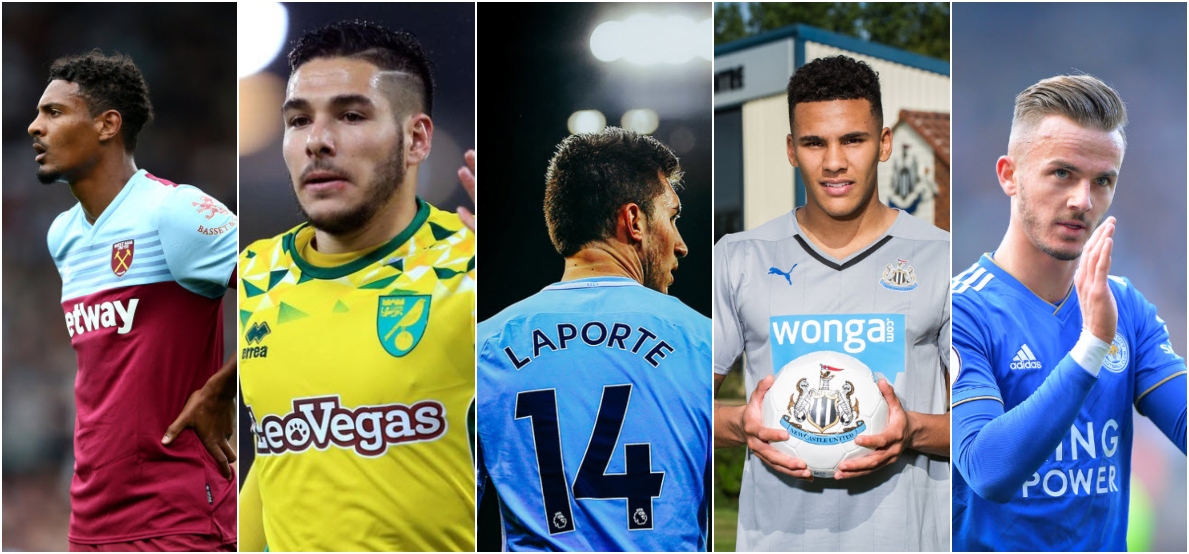 5 Premier League Stars Deserving Of First International Cap
The second international break is in full swing, much to the dismay of fans everywhere. Premier League stars are taken from their clubs to the other side of the Earth to play qualifiers or friendlies just as their team starts to find a rhythm in the league. Then, they are swiftly returned with new injuries, tired legs, and jet lag.
As a fan, international matches outside of a tournament can be awfully melancholy affairs as teams with little preparation face off in matches with very unpolished play. But, for a professional footballer, representing your country is one of the highest honors. Some players never get the opportunity to play on the international stage.
For instance, Mikel Arteta made 284 Premier League appearances but never received a Spain call up. Arteta was unlucky to be a great midfielder in an era where Spain had fantastic midfielders. Spain's golden era boasted Xavi, Andres Iniesta, Cesc Fabregas and David Silva, making it impossible for Arteta to get an opportunity.
Paolo Di Canio made 190 Premier League appearances scoring 66 goals and providing 49 assists but never featured for the Italian squad. Unlike Arteta, off the pitch issues were the reason for Di Canio's omission. His temperament and extreme political views do not exactly bode well for representing a country on the world's biggest stage.
Lastly, Mark Noble. West Ham fans have been clamoring for their captain to represent England. During England's darker times in the early 2010's Noble surely deserved a chance. England were stagnant and players were brought in solely on stature. However, after 411 appearances for West Ham, it is unlikely that he will ever get 1 for England. 
This list compiles some players who will undoubtedly feature for their countries and some who deserve to but never will. 
James Maddison
The player that inspired this list. James Maddison earned a call up to the England squad after an eye catching start to the season. However, he has withdrawn from the squad due to illness meaning his first appearance will have to wait.
He has represented England at the U21 level for the 2019 UEFA European U-21 Championship. This time last year he earned his first senior call up in the UEFA Nations League but did not come off the bench against Croatia or Spain.
It is only a matter of time before Maddison is given his opportunity to play for the Three Lions. One of England's weaknesses is creativity in the midfield which is something that the Leicester City man offers loads of.
For Leicester City, James Maddison has provided 2 goals and 2 assists with his goals coming against Tottenham and Liverpool. If the 22-year old continues with this form throughout the season, expect him to be a vital part of England's squad for the 2020 Euros.
Aymeric Laporte
Laporte has been a part of the French U17, U18, U19, and U21 squads but never at the senior level. The central defender was born in France but has eligibility to play for Spain since he lived in Spain from 2010-2018. He was destined to play for La Roja after he was repeatedly cast aside by Didier Deschamps. Ultimately, he earned a call up for World Cup qualifiers in October 2016 but did not feature while playing for Athletic Bilbao.
He finally got another call up in August of this year for two Euro 2020 qualifiers but two days later he suffered a meniscus injury against Brighton and Hove Albion that ruled him out for six months.
Personally, I find this one the hardest to believe. Aymeric Laporte has been a revelation for Manchester City under Pep Guardiola. I was completely floored when I realized he had not made a senior international appearance.
Part of Laporte's issues have been how difficult it is to break into both the French and Spanish national teams. Both countries have an embarrassment of talent both young and old, especially in the center back position. However, like Maddison, if he returns to form after recovering from his injury, it's only a matter of time before we see the 25-year old play for Les Bleus. He will definitely be in contention to be a part of the French squad for the upcoming Euros.
Sebastien Haller
Sebastien Haller is a lesser known entity than the previous two but he is quickly making a name for himself in England. As a Frenchman, he will suffer the same struggles as Laporte, especially with the attacking stars that France has been blessed with. 
West Ham United brought in the Frenchman from Eintracht Frankfurt this summer for $56 million. He has adjusted quickly to the pace and physicality of the Premier League. In 7 appearances for the Hammers, Haller has notched 4 goals and an assist. If he maintains this form he will certainly catch the eye of Didier Deschamps.
The attack of the French National Team is full of young talent like Kylian Mbappe, Antoine Griezmann, and Kingsley Coman. However, new faces have recently appeared in the squad. Wissam Ben Yedder and Florian Thauvin have been getting playing time again, proving that it is possible to break into the team.
One player that seems to break the mold from the rest of Les Bleus is Olivier Giroud. At 33-years old Giroud offers something different from the rest of the attack. Soon a replacement for Giroud will be needed and that is where Sebastien Haller comes in. He has the size, strength, and heading ability of Giroud but is 8 years younger.
Giroud seems to have his spot in the French side cemented. However, Haller should get the opportunity to fill his role and to earn his first senior appearance for France.
Jamaal Lascelles
Under Gareth Southgate, England have struggled to find a center back partner for Harry Maguire. Maguire has played in defense alongside Phil Jones, Kyle Walker, James Tarkowski,  Joe Gomez, Chris Smalling, Michael Keane, and John Stones. All I am saying is if Phil Jones can earn 27 international appearances, surely Jamaal Lascelles deserves a chance.
One of the biggest complaints about the English National Team is that most of the players from the Premier Leagues top six clubs. Given the performances of those players it is time to give someone else a shot. Conceding 3 goals against Kosovo and losing to the Czech Republic are signs that changes need to be made.
Jamaal Lascelles was one of the most consistent performers under Rafa Benitez, earning the captaincy at Newcastle. He is not a ball playing center back like John Stones may be but he has the experience playing in a team that is frequently defending for the majority of the match. 
Changing to three at the back may be the way forward for Gareth Southgate. It allows for more defensive stability and accommodates the strengths of England's best defenders.
Emiliano Buendia
Emiliano Buendia, affectionately known as Emi, is the most obscure player on this list. The Argentine has quickly made a name for himself in the Premier League this season. He was key for Norwich City's dismantling of Manchester City, providing two assists in that match. His other two assists this season were against Liverpool and Chelsea. 
Needless to say, he has shown up for the Canaries this season, regardless of results. At 22 years-old he has plenty of time to play for the Albicelestes. Even during the tenure of Lionel Messi, Argentina has not been able to make the final step to lift silverware. Injecting some youth and creativity would potentially take some pressure off of Messi as he looks for success on the international stage.
Much like many countries, Argentina suffer from issues of choosing players based on their status. Getting the big names into the squad has been difficult, usually resulting in players in unnatural positions. Bringing Emi in would be bold by Lionel Scaloni but once he is given the chance, I am sure Emi would thrive.
Written by Chase Brittingham
Follow Chase and TSJ: Soccer on Twitter!
Follow TSJ on YouTube and Twitter