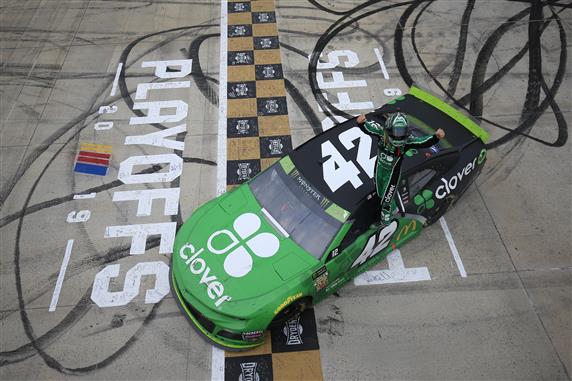 Kyle Larson's Luck in Playoffs Takes a Turn with Streak-Busting Dover Win
Ending a 75-race losing streak, Kyle Larson came through with his first win of 2019 at Dover. This win is arguably the biggest of Larson's career, as well as a huge victory for Chip Ganassi Racing. While Larson's luck certainly turned a corner in Dover, some of his competitors were not so lucky. The Monster Mile proved to be treacherous for some, as everyone fearfully awaits Talladega next week.
Two Heavy Hitters Out by Lap 10
Before the green flag even fell in Dover, one Playoff contender was in the garage. Under pace laps, the #22 Shell/Pennzoil Ford of Joey Logano made its way don pit road. The Penske Mustang would go to the garage with a broken rear axle. Although Logano did not take the green flag, he would eventually join the race on lap 22. Logano's promising day from Dover would go far from expectations, as he finished 25 laps down in the 34th position.
The early Playoff drama was far from over, as another contender's day ended on lap eight. While running in the top 10, Chase Elliott's Hendrick Motorsports Chevrolet suffered a blown engine. Elliott later told the media that he had no warning on the motor expiration, and he was unsure of what broke. The #9 Hooters Camaro left Dover in 38th position, dead last for the defending race winner. After winning a week ago at the Roval, Elliott's luck certainly took a turn at Dover.
With these two Playoff drivers out of contention in the opening laps of the race, their spots in the standings suffered. Elliott leaves Dover at 11th in points, 7 markers behind the cut line. For Logano the day was not nearly as costly, as he is the first man out at 9th in points. Some solace is that he's tied for the final transfer spot though. Neither driver heads to Talladega in a must-win scenario, but both must perform well over the next 2 weeks.
Hamlin Hauls the Mail in Stage 1
After starting from the pole, the Joe Gibbs Racing #11 of Denny Hamlin quickly asserted himself as the class of the field. By lap 50, Hamlin had a lead of 1.5 seconds. The 11 would lead all but eight laps in Stage 1, taking the Stage win in dominant fashion. This would be only the fourth Stage win of 2019 for Hamlin, as he was making his 500th career start.
Stage 2 would start off in a similar manner, Hamlin got the jump on the restart and took off. During this time, Hamlin would eclipse leading the most laps all day, as the 11 was flying around the Monster Mile. Past lap 200 though, the fastest cars on track were the 19 of Martin Truex, Jr. as well as the 42 of Kyle Larson. In heavy lapped traffic near the end of Stage 2, the lead would tighten up.
Heavy Blocking By JGR Rival
Lap 229 would be the first time Hamlin got passed on-track all day, as Truex made his way by in heavy traffic. That would be the deciding pass for the Stage 2 win, as Truex earned his sixth bonus point of the year. Hamlin would fade to third in the second Stage, as Larson also passed him. One man in particular held up Hamlin enough for Truex to catch and pass him, Joey Logano. Despite being over 20 laps off the pace, Logano would aggressively block both Hamlin and Truex.
Neither driver was happy with Logano in post race comments, as his blocking was seen by them as a no-win situation. In reality, Logano was within a few laps of catching another car. That one position would have been one more point for Logano, which would have put him inside the top 8 currently. Logano has had a feuding history with both JGR drivers, so his reluctance to let them by likely stemmed from that as well.
Big Winner and Loser on Pit Road
Following Stage 2, the lead would change hands on pit road. The 42 crew for Kyle Larson would have a clutch pit stop and get him out ahead of Hamlin. This moment of the race would be a turning point for Larson's luck. Meanwhile, the Stage 2 winner of Truex had a bad pit stop. The slightly slower 4-tire change would put Truex back to sixth, a loss of 5 spots. With 160 laps left to race, Truex would have his work cut out for him if he would recover.
Larson Lunges Ahead
On the restart, the 42 was unchallenged up front and quickly gained a lead of several seconds. Larson's luck would change when he caught lapped traffic though, as Hamlin was in hot pursuit. That would change on lap 274 however, as Hamlin reported that he "might be blowing up." Despite this, the 11 remained in second, but still at a deficit to the 42. This warning turned out to be false, as Hamlin ran some of the fastest laps in this run.
Meanwhile, Truex fell back on the lap 249 restart but methodically worked his way forward. By lap 283, Truex was up to to 3rd and quickly gaining on the lead. Truex was the fastest man on track as the race hit lap 300, but lapped traffic kept him from closing in on the front 2.
Blaney's Bad Luck Persists
Another Playoff contender would retire early from Dover on lap 297. The PPG #12 of Ryan Blaney made his way to the pits and reported no brakes on his Mustang. The 12 crew took the car behind the wall, and never returned to the race. The eventual 35th-place result puts Blaney below the cut line by 22 points. While the third Penske driver is not in a mathematical must-win scenario for Talladega, he is trending in that direction.
Larson's Lead is Too Much for Truex
As the race came to 90 laps left, Truex finally passed Hamlin for the runner-up spot. The only issue was that Larson's bumper was 5.3 seconds ahead of the #19. Larson only gave up the lead for his final pit stop on lap 321. He would cycle back out to remain six seconds ahead of Truex. Though his lead would be cut down to under two seconds, Larson remained in control of the race ahead of Truex. Larson's eventual winning gap was 1.5 seconds, as he led the final 73 laps.
A Shift in Larson's Luck in the Playoffs
For the first time in 75 races, Kyle Larson led the field to the checkers. His winless streak dated back to Richmond in September, 2017, where he beat Truex on a late restart. This win changes the Playoff outlook for not only Larson, but also for Chip Ganassi Racing. Larson's lucky Dover win marks the first time a Ganassi car advances past the Round of 12. With the ultimate wildcard of Talladega looming next week, Larson's luck has certainly turned a corner. Driver #42 is the only Playoff contender sleeping well ahead of the superspeedway race.
"It's really critical," Larson said of winning before Talladega. "Everybody in this Playoff field is going to be stressed next week at Talladega except for me. So, that's good. The last time I was at Talladega, I was on my lid and I could still end up on my lid next week, but it doesn't matter after this win. What a day!"
This marks Larson's sixth career win, which oddly enough comes one week after Chase Elliott also scored career victory #6. With this uptick in performance, Larson's luck in the Round of 8 could change as well. If he makes the Championship 4, Larson may be a runaway favorite at Homestead.
Other Notables in the Top 10
Truex Optimistic After Strong Points Day
After losing the lead on pit road following Stage 2, Martin Truex, Jr. could only recover to second. While it was far from the win Truex would have preferred, driver #19 was happy with how many points he left Dover with.
"Every week is just about doing the best you can and getting all the points that you can," Truex said. "Positive day for us today. Had a shot at the win today and came up short. Been nice to have that win and the free pass, but second is the next best. Good job to all of the guys. Just a good solid day here at Dover. Wish we could have won again, but that's how it goes." Truex will head to Talladega as the points leader, 63 points above the cut line. If MTJ can keep that gap, he will clinch a Round of 8 spot after next week.
Bowman Battles Late
After a slow end to the Regular Season, Alex Bowman has come to life lately with two straight top-3 finishes. Over the course of the final Stage in Dover, Bowman blasted by the likes of Harvick, Hamlin, and others in his late surge.
"I'm really proud of my race team and everyone for keeping their heads on straight," Bowman said. "I'll take it after last week. We got together with the 12 there off of turn two really early and I was like 'no, not again'. I'm glad he saved it. Just two cars going for one spot on the race track, nothing happened from there. We had a clean day. The only real issue we had was that one pit stop. But, aside from that pit stop, my guys were probably the fastest on pit road. I'll take it for how good they are." With the strong third-place result, Bowman vaulted himself above the cut line by 17 points. He will head to Talladega in a better situation than some, but 17 points can be lost in a bad result.
Harvick is Happy with Points Cushion
While he ran as high as second at Dover, Harvick ended the day in the fourth position. The 4 team leaves Dover 42 markers ahead of elimination. With the cushion, Harvick is relatively safe heading into Talladega. "I would say that luckily this is a good race track for us and we were able to grind out a good solid finish and get some stage points on a day when a lot of people had trouble," Harvick said of his Dover race. At fifth in points, Harvick is still in the thick of this championship battle, going for his fifth Championship 4 appearance.
Hamlin Left Heartbroken
After leading not only a race-high but also career-high 218 laps, Denny Hamlin faded late to fifth place. After starting the day on pole, Hamlin appeared untouchable until Joey Logano raced him hard late in Stage 2. On this issue with the 22, Hamlin was not happy post race.
"I thought the 22 (Joey Logano) was trying to stay on the lead lap, but they said he was 24 laps down and so he was kind of air blocking us and we lost the lead, and we lost that stage," Hamlin said. "Then after that we lost control of the race and the track got tighter. There were no cautions to pick up the rubber. We just got tight. Once we lost control – lost the clean air – it was so difficult to pass. I needed to be up front with as tight as my car was, so I just lost the lead and backpedaled from there. Top-five, this track, I'll take it every week."
With the top 5 result from Dover, Hamlin will go to Talladega at second in the standings, 48 points clear of elimination. Can the defending Daytona 500 champion win on another superspeedway this weekend? If his Toyota teammates organize and stay clean, then the 11 should be a factor on Sunday.
Off Day For Kyle Busch Ends Strong
On an unusually quiet day for the 18 team, Kyle Busch rallied over the last 100 laps to get as high as sixth. Dover saw Kyle Busch outside of the top 10 for much of the day, as he was lacking compared to his teammates. Busch's race was marred by a pit road speeding penalty after Stage 1, which set him back again. "Speeding on pit road never helps," Busch said. "We probably finished about where we should've I guess, maybe one spot better, but that's it." The Regular Season Champion is sitting comfortably ahead of Talladega, as he is ranked third in the standings, 48 points above the cut line. While he is in a great position to advance, Busch has not won a race since Pocono in June, a span of 16 races.
Another Solid Run by Dibenedetto
Leading the non-Playoff contenders for the first time in his career, Matt Dibenedetto left Dover in seventh. The 95 was a top 10 car all day, after starting 20th. While he is not in the Playoffs, Dibenedetto still has a lofty goal to race for. "I love working with this team," Dibenedetto stated. "They are such good people. I'm so appreciative to work with them. I'm so glad this whole second half of the season has really turned around where we have been knocking off a bunch of top-10's, so it's really important to us. We're trying to get in the top-20 in points.
We've been climbing up big time the second half of the year running where we probably deserved to run. I hate that we aren't in the Playoffs, because we have been contending like a Playoff car. But it is what it is. I'm just thankful we've had some good solid runs. This Toyota has been running fast."
Johnson Chipping Away
While eighth place should not be seen as a good result for Dover's all-time winningest driver, Jimmie Johnson and the 48 team are trending upwards. With finishes over the past four weeks of 11th, 10th, 9th, and now 8th, the 48 is regaining some of their lost speed and execution. However, Johnson believes he could have finished even better.
"I felt like we had a shot," Johnson said. "When we were in clean air, our lap times were great. Just as everyone experienced, it was really tough to pass. We had a few things that set us back and lost track position throughout the day. But we had a really fast race car. We were able to pass some, which I don't think many could pass at all. All in all, it was a good day. We ran better than 8th for most of it, but we just couldn't finish higher."
Can the 48's late-season charge end in spoiling the Playoffs with a win? Talladega will be the best shot at an upset victory, where Johnson has two wins. The last superspeedway race at Daytona in July saw the 48 end up third, can that improve at Talladega? Tune in Sunday to see how Johnson fares on the high banks.
Too Little Too Late For Kurt Busch
Not only did Larson's luck change at Dover, the same was true for his teammate as well. A status-quo day for the Ganassi 1 team saw Kurt Busch start and finish in the ninth spot. This top-10 result comes after a disastrous first round of the Playoffs that saw the elder Busch get eliminated. "Today, we started 9th, ran 9th, and finished 9th," Kurt Busch explained. "It was about all we had. I was on the tight side and Kyle (Larson) was a little bit on the loose side, but we made it work.
I'm happy for my teammate to win and advance. It was a good step for us to just have a nice, smooth day. We just never really found anything to help the car steer." With both of their cars running well, Ganassi seems to be getting back on the right track. Kurt was within a few thousand feet of winning Talladega last year, can this year be a better result for the Las Vegas native?
A Sign of Things to come for Bowyer?
Rounding out the top 10 from Dover was Clint Bowyer. Bowyer was pretty blunt post race on how difficult it was to gain track position, and looks forward to next week at Talladega. "We started 17th and finished 10th, I don't know. It was hard to pass," said Bowyer. "Extremely hard to pass. Almost impossible. You had to have a really, really good car. It was just kind of a struggle out there all day long for us. Our ITsavvy Ford was about where we came out about where we ran. I am looking forward to Talladega though because you can certainly pass there."
A two-time Talladega winner, Clint Bowyer should be thought of as a contender for the win on Sunday. If Bowyer can keep the #14 out of the big one and in the top 5 late, then he could have a shot at scoring the victory.
How to Watch the Next Race
The next race in the Round of 12 is the ultimate wildcard in Talladega, Alabama. The 1000Bulbs.Com 500 will be the 13th competitor in the Playoff field this week, as every driver dreads the chaos that can unfold here. Coverage begins on Sunday, October 13 on NBC, MRN, and SiriusXM NASCAR Radio Channel 90. Can a non-Playoff driver play spoiler this week? Or will another contender take another step towards the title? Larson's luck certainly changed at Dover, can another driver see similar fortunes at Talladega?
Written by Peter Stratta
Be sure to follow us on Youtube and Twitter.
Be sure to follow the writer on Twitter.
Photo credit to NASCARMedia