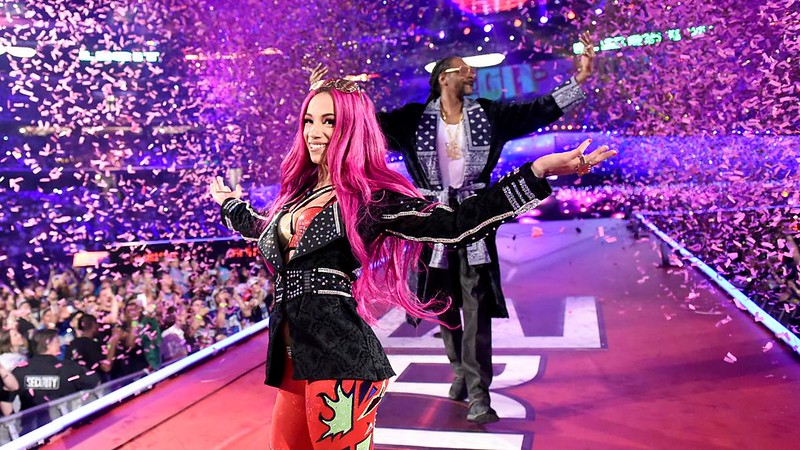 Sasha Banks
Sasha Banks is making headlines after a surprise return back to WWE from her four months hiatus from the company. And now she's going for Becky Lynch's Women's Title. But the real question is:
What made her come back to WWE?
The fans thought she would be heading to AEW for sure, with The Boss constantly liking AEW's official twitter page; don't forget the paycheck and the push. But what's stopping The Boss from going there, is the million-dollar question.
The answer is Vince K. McMahon.
Past few days ago, she did an interview with Cool Greg for We Have Cool Friends on YouTube; The Boss reveals her relation with the Chairman of WWE. Here is what she had to say about the Mr.McMahon.
"Since I came back, he gave me a really good contract."

"We have this great relationship, because, you know, we talk money. He wants me to make him cool so I'm just helping him with his jokes, we'll text jokes to each other every single day. Vince sends me a private jet. He gave me my own bus. I'm just so blessed. I'm probably the first-ever woman to have her own bus."
The Boss also said that they not only have a great business relationship but also becoming Best of Friends; personally giving her a cool "Gucci" T-Shirt and a pet Corgi.
She then comments about her favorite moment of her WWE career:
"Just knowing how much faith they had in me to be in there that long for the first-ever one, and trying to help lead the girls, I felt really accomplished that they put that faith and trust in me. I felt like I could be part of this place forever. I just felt like they really do appreciate my work."
Sasha Banks gives her thoughts on the first-ever women's Royal Rumble, possible Evolution II, and her next step.
"Being part of that Royal Rumble match was probably one of my top-five moments in my career."

"It was an incredible pay-per-view and I thought the women killed it. I don't see why we can't have another one. I hope that there's another one coming up."

"Really did accomplish that feeling of that 10-year-old girl. I've always had to fight for her, live for her dreams, and make things happen. I felt like I was fighting for nothing anymore; because I have accomplished so much and so much more that I've ever dreamt of. For me getting older, I just have to have more dreams and focus on more things like making money, signing millions, getting my own private jet and bus, and becoming best friends with him (McMahon). Those are my goals of being 27 and going towards 28, I just need to keep a positive and healthy mind. We only have one life to live, so I have to live it to the fullest."
We wish her the best on tonight's Hell in the Cell match with Becky Lynch, for the Women's Championship. I personally hope WWE gives her a heel title run starting tomorrow.
Follow Andrew and TSJ: WWE on Twitter!
Photo credit to Hector Olguin via Flickr.
Follow TSJ on YouTube and Twitter
//embedr.flickr.com/assets/client-code.js