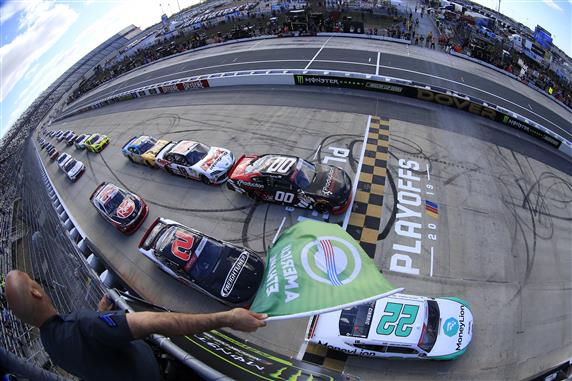 Round 1 Of The NASCAR Xfinity Series Playoffs Wraps Up At The Monster Mile
Dover International Speedway wrapped Round 1 of the NASCAR Xfinity Series playoffs in dramatic fashion. On the first lap of the race, a spin collected Playoff contender Brandon Jones, knocking him out of championship contention. All other bubble drivers did finish the race but at the end of the day, it was John Hunter Nemechek, Justin Haley, and Ryan Sieg joining Jones under the Playoff cutline.
Drivers moving on to the next round of the Xfinity Series playoffs are Christopher Bell, Tyler Reddick, Cole Custer, Noah Gragson, Austin Cindric, Chase Briscoe, and Michael Annett. During post-race media, TSJ101Sports reporter Noah Lewis was able to catch up with a few drivers.
Justin Haley
Justin Haley was one of the drivers who didn't make the cut following the Monster Mile. When asked if he was disappointed, Haley said he was not.
"Not really," Haley said when Claire B. Lang suggested he must be disappointed. "I expected us not to make it going into it. I've had three weeks to get over the disappointment. We've had 5th place speed this whole round, we've just had stuff happen. Glad we could finally put it together on this last race and show we are a top-five capable car. We still have races to win and plenty of time to make it happen. I've still got all next year with this team. Excited to see the progress we've made. We've taken it from a top-twelve team to a top-five."
John Hunter Nemechek
John Hunter Nemechek also succumbed to elimination following this weekend's race in Dover. He shared his feelings on the race and his incident with Mike Harmon.
"We did everything that we needed to do execution wise," Nemechek said. "Had a loose wheel, didn't put enough lug nuts on during one pit stop but it's a team effort. It comes down to a team effort and it sucks. We gained points every stage, I thought we'd be good at the end to gain some more but when we had to come down pit road to put extra lug nuts on it pretty much killed our day."
"Lapped cars are in the way," Nemechek said when asked about the incident with Mike Harmon. "They can't pick a lane I guess. He started on the bottom, went to the top, I went to the bottom and he came right down in front of me off the corner." Nemechek also had a similar incident in the Playoff-opening race at Richmond.
Chase Briscoe
Chase Briscoe's day started with a pole in Xfinity Series qualifying. Following the their qualifying run, Chase reported a problem with the car. The team went to work on repairing the issue and had to start the race from the rear due to unapproved adjustments. Briscoe battled back and led 71 laps but a mediocre pit stop and a caution during green flag stops ended his race-winning hopes.
"We definitely had a really good Ford Mustang that's for sure," Briscoe replied when asked about his up-and-down race. "These past two weeks I feel like we've had the car that was the best car on the race track and we don't come home with two wins. That part of it is frustrating but at the same time is very encouraging that we've had that speed, especially at this time in the Playoffs. We've definitely had really good cars, just wish we could have sealed the deal."
Other NASCAR Xfinity Series Playoff Drivers
To hear comments from other NASCAR Xfinity Series drivers search Noah_Lewis1 on Twitter or click the writer's Twitter link below. With Round 1 of the Xfinity Series Playoffs complete, just 8 drivers remain in contention for the 2019 championship. Round 1's race winners included Christopher Bell at Richmond, AJ Allmendinger playing spoiler at the Charlotte Roval, and lastly Cole Custer at Dover.
Round 2 of the Xfinity Series title chase will begin in two weeks at Kansas Speedway, on October 19. With two of the 'Big 3' drivers winning races in Round 1, they have reasserted themselves as the teams to beat. However, one more driver will make the Championship 4 at Homestead. Be sure to follow along in Round 2 to see who the fourth man is.
Written by Noah Lewis
Be sure to follow us on Youtube and Twitter.
Be sure to follow the writer on Twitter.
Photo credit to NASCARMedia.