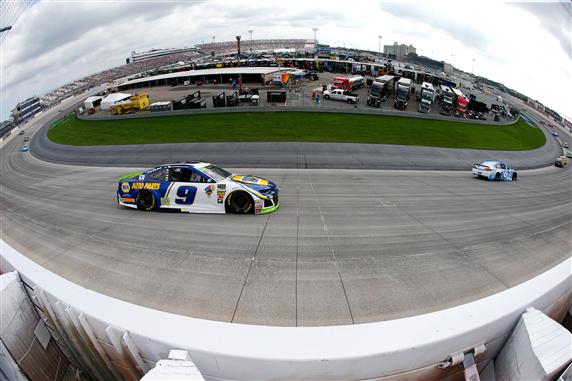 Chase Elliott Looks to continue Dover Success By Defending Win
As the Monster Energy NASCAR Cup Series rolls into Dover there is one driver who seems to be catching fire. That driver is none other than the man who pilots the #9 Hendrick Camaro, Chase Elliott. Chase Elliott looks to continue his momentum into this week coming off of his win at the Charlotte Roval. That could be a scary prospect for the 11 other Playoff drivers. If his history is anything to go by, then the competition should be scared of Elliott.
Elliott's Exemplary Dover Stats
Since Elliott's Dover debut on May 15th, 2016, no one has been better at the Monster Mile. When it comes to Dover, Chase is the model of consistency. In his seven starts at the one mile oval, Elliott has finished outside the top 5 just once (12th in May of 2018). Elliott has 6 top-5s, 4 top-3s, and one win at the track. These stats give the fourth year driver out of Georgia an average finish of 4.43 at the track. In fact only one driver has a better career driver rating at Dover than Elliott. That driver just happens to be his teammate Jimmie Johnson, who is an 11-time Dover winner. This is far from bad company to be a part of for a young gun in the top series.
As far has him keeping the momentum going this weekend, it seems likely. Elliott qualified his #9 Napa Camaro in 5th for today's race. Meaning Elliott will not have to go far to achieve his ultimate goal of defending last year's victory. Track position is key at Dover and gives Chase the best chance of staying out of trouble. As long as he doesn't self inflict any wounds there is a very good chance that Elliott could wind up in the top 5 or better. Be sure to watch out for the #9 Napa Camaro Sunday afternoon as Chase Elliott looks for his second straight win.
Written by Conor Borus
Be sure to follow us on Youtube and Twitter.
Photo credit to NASCARMedia.