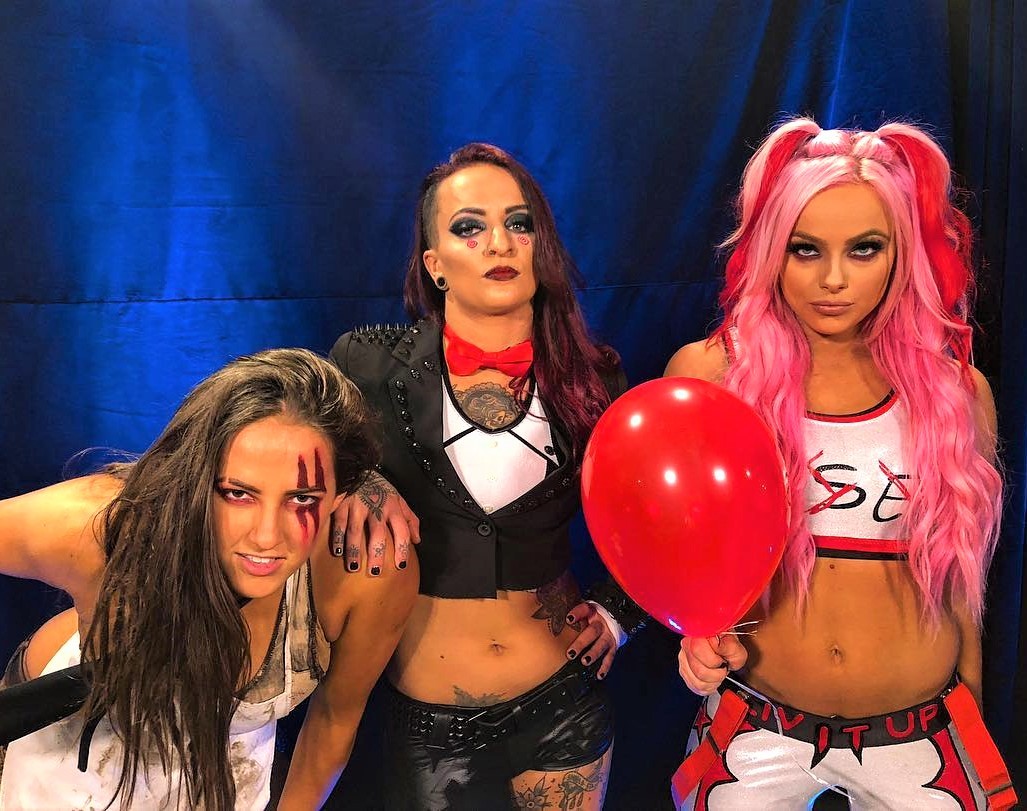 Where in the World is Liv Morgan?
It's a great time to be a wrestling fan. While RAW just had their "season premiere" on Monday, we also saw both AEW and NXT go head-to-head for the first week of many to come. Now, we're gearing up to watch the season premiere of SmackDown, which is only just hours away at this point. It appears to be a fully-stacked, star-studded list of appearances tonight, ranging from The Rock to Brock Lesnar. Additionally, recent nods show that The Fiend, Bray Wyatt, may be on his way to the blue brand as well. And that makes me wonder, for reasons I plan to explain, where in the world is Liv Morgan?
July 16th was the last time we saw Liv Morgan in a WWE ring. Liv Morgan attacked Charlotte during Shane McMahon's meeting, setting up their match. Liv was actually quite strong on the mic, which for many, came as a surprise. Although Liv would ultimately tap out to Charlotte, the match wasn't all that bad. Post match, Liv ripped away Corey Graves' headset, and yelled into it. She said that when she came back, she'd be "real."
At the time, fans just believed she'd just hinted at a gimmick change. She had seemingly dismissed herself from the main roster, though posted photos of the WWE Performance Center. There, one could assume, she would be brushing up on her in-ring skills.
What fans didn't know is that it seems plausible that Liv Morgan isn't going through just any old gimmick change. She may very well be going through the biggest change in the Women's Division.
Let Him Her In
One of the most radical character changes we've seen to date is the transition from Bray Wyatt to The Fiend. The Fiend is creepy, unstoppable, and mean. But he doesn't come out to play all the time. Bray Wyatt seemingly shares a soul with the Fiend, which makes the character much more in depth and intriguing.
Now, in the prior weeks, Liv Morgan has been tweeting out some very cryptic messages. Perhaps we're all stretching here, but could this mean she'll be in partnership with Bray Wyatt?
First, we saw that Liv had posted a photo of her bubblegum colored hair on the floor, signaling she'd chopped it all out. Interestingly, there is a clip in the trailer for the new movie "Birds of Prey" where Harley Quinn is seen cutting off her colored pigtails. Although The Goddess, Alexa Bliss, has been compared to Harley, one could argue that Liv Morgan more closely mirrors the personality of the villainess:
— LIV Morgan 👅💙 (@YaOnlyLivvOnce) September 1, 2019
Then, there were a slew of other tweets she'd sent out:
Let me Liv

— LIV Morgan 👅💙 (@YaOnlyLivvOnce) September 1, 2019
A peek inside my mind ? You'll cry

— LIV Morgan 👅💙 (@YaOnlyLivvOnce) September 25, 2019
You can't see my scars

— LIV Morgan 👅💙 (@YaOnlyLivvOnce) September 23, 2019
Sometimes you have to kind of die inside in order to rise from your own ashes

— LIV Morgan 👅💙 (@YaOnlyLivvOnce) September 16, 2019
And of course, the most odd of the bunch:
851216

— LIV Morgan 👅💙 (@YaOnlyLivvOnce) September 22, 2019
That translates to HELP.
Bray Wyatt's Promo
In late September, Bray Wyatt gave yet another stupendous promo as usual. His Firefly Funhouse show is one of the best segments on WWE television, and has been since its inception. However, there was a line he'd said during this particular one:
"There's always room for one more!"
This mischievous quote was then followed by a girl's laughter, which suspiciously sounded eerily similar to the missing Superstar, Liv Morgan. Again, it may be a stretch, but with all of the cryptic tweets in the earlier weeks, it doesn't seem to bee far-fetched, does it?
SmackDown Liv?
So, now I'm considering the possibility that The Fiend will gain a henchwoman. On one hand, I fully support Bray Wyatt in everything he's done, both past and present. He gives the greatest promos I've heard and seen. So, I don't think it is necessary to pair him with anyone, because honestly? He's doing just fine on his own.
However, going back to the Harley Quinn comparison to Liv, Harley followed in the Joker's footsteps just to prove her loyalty. He wasn't particularly kind to her, and she foolishly carried out his business. So, if the WWE were to present a similar story in regards to Liv and Bray, I don't think I'd be all that upset. I think that Liv could carry her own with the right character change, and pairing her with The Fiend to assist with his battles might not be too bad. Finally, we will be able to see the build of a good, solid female character outside of the Four Horsewomen. For once, we could see the WWE taking a chance on someone new. I think that a character such as Liv might actually have a good shot at making this work: sunny and bright, but also evil and crazy.
And, that goes back to tonight's season premiere of SmackDown on FOX. WWE is trying hard to make grabs for ratings to impress their new network, which is why there are so many big names coming through the evening. However, those big names aren't mainstays on the brand, so they will have no choice but to solidify characters that they already have. In turn, this might be the night we see the debut of Liv's new character.
What do you think, though?
If the speculation is true that Liv will be joining forces with Bray, do you think it is a good move? Or, do you think that it is a big mistake, just waiting to explode? Let me know your thoughts in the comments below!
Written by Ashley Sweetly
Photo credit to Hunter Hainan via Flickr