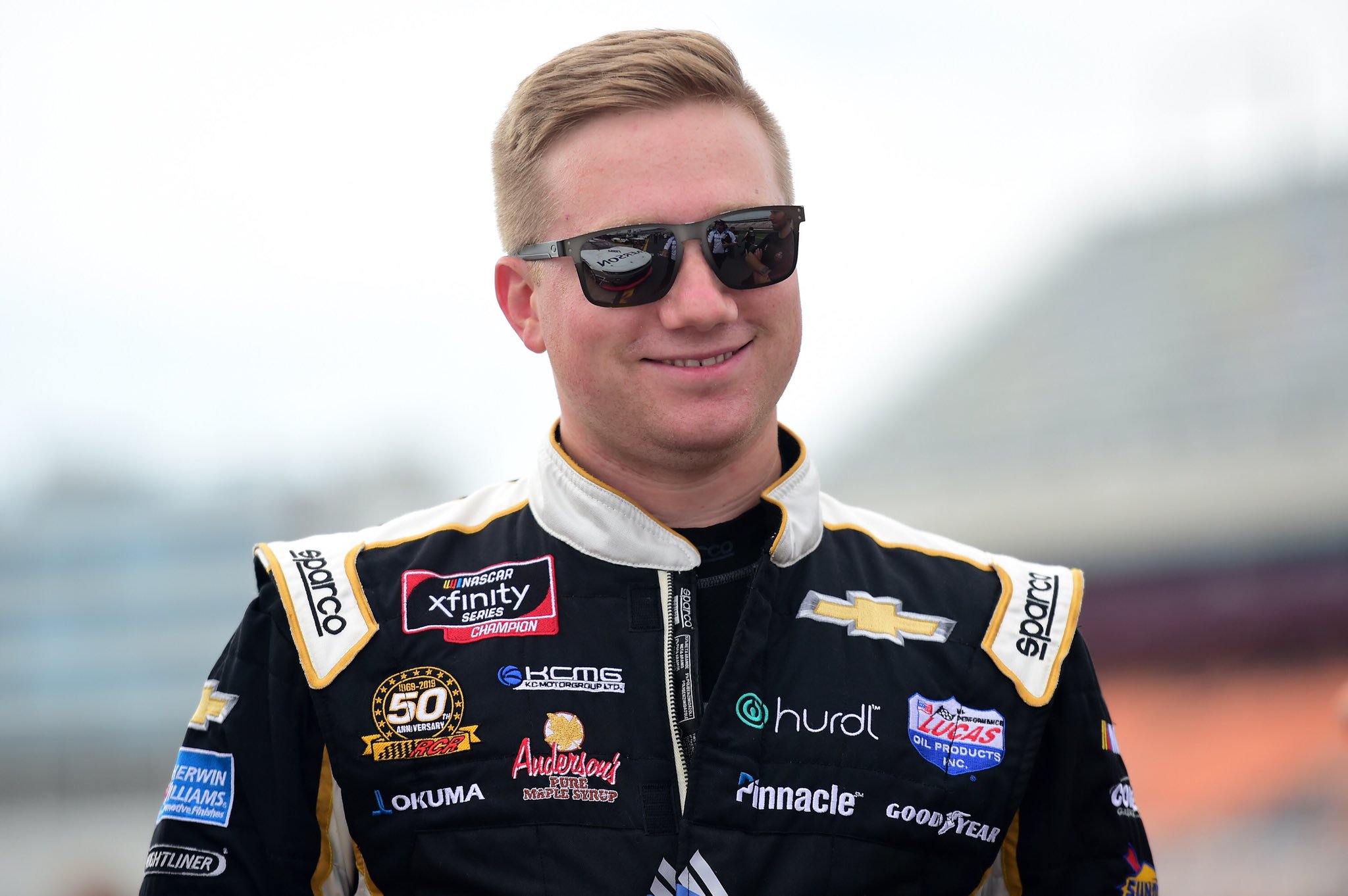 Tyler Reddick Will Join Richard Childress Racing for 2020 Cup Series Season
Another shoe in the NASCAR silly season has fallen. One of the 'Big 3' from the Xfinity Series will be moving up to the Cup Series next season. 2018 Xfinity champion Tyler Reddick will be moving to Richard Childress Racing. For the second-consecutive year, the No. 8 Chevrolet will be racing for Rookie of the Year honors. This announcement comes two weeks after RCR released Daniel Hemric.
Reddick's Rapid Rise in Success Pays Off
Hailing from Corning, California, Tyler Reddick, 23, is the defending Xfinity Series champion. He won last season's title in the No. 9 Chevrolet at JR Motorsports, with two wins book-ending the year at Daytona and Homestead. Reddick won the closest finish in NASCAR history in the season-opener at Daytona, then dominated the season-finale at Homestead. Many considered Reddick's title to be an upset or a fluke. He bested the title favorites who trumped his efforts with year-long wins and consistency. Reddick was a non-contender for much of the 2018 season, and drove too hard at times. This resulted in his title being hollow in the eyes of many.
For 2019 however, Reddick made the switch to the 2 car at RCR. This change has made Reddick among the best in the second-tier division all year long. At the time of this writing, Reddick's 2019 campaign features 5 wins, 21 top 5s, 24 top 10s, as well as the Regular Season championship. As one of the 'Big 3' alongside Cole Custer and Christopher Bell, Reddick is likely to make a repeat appearance in the Homestead Championship 4. After the stunning run he put on last year at Homestead, Reddick could enter the Cup Series as a 2-time Xfinity Series champion.
Reddick has also made two Cup Series starts this year for RCR in the #31 car. His debut came in the Daytona 500, and he also raced in Kansas. Daytona saw Reddick finish 27th after being involved in a crash, while Kansas saw the 31 end up ninth. With Reddick's dirt racing background similar to Kyle Larson, his skill behind the wheel is no joke.
Expectations for Reddick in 2020
Tyler Reddick will be joining an already-elite rookie class; he will be going up against Christopher Bell. Bell has also been Reddick's main competition on the Xfinity side for two years now. They will both likely battle for this year's title in Homestead as well. With both of these dirt racers entering the Cup Series simultaneously, the 2020 rookie battle should be fun to watch. The rookie class also has the potential to expand, as Cole Custer's 2020 plans are yet to be determined. One thing is for certain, the 2020 Rookie of the Year battle will be a year-long fight among some incredibly talented racers.
Can Reddick Right the Ship at RCR?
Since Kevin Harvick's departure after 2013, it is no secret that RCR as a company has lacked in performance. With the incredible driving talent that is Tyler Reddick, their results could see an uptick. Teamed up with Austin Dillon in the 3, RCR should benefit greatly from putting Reddick in the 8. While a win or a Playoff berth in 2020 are a lofty goal for either RCR car, Reddick's input should help this team. Reddick has already proven his ability to help grow a team with RCR's Xfinity operation. Reddick took an organization that earned two wins over the past two years and has won 5 races to date in their cars. Whether or not Reddick can replicate this level of progress in the Cup Series team remains to be seen, but his feedback should assist RCR's growth.
The 2020 NASCAR silly season is now in full swing, as the 2020 Cup Series roster slowly takes shape. There are a few open seats left, and many drivers still uncertain about their futures. Be sure to stay tuned to see how much turnover is left in this rendition of silly season.
Written by Peter Stratta
Be sure to follow us on Youtube and Twitter.
Be sure to follow the writer on Twitter.
Photo credit to Tyler Reddick via Twitter