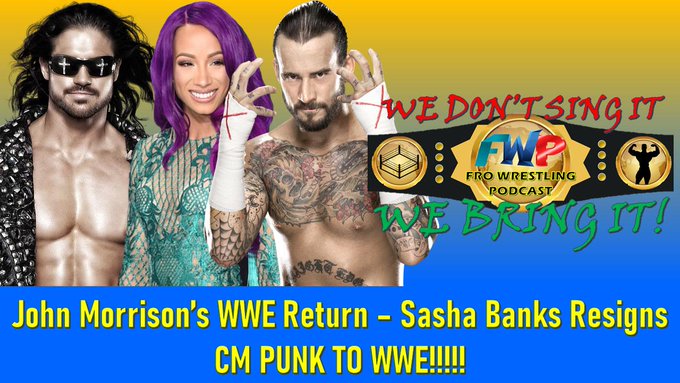 CM Punk Return – Sasha Banks Resigning – WWE News – Fro Wrestling Podcast
Fro Wrestling Podcast for September 28, 2019, the latest in WWE News.
This episode of the Fro Wrestling Podcast covered a ton of the day's news and rumors; highlighting WWE and other news.
First Up – CM Punk to WWE?
What is the situation between WWE and CM Punk? 
This has been the big story of the week with CM Punk apparently recording test material for the WWE FS1 show. With the rocky history between the promotion and CM Punk, this seemed like a very unlikely scenario but as they say in wrestling, Never Say Never!
This has the potential for so much more as it was also revealed this week by Ringsidenews.com that Stone Cold Steve Austin has made it clear that he is in shape and could wrestle another match. Could this be a recipe for a Punk vs Austin WrestleMania Match? 
Sasha Banks Resigns
Also in the news this week is Sasha Banks who WrestlingInc.com is reporting has signed a new contract to remain with WWE for the foreseeable future. This is the biggest indication that those who claimed earlier this year that Banks was waiting out her contract with the hopes of going elsewhere are inaccurate as she will remain a focal point of the WWE Women's Division.
John Morrison to WWE?
News broke on Twitter by WrestleZone.com that John Hennigan a/k/a John Morrison a/k/a Johnny Impact a/k/a Johnny Mundo has resigned with WWE. This has been potentially challenged by Hennigan on Twitter where he poked fun at the news outlet by claiming they should report when he signs with ROH or AEW. Where he shows up is anyone's guess but debuting head to head against AEW and winning the NXT Championship may be a great way to reintroduce Morrison to the WWE Universe.
Shameless Plug Section!
Check out the latest episodes of the Fro Wrestling Podcast on all major social media outlets. We are the show where we don't sing it, we bring it!
What are your thoughts? Comment Below!
Social Media
Don't forget to follow us on Twitter:
@T101Sports and @T101SportsWWE
You can also talk to me, the writer:
@FroWrestling on Twitter
Also, check out the Fro Wrestling Podcast at:
YouTube, Spreaker, Stitcher, and on iTunes.
Photo credit to FroWrestling via Twitter