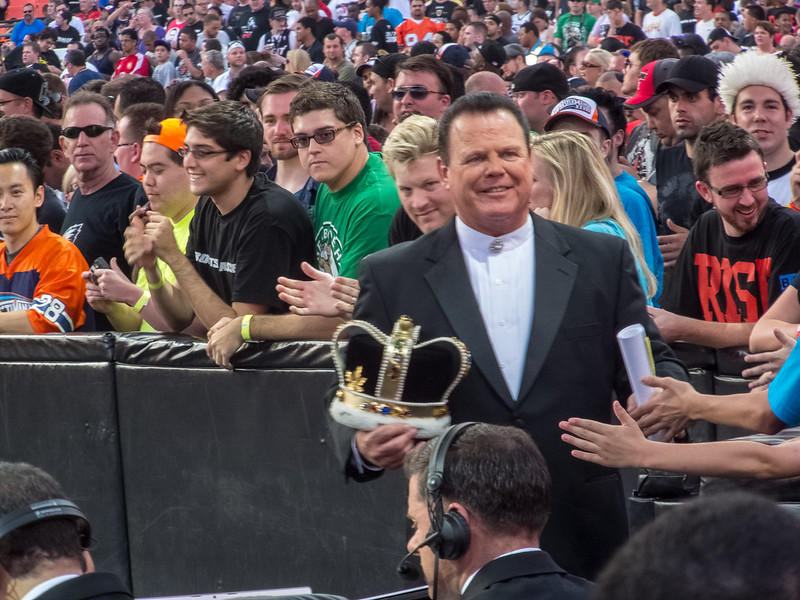 Jerry Lawler
Jerry Lawler, one half of the voice of WWE's Attitude Era, is gearing up for a comeback to a new Monday Night Raw season premiere on USA Network, joining the new color commentator team: Vic Joseph and Dio Maddin.
The King is back!
Kevin Dunn, WWE TV Executive Vice President, who made the phone call to the king. And this what the king said:
"I got a call about it Tuesday morning from Kevin Dunn."

"He said, 'I've got a proposition for you. It may be good news, and it may be bad news.' He knows I don't like to travel a whole lot anymore, so that was the bad part. I said, 'What's the good part?"

"We want you back on Raw."

"He told me it's for however long I want to do it, so that sealed the deal."
He did share light on how the decision is in place and who are the people behind calling him back to the main rosters announce table.
"It was (Raw's executive director) Paul (Heyman's) idea to put Vic and Dio on Raw," The King said. "Apparently, what I was told, Vince (McMahon) said, 'You can't throw these two new, young guys on our flagship show. Call King.' That's how it happened."
The King also added:
"All I've been able to think about is what Vince told me when I first started over 25 years ago, 'It's live TV — nothing can go wrong,'" said the king. "I feel real confident it'll be like riding a bike. I'll treat it exactly the way I always have — like I'm watching the show in my living room with my neighbor."

"The name of the company is World Wrestling Entertainment. And I've always thought the commentators are an important part of the entertainment."
Jerry Lawler becoming a full-time commentator might not come true!
According to Pro Wrestling Sheet, WWE is now having a second thought of putting the king for full-time; WWE is looking for a perfect replacement because the company has no plan keeping the 69 years young for long.
The Wrestling Observer Radio, Dave Meltzer said:
"[Paul Heyman] didn't want Lawler, but Lawler is in there right now, but Lawler's temporary. There's another guy and I don't know who it is, it might be Nigel. If I was gonna… you know I don't know it's Nigel, but if I read the tea leaves right I would think if it were my guess it would be Nigel. Nigel's great so, but [Heyman] wanted a whole new announce team."
So what do you guys think? Is The King becoming one of the voices of Raw again a good thing? Even if it's for a short period of time! Or is it WWE playing a mind game with AEW since they have Good O' Jim Ross as their color commentator.
Follow Andrew and TSJ: WWE on Twitter!
Photo credit to Simon Q via Flickr
Follow TSJ on YouTube and Twitter
//embedr.flickr.com/assets/client-code.js