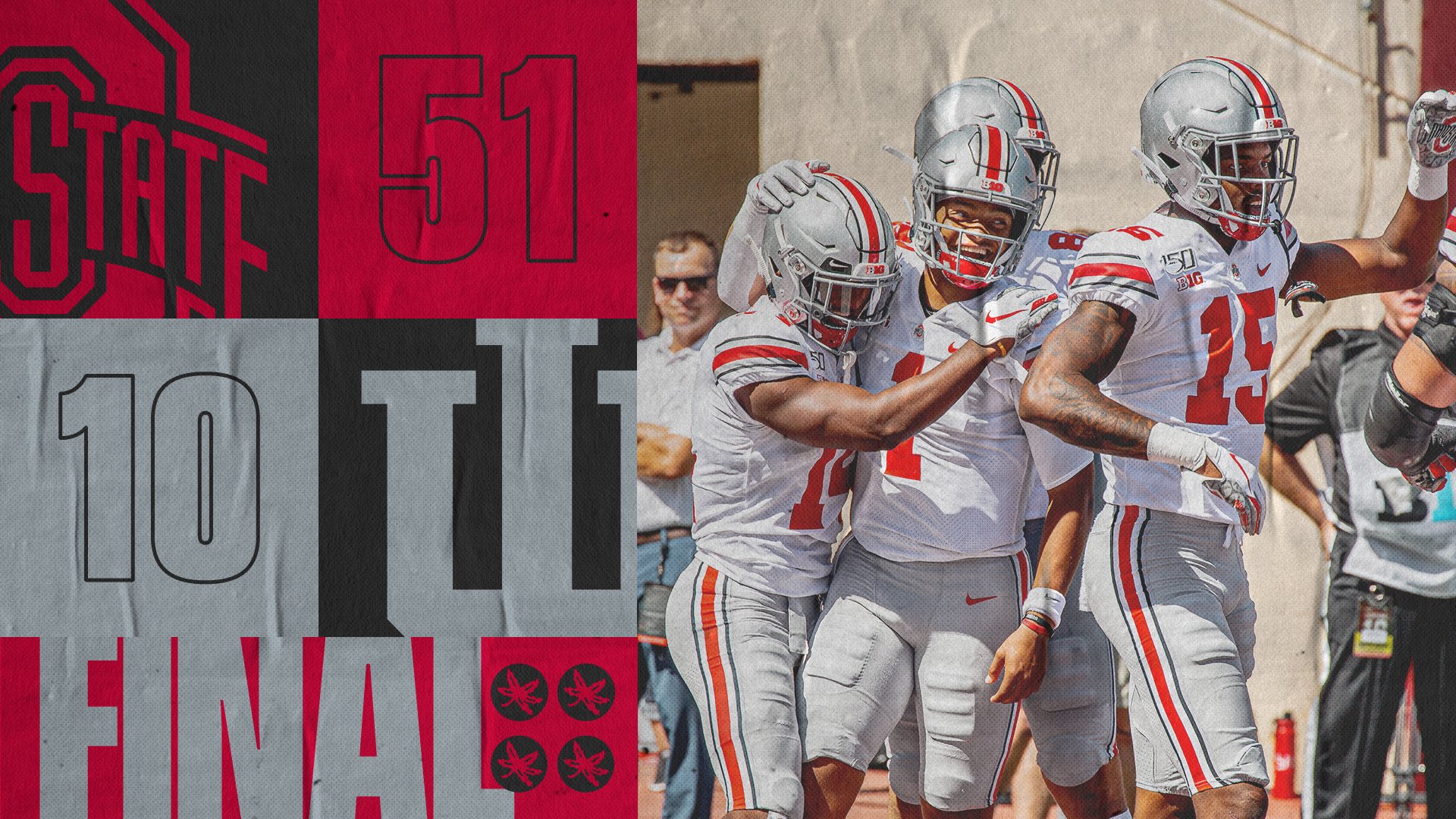 #6 Ohio State Upends Indiana in a Big Ten Mismatch
A much-hyped meeting between two undefeated Big Ten foes was one of the marquee match-ups of week 3 in the College Football season. It turned out to be anything but marquee as #6 Ohio State ran all over formerly perfect Indiana both figuratively and literally.
Here's a rundown of what went down:
Bulldozing Buckeyes
The Buckeyes didn't get much of a challenge in a 51-10 beat-down of the Hoosiers. This game was supposed to present a good challenge for both teams, but turned out to be anything but. Sophmore Chris Olave caught a 37-yard TD pass and blocked a punt out of the end zone for a safety to give Ohio State a 14-3 lead that they did not relinquish.
Stud junior RB J.K. Dobbins showed why he's one of the most feared runners in the country. He is also a surefire top two-round pick in next year's NFL Draft on Saturday. He amassed 193 yards on 22 carries and caught two passes for 23 yards with two total scores on the day. Redshirt freshman RB and former 4-star recruit Master Teague III also had himself a day with 10 carries for 106 yards and a score. Sophomore QB Justin Fields wasn't needed much this day. However, he still kept his impressive run going with 4 TD's to personally account for.
Reality Check
For Indiana this game was an incoming reality check. Junior QB Peyton Ramsey replaced the injured redshirt freshman Michael Penix Jr. as the starting quarterback and really didn't do much, going 19 for 33 for 162 yards and an interception. He also logged 14 rushing yards on 14 attempts. This was a crushing comedown for the Hoosiers, who were one of the best passing offenses in the country through the first two weeks. Although the Ohio State defense can make anyone look average in a heartbeat. The Buckeyes held Indiana to a stale 257 yards of total offense while running for only 42 yards on 31 carries in the ground game, while their offensive line got butchered for five sacks.
Next Up
Ohio State (3-0, 1-0) will march forward with their impressive start to the season as they next meet Miami (OH) (1-2, 0-0) in a big mismatch.
The Hoosiers (2-1, 0-1) will look to get back on track as they head home to battle against the UConn Huskies (1-1, 0-0).
Written by Samit Bariana
Follow Samit and TSJ: College Football on Twitter!

Photo credit to OhioStateFootball via Twitter

Follow TSJ on YouTube and Twitter