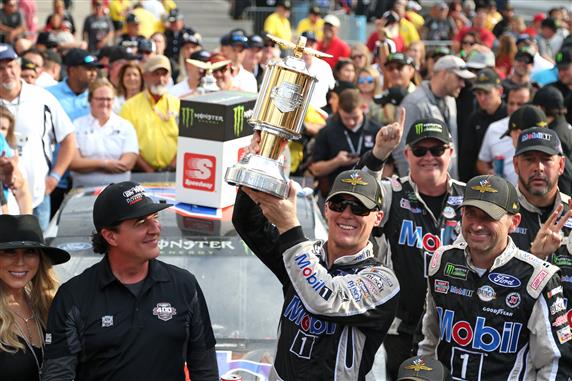 Kevin Harvick Ends Regular Season On Top After Second Brickyard Win
While the main story of the Regular Season finale was the Playoff bubble drivers, it was an all around great day for Kevin Harvick. The driver of the Stewart-Haas Racing 4 Mustang dominated at Indianapolis from the pole, earning his second Brickyard win. The Playoff-deciding race quickly turned into a race of attrition, with major accidents striking many favorites or bubble drivers. The field of 16 is now set, with the Playoffs kicking off next week in Las Vegas.
With qualifying on race morning, turnaround time for everyone was very limited. While Kevin Harvick, Clint Bowyer, and Jimmie Johnson all had prime track position at the start, others who needed it were not so lucky. Ryan Newman and Daniel Suarez, 2 of the Playoff bubble drivers, would each start worse than 20th. All 4 of the bubble drivers would have to be cautious yet on-the-attack all day long, as Stage points would be at a premium.
Bittersweet Start for SHR
While Kevin Harvick got the jump on the initial start and quickly gained a several-second lead, his teammate was not so lucky. After starting 20th, Daniel Suarez would cause the first caution after grazing the wall out of turn 2. Thankfully for the 41, his damage was minimal, and he continued onward. However, the day's slow start would not improve for the third-year racer.
Under the caution for Suarez, all 37 lead lap cars came into the pits. With Indianapolis' narrow pit road, the 43 of Bubba Wallace missing his pit stall turned into a major chain reaction. As a result of this stack-up, Chase Elliott, Martin Truex, Jr., and others suffered damage. Jimmie Johnson narrowly avoided this melee, but was forced to pit again with slight contact. Up front however there was no change, as Harvick held his position.
On the day's first restart, the 4 rocketed away to an early lead after disposing of Brad Keselowski's 2. This green flag run would last 27 laps and came to an abrupt end when a scary moment occurred in turn 1.
Late Crash in Stage 1 Sets Up Bold Strategy
While at the fastest part of Indianapolis Motor Speedway, Landon Cassill pounded the turn 1 wall at near-terminal velocity. This crash was so violent it buckled the roof on the 00 Chevrolet. Thankfully Cassill walked away unharmed, as he blew a left front tire while trying to make the corner. Under this yellow, one would expect the entire field to come in for fresh tires. However, Joey Logano and Ryan Newman stayed out to gain the front row for the 3-lap dash to close Stage 1. The chaos and attrition factors of this race would only ram up on this sprint to close the Stage.
Another Scary Incident Ends Stage 1 Under Yellow
While Logano got the jump on the restart over the slower Newman, as the pack scrambled around the 6. While the leaders got away cleanly, those in the back half of the top 10 were not so lucky. Entering turn 2, Kyle Busch passed Brad Keselowski on the inside for 7th. Busch's teammate Erik Jones tried following him by Keselowski, but got loose under the 2 mid-corner. As a result, both the 2 and 20 went spinning through turn 2. The craziness was not over though, as Keselowski's Mustang came to rest atop a tire barrier to the inside of turn 2.
This specific section of wall is tire barriers rather than a SAFER barrier due to the fact that it's a temporary wall for the Indy road course. The ensuing caution from this fray would end Stage 1, giving the points to Keselowski's teammate, Logano. For the Playoff bubble drivers, both Newman and Johnson would end Stage 1 with points as well.
After coming into Indianapolis with all of the confidence as the defending-winner, Brad Keselowski's bid for a second Brickyard win would end with his car pitched upward at a 45-degree angle. Due to the extensive debris field, a brief red flag period would occur for cleanup.
Harvick Heaves Ahead for Stage 2
Under pit stops following Stage 1, Harvick would not retain his so-far commanding lead. Rather, Kyle Larson's 42 would just edge him out of the pits. Harvick would not let Larson lead for long though, as the 4 was back at the head of the pack by lap 57. At this time Ryan Blaney would also take the 2nd spot, looking to give Roger Penske a second Brickyard win. The 4 was unable to escape the clutches of the 12 like he had with others earlier. Harvick's lead over Blaney was never more than 1 second. These 2 Fords appeared to be the class of the field as laps ticked by in Stage 2.
Stage 2 would remain green long enough for another cycle of pit stops to begin. Under this sequence, Larson, William Byron, and Joey Logano all led after Harvick pitted. Lap 90 would see the yellow wave again as the 18 of Kyle Busch stalled it on pit road with an engine fire. Being in the midst of stops, this caution handed the lead to Jimmie Johnson. The man who needed max points entering the day now found himself out front in a position to capitalize big.
After Johnson and others pitted, the green would fly again with only 5 laps left in Stage 2. Harvick cycled back out front, but the caution came out immediately for debris in turn 2. Similarly to Stage 1, Stage 2 at Indianapolis would end under caution. This would be Harvick's 5th Stage win of 2019. Bubble drivers gaining ground at the Stage 2 conclusion included Daniel Suarez as well as Jimmie Johnson.
Season-Defining Crash to Start Final Stage
The restart for the final stage would be catastrophic once the field hit the 'calamity corner' that is turn 2. While racing 3-wide with William Byron and Kurt Busch, the 48 of Jimmie Johnson would spin and hit the outside wall a ton. With the 48 stalled, this incident collected Paul Menard, Chris Buescher, Daniel Hemric, and many others. For the 48, this crash would end his chances at making a record-16th Playoff appearance. This Indianapolis race and its unfortunate outcome is a true microcosm of the 48's season. Johnson had speed to contend inside the top 10 but was unable to close it out. With one Playoff bubble driver done for the day, the final 2 spots would be decided among Bowyer, Newman, and Suarez.
New Leader Late in the Going
When the race resumed, 49 laps stood between one driver and a Brickyard win. On the restart, Ryan Blaney's 12 amazingly muscled his way around the 4 of Harvick for the lead. Blaney began to then pull away, trying to steal this one away from Harvick. The 12 would gain a lead of roughly 1 second before pitting for the final time with 30 to go. Blaney's pit stop came under a caution for Kyle Larson's solo-spin out of turn 2. This handed the lead back to Harvick, who had came in for service under green a few laps prior.
2 more brief yellows would come out late when Alex Bowman spun out of turn 2, and Matt Tifft looped it in turn 1. On both late restarts, Harvick was near-perfect in maintaining his lead. The final green flag flew with 9 to go, and Harvick would win by over 6 seconds.
Significance of a Second Brickyard Win for Harvick
Prior to this weekend, Harvick was a past Brickyard 400 winner. However, that victory came 16 years ago, back in 2003. For Harvick, Rodney Childers, and the 4 SHR team, a second Brickyard win was huge, especially given Harvick's tie to a past Indianapolis legend. "How much coming to Indianapolis means to me," Harvick said post race "As a kid I watched Rick Mears win Indy 500s and got to be around him as a kid, and he was my hero, so coming here and winning here is pretty awesome." Harvick hails from Bakersfield, California, the same hometown as 4-time Indy 500 winner Rick Mears. For Harvick to win on his idol's turf was as big as any victory.
This second Brickyard win also marks Harvick's 3rd win of 2019, which has the 4 seeded 4th in the Playoffs. Harvick and the other 15 championship contenders kick off their 10-week quest for the title next week at Las Vegas.
Other Notables in the Top 10
Coming in a distant 2nd place to Harvick was Joey Logano. The Penske driver was unable to score a second-straight Brickyard win for 'The Captain,' but still enters the Playoffs with momentum. The 2018 Cup Series champion will enter the 2019 postseason in the 5th seed. Logano also won the most recent race in Las Vegas earlier this season.
Feelgood Story of the Day Goes to Wallace, Petty Motorsports
Aside from the ever-present Playoff drama, the spotlight at Indianapolis should go to 3rd-place finisher Bubba Wallace. The Richard Petty Motorsports 43 Chevrolet had speed all weekend long, qualifying 15th and racing in the top 10 for much of the day.
"Heck of a day. I don't know to say," Wallace said post race. "We had speed all weekend in our Victory Junction Chevrolet. We never gave up all day no matter what happened on pit road. I still don't know what happened. We went from the lowest of lows, to the almost highest of highs! It was just a solid day for our team. Smaller organizations having big runs. It is very uncommon these days. Almost like David and Goliath. Everything kind of clicked today for us. These little teams aren't supposed to run with the big teams. It was a good day." Indianapolis marks Wallace's second-ever top 5 finish, after his runner-up result in last year's Daytona 500.
Another relative upset in the top 5 at Indianapolis was William Byron in 4th. After clinching his first-career Playoff appearance last week, the 24 ran solid throughout the 400 miles at Indy. At just 21-years-old, Byron is the youngest and most inexperienced driver in the Playoffs. With Chad Knaus' 7 championships-worth of knowledge though, the 24 could make a deep run.
Rounding out the top 5 from the Brickyard 400, Clint Bowyer locks up his Playoff spot with a 15-point cushion. For the first time in a seemingly-long while, the 14 had a quietly consistent day. Bowyer's only issue was nearly being collected in Alex Bowman's late spin. If the 14 is to advance on in the postseason, he needs more days like Indy.
Big Recovery for Hamlin
After how his final practice ended on Saturday, Denny Hamlin should count himself lucky to finish in 6th. After the conclusion of the last practice, Hamlin blew a tire entering turn 4, destroying his primary car. As a result, the 11 car on Sunday was a backup car that Hamlin had 0 laps in. He was able to rally from starting last to a solid P6. If the 11 team can keep up this level of consistency throughout the grind, then their points advantage might just land them in the Championship 4. Denny Hamlin enters the Playoffs as the #2 seed, only trailing teammate Kyle Busch.
After leading until his last pit stop, Ryan Blaney only recovered to finish in 7th. This marked Blaney's first-ever top 10 finish at the Brickyard, as well as led to his third-straight Playoff appearance. A year ago the Penske 12 team entered the postseason in a similar situation and won at the Charlotte Roval. Blaney enters this year's 16-man title fight in the 12th seed.
Newman Just Edges Out Suarez
Ryan Newman's quest to points-race his way into the Playoffs was a success after an 8th-place effort at Indy. The Brickyard marks the 9th top 10 of 2019 for Newman and the Roush 6 car. Newman barely scrapped his way into contention by just 4 points over Suarez. If Indianapolis is a sign of things to come for Newman, the 6 could be a bracket-busting team.
Earning a position to match his car number, Indianapolis was a race-to-forget for Chase Elliott. The Hendrick 9 team was involved in the lap-13 pit road chain reaction, and battled back all race long from being laps down. Elliott and his team have always come to life during the 10-week chase, the sky is truly the limit for the 2-time 2019 winners.
Lastly in the top 10 was non-Playoff contender Paul Menard. Combined with Darlington, the Wood Brothers 21 car has back-to-back top 10s for only the second time this season. Menard was stout all day long at Indy, starting on the front row alongside Harvick and being in the top 10 all day long. With this recent bout of consistency, it will be interesting to see how the 21 fares as a non-contender.
How to Watch the Next Race
NASCAR's 2019 Playoffs kick off this Sunday in Sin City. Coverage will be on NBCSN on Sunday, September 15 at 7 PM EST. The South Point 400 will mark the start to the 10-week title fight for the second year, except it will be a different race this time around. Las Vegas will be a night race, throwing a new curve ball at the 16 contenders.
Written by Peter Stratta
Be sure to follow us on Youtube and Twitter.
Be sure to follow the writer on Twitter.
Photo credit to NASCARMedia