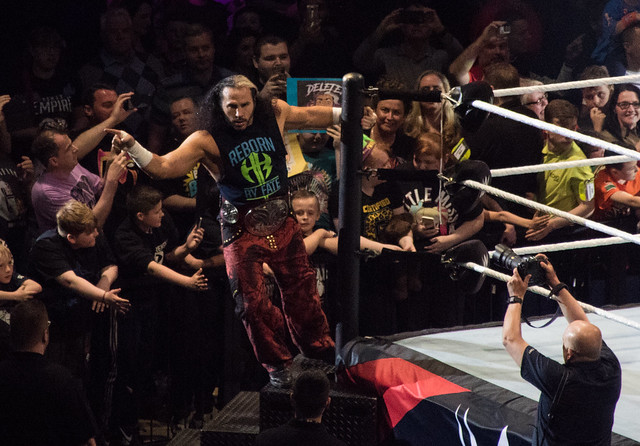 Matt Hardy Discusses His Future In Pro Wrestling
So, it isn't a secret that Matt Hardy will see his contract end in March of next year; at 44 years of age, he has a few decisions he has to make. Since his brother, Jeff went down with a knee injury in late April, he has been left off of TV. But, that doesn't mean that he has been inactive.
The elder Hardy brother has maintained his presence on social media, with daily posts on Twitter, YouTube, and Facebook, to name a few.  But, even he admitted that the next few months will be where he makes the hard decisions in regards to his life and his career.
The veteran WWE Superstar had to take some time off last year; opting to rehab some nagging injuries that had been plaguing him for some time. In that time, not only did he heal his hip, back, and pelvis; he also got into incredible shape, shaving years of age off in the process. In short, he looked a lot better than he had in years.
He would return in February of this year, getting back into the action; though, his brother getting sidelined also put him on the sideline, as well.
The VESSEL of Matt Hardy Speaks…
Hardy responded to someone on Twitter who said that the internet had "ruined the world of professional wrestling". Of course, Matt replied saying that he disagreed, and stated his case in a few tweets. As it started…
The internet has ruined the world of professional wrestling! https://t.co/0z7E8S9oxb

— Life is Debateable! (@EricplusMoser) September 7, 2019
To which Matt Hardy would reply:
I disagree. The internet hasn't ruined wrestling, but it's def changing it. IMO, the industry has to be more creative & shrewd in the way stories are told, while blurring the lines of reality & fantasy between athletic matches & entertaining content. The 'net forces evolution. https://t.co/OmqGOYEgfx

— The VESSEL of Matt Hardy (@MATTHARDYBRAND) September 7, 2019
A fan would reply to Hardy, saying:
"I've always felt that your true calling was as a promoter or in creative—and that's saying something because you're a very talented wrestler."
Hardy would go on to thank the fan for the compliment, and continued:
Thanks, Sam. Appreciate that. I can't say I disagree with you. For the few years I have left as an in-ring performer, I wanna kick ass & contribute to the industry-not sit on the bench. https://t.co/NLKyF3aRu7

— The VESSEL of Matt Hardy (@MATTHARDYBRAND) September 7, 2019
Where does this take Matt Hardy?
Now, consider that he IS currently 44 years old, making him a *technically* elder statesman in WWE. With the amount of wear and tear that he has gone through, it's a wonder just how many years he has left in the tank. Surely, WWE fans are used to seeing their favorite old school performers appear every now and again; but there's a difference in just appearing on shows and doing full-blown matches.
At this time, he is still in great shape, able to perform and maintains popularity amongst the fans. But, he is also, as pointed out, a creative genius when it comes to character development. Let's not forget the career renaissance he experienced after creating the "Broken" gimmick back in 2016. Not only did he revitalize his career, but, he was also the most talked-about performer of that year.
Anywhere you looked, whether it was WWE, Impact, ROH or any indy that could book him, there he was. His popularity led to an eventual return to the big company from Stamford, CT.
Teaching The "Next" Hardyz In-Line…
His latest video reached over 1 million views, and in it, he was teaching his two sons how to "wrestle". Really, it was more of the father/sons horseplaying around in a wrestling ring, but, he did teach Maxel how to do a proper splash. Wolfgang had a mean double-stomp, to be honest.
All in all, we are all going to have to wait and see what decision Matt Hardy comes to when it comes to his contract ending next year. Will he continue? Only time will tell, but for the time being, it looks like he's having the time of his life watching his two little ones growing up.
Written by Gregory Black
Follow Greg and TSJ: WWE on Twitter!
Photo credit to David Meadows via Flickr
Follow TSJ on YouTube and Twitter