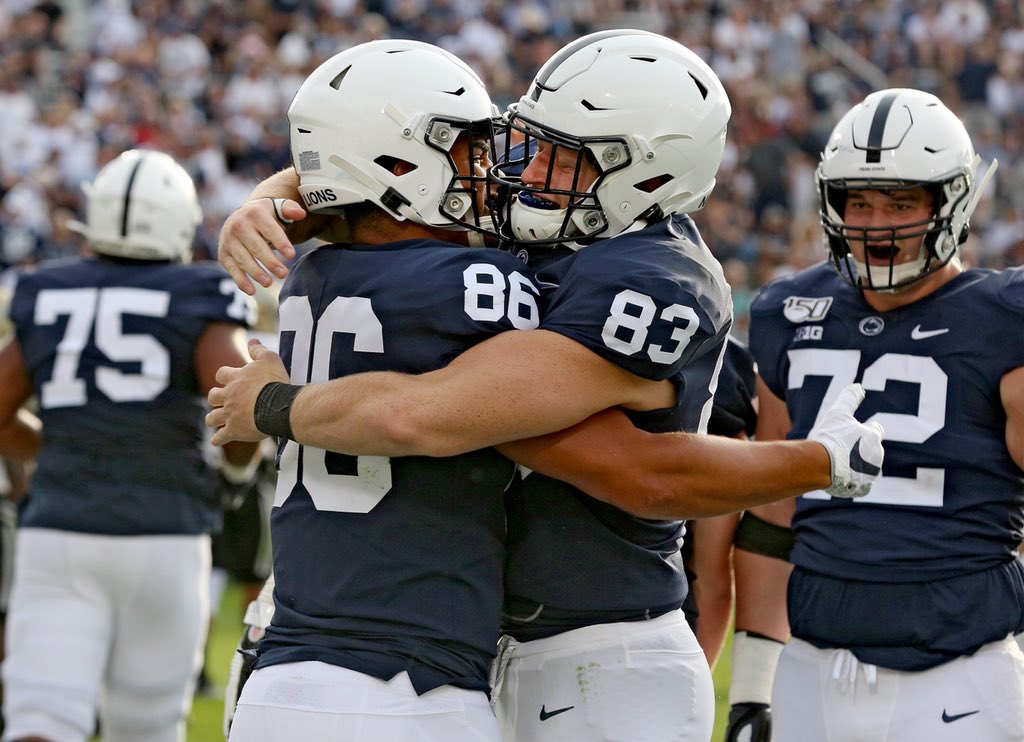 Penn State vs Buffalo Preview
Nittany Lions set for week two action against the Buffalo Bulls
Penn State football is getting ready for week two action of non-conference football. The Buffalo Bulls come to Beaver Stadium for one of two nights games on the Nittany Lions schedule. Even though Buffalo is in the MAC Conference, they seem to always provide a unique challenge for power-five programs.
Buffalo Bulls
The Buffalo Bulls are apart of the Mid-Atlantic Conference. Last season, the Bulls finished with a 10-4 record overall and went 7-2 in MAC conference play. In fact, they faced one Big Ten team last season in the Rutgers Scarlet Knights and defeated the Scarlet Knights 42-13. Furthermore, the Bulls have shown on a consistent basis last season that they can win in bunches and big at times. Last season the Bulls opened up with a four-game win streak before losing to Army by the same identical score to Rutgers. However, Buffalo went on another five-game win streak before losing to Ohio 52-17. Currently, the Bulls offense ranks 89th in the FBS with 57 plays for a total of 354 yards and an average of 6.21 yards per play.
Buffalo faced off against Robert Morris University. The Bulls defeated the Colonials 38-10. Buffalo got off to a quick start and never looked back. The Bulls ended up scoring 21 in the first quarter, seven in the second quarter and ten more in the third quarter. Bulls quarterback Matt Myers went 5/10 for 69 yards and threw two touchdowns and no interceptions. Furthermore, running back Jaret Patterson had 12 carries for 90 yards and one touchdown. Patterson averaged 7.5 yards per carry. Additionally, receiver Zac Lefebvre recorded two receptions for 43 yards averaging 21.5 yards per catch. Lefebvre also caught two touchdown passes. Additionally, on the defensive side of the ball, the Bulls are ranked 30th in the FBS with 54 total plays where the Bulls defense has only allowed 240 yards total with an average of 4.44 yards per play.
Penn State Nittany Lions
Penn State obliterated the Idaho vandals. On the other hand, there were a couple benefits the Nittany Lions got out of the game. All the running backs saw action and they all scored. Furthermore, coach James Franklin was able to get other backups playing time. Likewise, since the offense exploded in week one, the Nittany Lions have the nations No. 5 best offense in the country. Penn State was able to run 82 plays last Saturday for a total of 673 yards. The offense was able to average 8.21 yards per play. On the other hand, just as their offense came alive so did their defense.
Additionally, the Nittany Lions currently boost the nation's No. 7 defense where they only allowed the Vandals offense to run 54 plays for 145 yards an average 2.69 yards per play. Some may not consider this game much of a challenge. However, it'll be another opportunity for James Franklin to get backups more playing time especially the guys they want to red-shirt for the season. Playing a night game also adds to a better in game experience for the incoming recruiting class. the only other game at night is later in the season against Michigan.
History Between Penn State And Buffalo
Overall, Penn State and Buffalo have played three times. The first ever game between both teams was played in Buffalo, New York where the Bulls edged the Nittany Lions 10-0. Since then, the last two games have been played at Penn State where Penn State has won both of them 45-24 and 27-14 respectively. The last meeting between both teams took place on September 12, 2015. Though there have been very few games played between both programs, the latter two games have been close.
Conclusion
The Nittany Lions look to build off last week's performance against Idaho but dealing with a greater challenge. Give granted Idaho wasn't much of a challenge. Buffalo will look to provide more of a challenge considering the way the Bulls handled Robert Morris last Thursday. Buffalo will enter a hectic environment in Beaver stadium will the student section and such. Since it's a night game, the crowd will for sure be pumped up. Penn State vs Buffalo kicks off at 7:30 p.m Saturday night on Fox.
Written By Tom Johnston