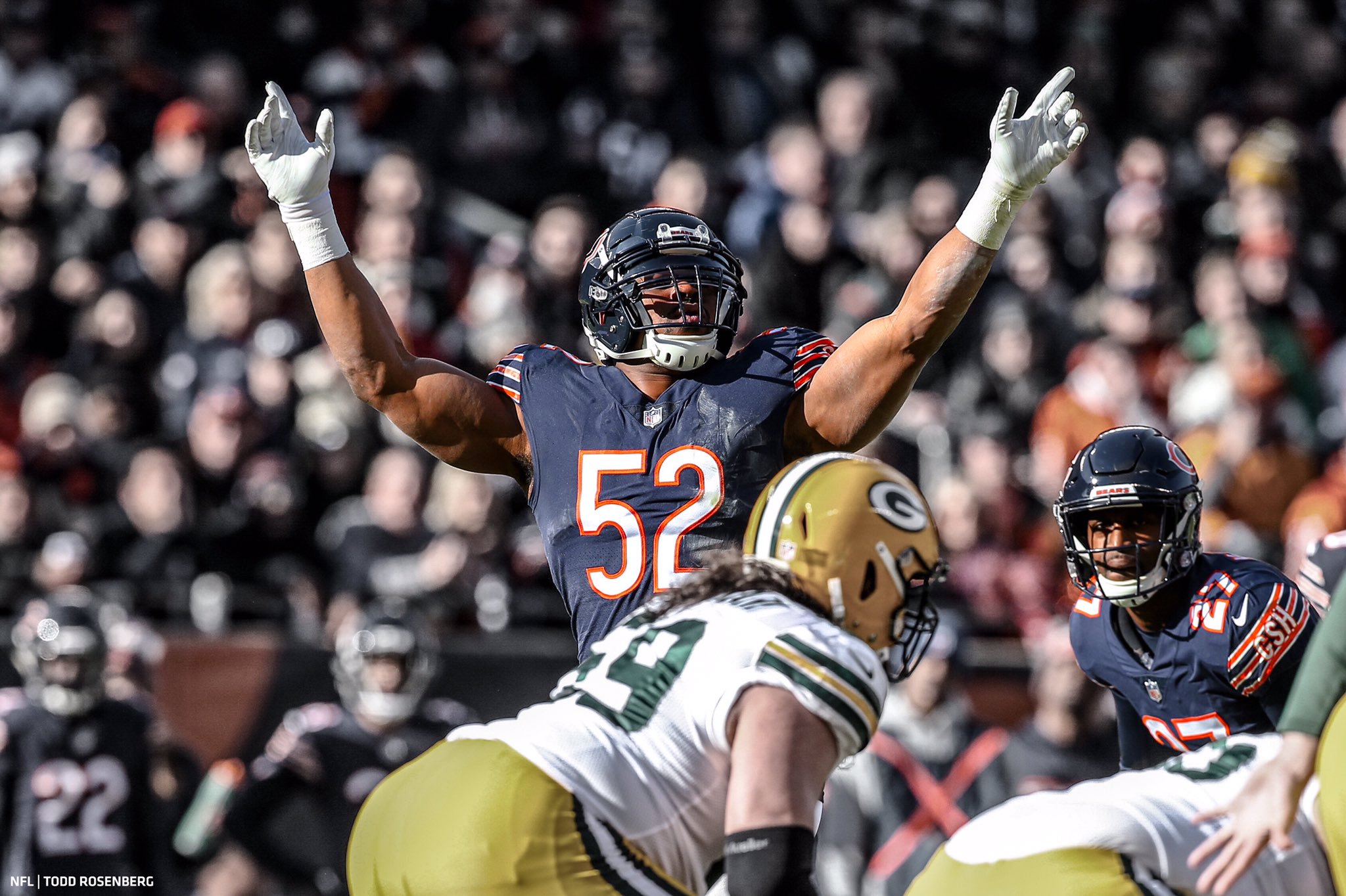 2019 NFL Week 1 Score Predictions
Football fans, the drought is over. The misting of Combine scrutiny, the light downpour of the NFL Draft and the petrichor of the preseason have culminated in one thing: Week 1 of the 2019 regular season.
For every team, Week 1 indicates a fresh start. No matter if a squad won its 2nd Lombardi Trophy in 3 years or just failed to qualify for the postseason for the 16th straight season, optimism abounds all across the league.
However, there will assuredly be storylines composed based on the outcomes of the initial matchups of the year. With that being said, here are my score prognostications for an enticing Week 1 slate.
Bears 24, Packers 21 (Thursday, 8:20 P.M. ET)
What a way to start the season! The best rivalry in the NFL, and two teams who should contend for playoff seeds. Are the Packers capable of pulling off the upset, especially with a resurgent Aaron Rodgers and his 16-5 career record against the Monsters of the Midway? Yes. However, I think that Mitch Trubisky & co will be fired up to avenge a season that ended prematurely. Watch out for Khalil Mack having a spirited attack, much as he wreaked havoc in Lambeau last year.
Falcons 31, Vikings 28 (Sunday, 1 P.M. ET)
This outcome may surprise people, but I have legitimate doubts about Kirk Cousins' competency at quarterback. Though this isn't a primetime matchup—in which Cousins is infamous for floundering—the Vikings are a team who have recently stagnated. Ultimately, I think Atlanta's high-flying offense with arguably the best receiving corps in the league—Julio Jones, Mohamed Sanu, Sr. and Calvin Ridley—will get off to a fast start and shock the "SKOL" chants right out of Minnesota faithful.
Jets 20, Bills 7 (Sunday, 1 P.M. ET)
Will the Jets rewrite their franchise narrative after an offseason of alterations? I believe so. The Bills have a tenacious defense with elite players like Tremaine Edmunds and Tre'Davious White, but a new-look Gang Green—with Le'Veon Bell, C.J. Mosley and more—will be too much for second-year QB Josh Allen to overcome.
Browns 28, Titans 14 (Sunday, 1 P.M. ET)
Fundamentally, the Browns are better than the Titans in nearly all facets. There will unquestionably be copious amounts of hype surrounding the Browns in their opener, but encountering the embattled Marcus Mariota and the sliding Titans should not be too much of an obstacle. If this game were in Nashville, however, I would likely have the Browns on upset watch.
Chiefs 20, Jaguars 13 (Sunday, 1 P.M. ET)
One of the most interesting matchups in Week 1 will be reigning MVP and wunderkind Patrick Mahomes squaring off against Jalen Ramsey and the loud-mouthed Jaguars defense. The litmus test for Jacksonville will likely be whether or not newcomer Nick Foles can lead the charge against one of the premier teams in the league. I think Jacksonville's elite defense will slow down the Chiefs yet Foles will come up just short in his first game in black and teal.
Rams 31, Panthers 21 (Sunday, 1 P.M. ET)
Could the Rams' lax play in Atlanta 7 months ago proliferate in Charlotte? I think it's possible—especially in light of the Todd Gurley-arthritis morass—but the Cam Newton injury scenario frightens me too much to have the Panthers upstaging the defending NFC champions.
Dolphins 17, Ravens 14 (Sunday, 1 P.M. ET)
If ex-Cardinal Josh Rosen were starting this game, I think the Ravens would easily wallop the Dolphins. However, ageless wonder (at least for the first few weeks of the season) Ryan Fitzpatrick will be suiting up against second-year starter Lamar Jackson. Let last year serve as a precedent of Fitzpatrick's initial success:
Week 1: 48-40 win in New Orleans, 417 yards, 4 TD, 156.2 rating
Week 2: 27-21 win v.s. Philadelphia, 402 yards, 4 TD, 1 INT, 144.4 rating
I absolutely understand that the Dolphins' roster is among the worst in the NFL, especially in light of trading away Laremy Tunsil, Kenny Stills and Kiko Alonso. However, crazier things have happened (looking at you, Miami Miracle). A year ago, 6 of Miami's 7 wins came at Hard Rock Stadium—and I expect them to continue their home success by shocking Baltimore.
Eagles 36, Redskins 10 (Sunday, 1 P.M. ET)
This game spells drubbing with a capital "d." The Eagles—with a rejuvenated Carson Wentz—appear ready to embrace their championship aspirations. On the contrary, the Redskins seem to be approaching mediocrity with Case Keenum starting, not to mention a paper-thin receiver corps. Philadelphia should take flight—and beyond—in its home opener.
Seahawks 44, Bengals 10 (Sunday, 4:05 P.M. ET)
I truly pity the Bengals for having to make the trek to CenturyLink Field to open their season. On top of that, star receiver A.J. Green is likely out a multitude of weeks. I fully expect Russell Wilson and Seattle's defense—with nascent star Jadeveon Clowney—to prey upon Cincy.
Chargers 26, Colts 13 (Sunday, 4:05 P.M. ET)
If Andrew Luck had not retired—or miraculously reneges upon his decision—this matchup would have been among the premier contests of the week. However, with Jacoby Brissett filling in for Luck, the Chargers should win despite the absences of Melvin Gordon (unless something hastily changes) and Derwin James.
Cowboys 34, Giants 17 (Sunday, 4:25 P.M. ET)
The Giants' only lifeline will likely be Saquon Barkley. Unless he can rush for ~300 yards and 4 touchdowns, I don't see how Dak Prescott and America's Team will even come close to losing; though if Ezekiel Elliott doesn't suit up, this game may be closer than anticipated.
Cardinals 28, Lions 20 (Sunday, 4:25 P.M. ET)
This matchup is one of the more intriguing contests, as rookie sensation Kyler Murray will make his first career start against veteran Matthew Stafford. The latter will likely have a superior stat line relative to the former, but I think the X-factor of playing in the desert will galvanize the Cardinals to a win to kick off the Kliff Kingsbury era.
Buccaneers 27, 49ers 24 (Sunday, 4:25 P.M. ET)
Another upset: the Jameis Winston-led Buccaneers knock off Jimmy Garoppolo and the 49ers. I think there are still legitimate question marks floating around Garoppolo; that, mixed with making a cross-country trip against a team that is looking to transcend expectations, creates a recipe for disaster for Kyle Shanahan and the Niners.
Patriots 31, Steelers 28 (Sunday, 8:20 P.M. ET)
I would love for nothing more than my Steelers to upstage the defending champs in Foxborough, a place in which they have historically struggled. The black and gold are certainly new-look sans Le'Veon Bell and Antonio Brown, and I'm excited to see how JuJu Smith-Schuster, James Conner and Devin Bush will step up this season. Pittsburgh could emerge with a "W," but Tom Brady is nearly impeccable at home—though the Chiefs-Patriots contest in Week 1 of 2017 gives me slight hope.
Saints 35, Texans 21 (Monday, 7:10 P.M. ET)
The Texans must rise to the occasion this season after the imminent departure of Andrew Luck—their division is now the worst in all of football. But encountering the ravenous Saints and possible MVP candidate Drew Brees in the raucous Mercedes-Benz Superdome certainly won't make Bill O'Brien at ease.
Raiders 17, Broncos 10 (Monday, 10:20 P.M. ET)
For the second straight season, the Raiders earn the Monday Night Football nightcap to end Week 1. The results definitely didn't go in Jon Gruden's favor last year. Yet the younger, faster and more electric Raiders should eke out a win over Joe Flacco and Denver to initiate their 2019 campaign.
Written by Bradley Locker
Follow Bradley on Twitter and TSJ: NFL on Twitter!
Photo credit to the Bears via Twitter
Follow TSJ on YouTube and Twitter