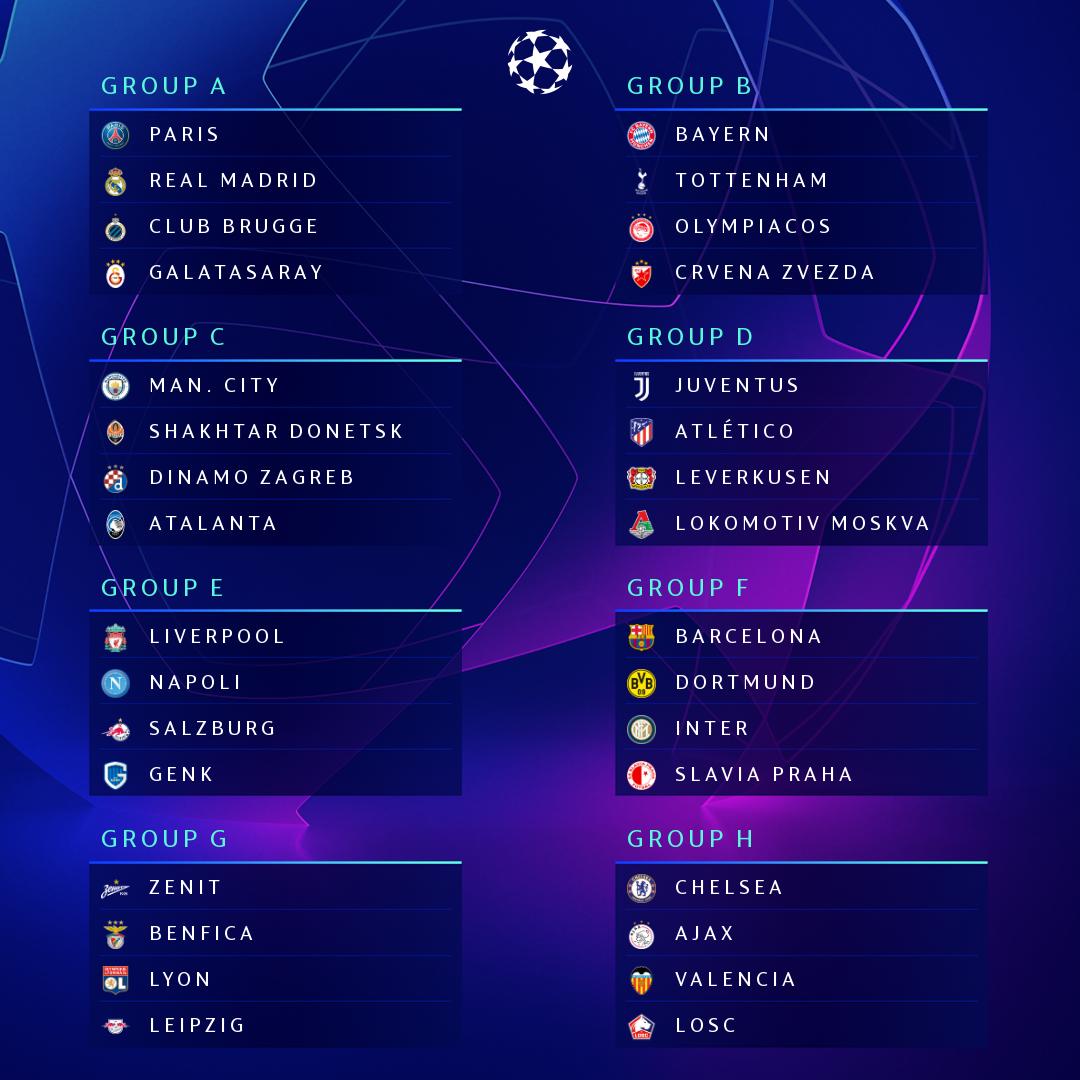 UEFA Champions League 2019/20 Group Stage Preview
Three months after Liverpool secured their sixth Champions League title, our attentions now turn to the 2019/20 campaign. Throughout this competition, there are a plethora of quality teams which sets up for yet another exciting Champions League campaign.
After Thursday's draw in Monaco, we now set our sights on previewing what could happen over the next three months of the competition.
Group A:
Paris Saint-Germain, Real Madrid, Club Brugge, and Galatasaray.
The battle for the first place out of Group A will seemingly be between PSG and Real Madrid. This battle could be made tastier if Real secure the signing of Neymar from the French giants, despite the speculation of his return to Barcelona. Barring any surprises, Club Brugge and Galatasaray will battle it out for the third-place spot to secure a place in Europa League knockout rounds.
Prediction:
1) Real Madrid, 2) PSG, 3) Galatasaray, 4) Club Brugge.
Group B: 
Bayern Munich, Tottenham Hotspur, Olympiacos, and Red Star Belgrade.
It will be England vs Germany for the top spot in Group B in the form of Bayern and Spurs. Mauricio Pochettino's side could be the favorites in this group after making the final last time around. Greek side Olympiacos and Serbian team Red Star will provide hostile atmospheres for visiting teams that may drop points.
Prediction:
1) Tottenham Hotspur, 2) Bayern Munich, 3) Olympiacos, 4) Red Star Belgrade.
Group C:
Manchester City, Shakhtar Donetsk, Dinamo Zagreb, and Atalanta.
City has been handed the easiest draw. Pep Guardiola's men should come through the group unscathed as no team provides a real threat. The second qualification spot is up for grabs with the other three teams seemingly on a level playing field.
Prediction:
1) Manchester City, 2) Shakhtar Donetsk, 3) Atalanta, 4) Dinamo Zagreb.
Group D:
Juventus, Atletico Madrid, Leverkusen, and Lokomotiv Moscow.
A repeat of the round of 16 tie sees Juventus and Atletico Madrid go head-to-head in Group D. After Atleti's summer transfer binge, they could push Juve for that top spot. Leverkusen's exciting brand of football could cause problems for their opponents. The Russian champions, Lokomotiv, will struggle to keep up with the bigger teams.
Prediction:
1) Juventus, 2) Atletico Madrid, 3) Leverkusen, 4) Lokomotiv Moscow.
Group E:
Liverpool, Napoli, FC Salzburg, and RC Genk. 
Liverpool, the UCL winners last year, welcome Napoli as their only relatively difficult fixture. Ancelotti's team should claim the second spot with Salzburg and Genk battling it out for the third-place spot.
Prediction:
1) Liverpool, 2) Napoli, 3) FC Salzburg, 4) RC Genk.
Group F:
Barcelona, Borussia Dortmund, Inter Milan, and Slavia Praha. 
Some mouth-watering fixtures on the menu in Group F as three of the biggest teams in soccer will fight for qualification. Barcelona and Borussia Dortmund should claim the top two spot but Inter has the potential to strike up a few surprises along the way. Minnows Slavia Praha will find it difficult to pick up points in any of their games.
Prediction:
1) Barcelona, 2) Borussia Dortmund, 3) Inter Milan, 4) Slavia Praha.
Group G: 
Zenit, Benfica, Olympique Lyonnais, and RB Leipzig.
Exciting times ahead in Group G as there are no clear favorites. All four sides have dangerous attacking options and strong defenses. With experience in this competition serving them well, Lyon and Benfica may just slightly edge it.
Prediction:
1) Olympique Lyonnais, 2) Benfica, 3) Zenit, 4) RB Leipzig.
Group H:
Chelsea, Ajax, Valencia, and Lille.
Frank Lampard's team have a tricky group as last year's semi-finalists Ajax and Spanish giants Valencia will pose multiple threats. Lille will also stir up the pot as they will not serve as pushovers in this group.
Prediction:
1) Ajax, 2) Chelsea, 3) Valencia, 4) Lille. 
Written by Jacob Robson
Follow Jacob and TSJ: Soccer on Twitter
Photo Credit to ChampionsLeague via Twitter

Follow TSJ on YouTube and Twitter