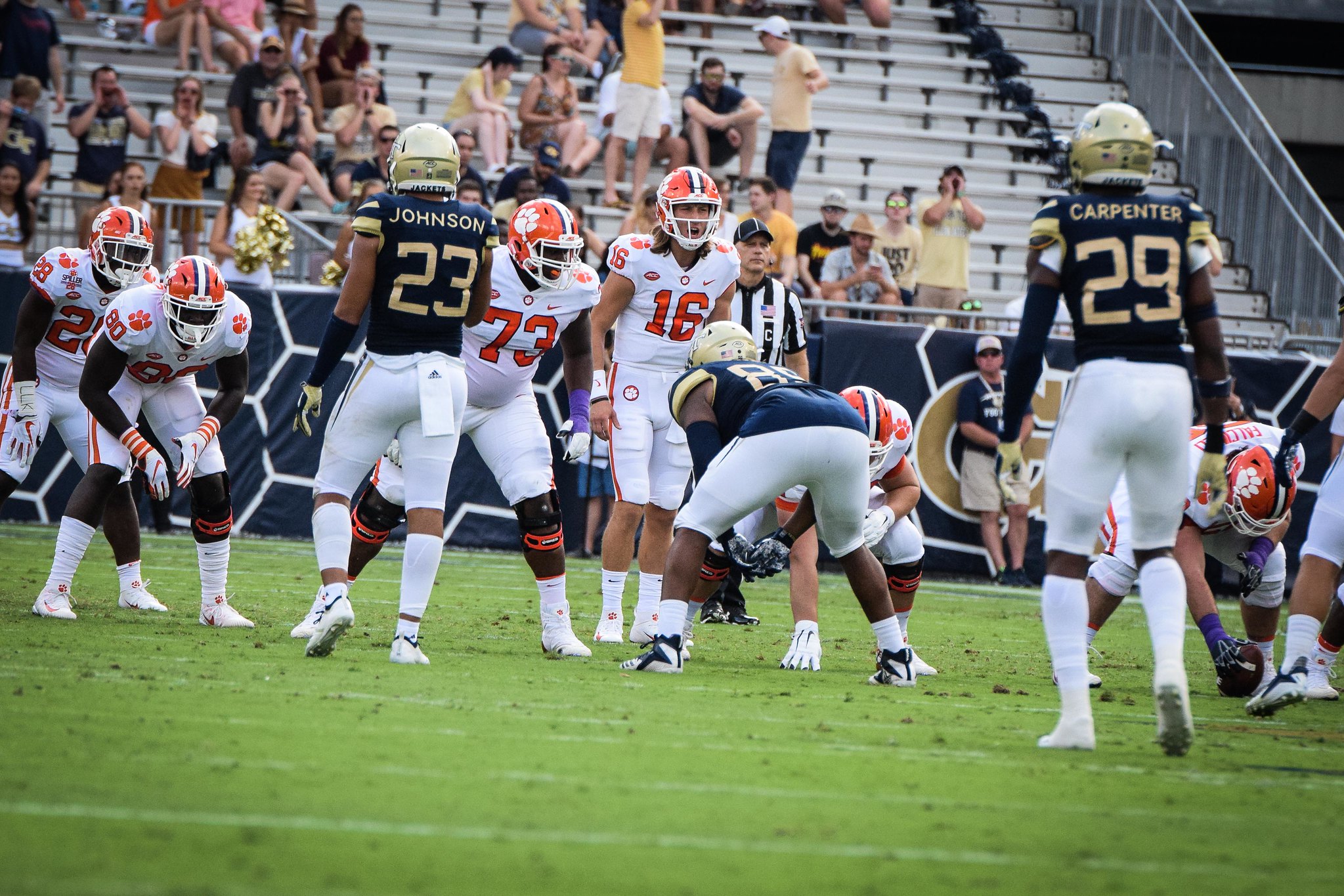 Georgia Tech vs #1 Clemson Preview
Matchup: Georgia Tech Yellow Jackets (0-0, 0-0 ACC) vs Clemson Tigers (0-0, 0-0 ACC)
Date: Aug. 29, 2019
Time: 8:00 p.m. (est)
Network: ACC Network
Location: Clemson, South Carolina
Venue: Clemson Memorial Stadium
Seating Capacity: 81,500
The champions will kick off their season on Thursday when they host Georgia Tech at Memorial Stadium.
Last time these two sides met, the Tigers had the upper hand with a 49-21 win over the Yellow Jackets.
Everything points at a lopsided event with Clemson being the heavy favorites to win.
Georgia Tech
The Yellow Jackets are coming off a 7-6 year under Paul Johnson. Additionally, they ended their season with a 34-10 loss to Minnesota in the Quick Lane Bowl in Detroit, Michigan.
The Jackets the series between the two programs with a 50-31-2 record, however, Clemson has won the last four contests.
Their last win over Clemson came in 2014 at Boddy Dodd Stadium where the Jackets won 28-6.
The last time Georgia Tech won at Clemson was in 2008 with a 21-17 margin.
Newly appointed head coach Geoff Collins believes his side is on a tradition period. Collins is introducing a new philosophy and a revamped offense.
Defensively Georgia Tech hopes to limit big plays, though their offensive side may show a different face under Dave Patenaude.
Nevertheless, they hope to show a positive step towards the right direction under their new head coach.
Clemson
The Tigers are looking to continue their amazing run while playing tough and fast under head coach Dabo Swinney.
Trevor Lawrence returns for his sophomore year and is also a front-runner for the Heisman Trophy.
The Heisman favorite completed 65.2% of his passes for 3,280 yards, while also racking 30 touchdown passes. He only threw four interceptions in 2018.
Additionally, Travis Etienne returns for the Tigers after rushing for 1,658 yards and an average of 8.1 yards per carry. He found the end zone on 24 occasions.
Also, junior Tee Higgings and sophomore Justyn Ross return. Ross led the team with 1,000 receptions yards last season.
Prediction Georgia Tech vs #1 Clemson Preview
Clemson is attempting to become the first repeat champion in the College Football Playoff era. Alabama is the last to repeat in 2011-12 seasons.
The Tigers are in a quest to win back-to-back national championships in their school history.
The visitors are no match for the powerful offense of Clemson. Additionally, the Tigers have not lost a home game since November 12, 2016 when they lost to Pittsburgh 42-43.
Prediction Georgia Tech 21 – 52 Clemson 
Written by Edgar Gomez
Follow Edgar and TSJ: College Football on Twitter!
Photo credit to David Perez via Twitter
Follow TSJ on YouTube and Twitter