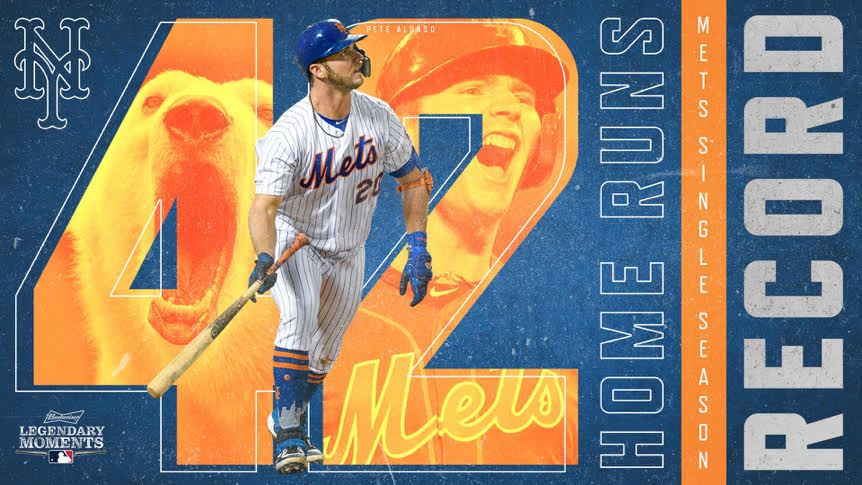 Pete Alonso Is The Mets New Home Run King
In 58 years of New York Mets baseball, no Met has ever hit more home runs in a season than rookie Pete Alonso. Alonso hit his 42nd homer of the year last night to set the new mark. The previous mark was a three-way tie with 41 homers between Alonso, Carlos Beltran, and Todd Hundley. In a year that could have turned into a complete disaster for the Mets, Alonso has led the charge to keep the Mets in the playoff race and boost their offensive production.
On his homer, Alonso said, "It's mind-boggling. There are so many great players that have come through this organization, that have played here for a long time, that are Hall of Famers, that are champions, that are just absolutely well-respected throughout the game. It's very humbling, because those people, in my eyes, are legends of the game and also legends here in New York."
Though the Mets did lose the game, fans did not lose sight of the fact that Pete Alonso has truly been something special to watch this year.
The Polar Bear Is The NL Rookie Of The Year
There is no question the Pete Alonso should get the NL Rookie of the Year Award. With Fernando Tatis Jr. likely out for the year, Alonso sticks out among every other rookie in the NL. His numbers, arguably, are NL type numbers. With 40+ homers and over 100 RBIs, he is a certainly a top 5 MVP candidate by years end. With roughly one month left in the season, fans will watch closely if Alonso can hit 50 homers. In addition, they will also be watching if he can take down Aaron Judge's single-season rookie homer record, and lead the Mets back to October.
Written By Zach Nau
Follow Zach and TSJ: MLB on Twitter
Photo Credit to the Mets via Twitter
Follow TSJ on Facebook and Twitter