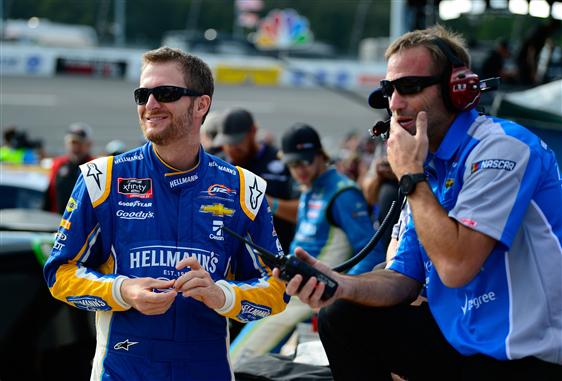 Dale Earnhardt, Jr. Confirms He Will Drive in Darlington Xfinity Race
A few weeks ago on August 15th, the NASCAR world was shocked as a plane carrying Dale Earnhardt, Jr. and his family crashed while heading to Bristol Motor Speedway. According to the National Transportation Safety Board, the plane bounced on the runway before the right rear landing gear collapsed. Elizabethton Municipal Airport near Bristol, Tennessee was the site of the crash. Here is the updated landing report ahead of this weekend's race at Darlington.
NTSB Investigation Findings
"The video revealed that the right main landing gear collapsed and the outboard section of the right-wing contacted the runway shortly after the third touchdown," the NTSB posted in their statement. "The airplane departed the paved surface beyond the runway 24 departure end threshold, through an open area of grass, down an embankment, through a chain-link fence, and up an embankment, coming to rest on the edge of Tennessee Highway 91." The NTSB's investigation is still ongoing. However their preliminary findings reveal that the pilots attempted a 'go around' when the landing turned rough.
Immediately after the plane came to a halt, flames began to build at a rapid rate. Fortunately, the Earnhardt family and flight crew successfully opened the plane doors before the fire completely engulfed the aircraft. All escaped, but Dale Jr. did confirm he received minor injuries while replying to a fan on Twitter.
"Yes. I plan on still driving. My lower back is bruised up real bad. Lots of swelling and I just need that to go down and the pain to chill out. I've been treating the area every day solely to get well to race. I have a plan B but hope not to use it."
Dale later explained in a follow-up tweet that his "plan B" is to have another driver race the car. It appears though that Earnhardt's 'plan B' will not have to be utilized.

Going with the spirit of Darlington throwback weekend, Dale Jr. will pay tribute to his famed father. The paint scheme on Earnhardt, Jr.'s number 8 Camaro hearkens back to the first Cup Series car driven by Earnhardt, Sr. in 1975. The blue-and-yellow scheme is already a fan favorite.
Confirmed: Dale Jr. Ready to Race in Darlington
On Monday Steve Letarte, former crew chief of Earnhardt Jr., said on NBCSN's NASCAR America that Dale will indeed be behind the wheel of the #8 car this weekend. This will be Dale's second NASCAR Xfinity Series race since his retirement at the end of 2017. His most recent start was September of last year in Richmond. Dale Jr. drove to a 4th place finish after winning a stage and leading 96 laps.
"There are many things I love about Darlington that contributed to my decision to run there this year, but the main reason is the track surface," Earnhardt Jr. said back in February when Darlington announced his return. "I love races where you have to be smart and manage your tires. Darlington is slick, and it wears out tires. It's one of the few stops on the circuit that provides that challenge."
Darlington has already announced a spike in ticket sales for the entire upcoming weekend. Tune in to NBC at 4PM EST on Saturday to find out if Dale Jr. can once again find victory lane. If he does, there's sure to be a party like it's 1988.
Written by Noah Lewis
Be sure to follow us on Youtube and Twitter.
Be sure to follow the writer on Twitter.
Photo credit to NASCARMedia.