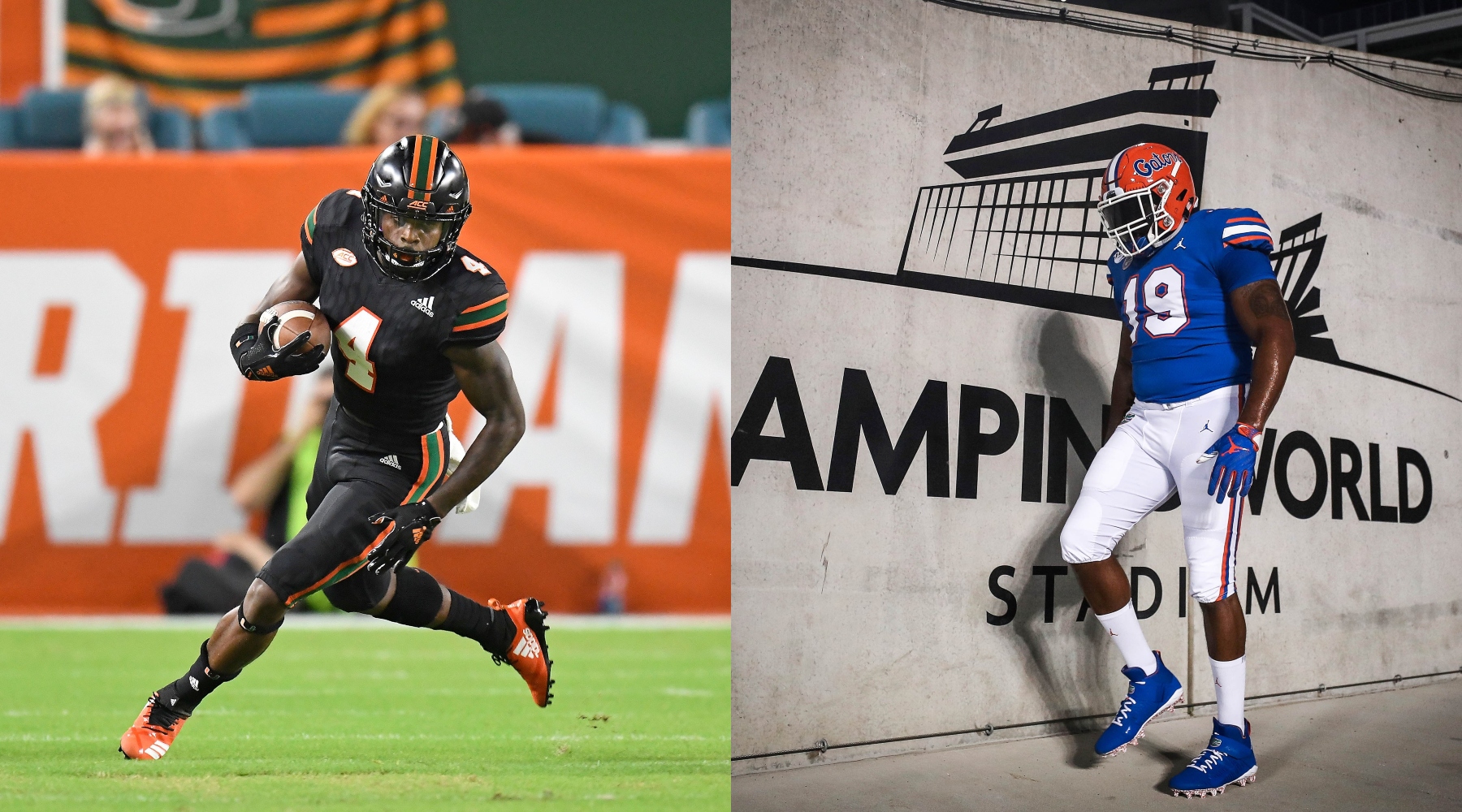 College Football Season Kick-off Preview: Miami vs Florida
Well, we are back again!
Another season is about to kick-off and we've got an all-Florida affair in Orlando's Camping World Stadium to get things going this Saturday.
To get you ready and prepped for the start of the College Football Season, here are some key story-lines heading into this big clash:
Miami
The 'Canes have a lot to be excited about coming into this season and that centers a lot around the new starting quarterback, redshirt freshman Jarren Williams. Canes fans are praying that the former four-star recruit can finally right the ship at signal-caller after last season's chaotic run. Williams beat out highly touted transfer Tate Martell while also beating out the incumbent starter N'Kosi Perry. Just what Williams can do is an intrigue for this season opening game. He only played in one game last year. If he plays well, Miami can really take off after last year's disappointing 7-6 finish.
He won't obviously be alone though, as the Hurricanes are always stacked full of talent. And that talent clearly shines through in the leader of the defense, DE Jonathan Garvin. Garvin is looking to cement himself as a first-round prospect come this season and with 60 total tackles, 5.5 sacks, and 17 tackles for loss last year, this season should be insane. If the offense can do its part this year, then the 'Canes are finally a real threat again in the ACC.
A key injury note: Stud RB Lorenzo Lingard is expected to play, but how much is anyone's guess. Miami does not look like they are in any mood to rush the former five-star recruit (with a reported 4.27 forty) back from his torn ACL last season. DeeJay Dallas and Cam'Ron Harris should carry the load.
Florida
The Gators are looking to build on an impressive 10-3 record last year and put the rest of the SEC on notice. In my opinion, Florida will go as far as redshirt junior QB Feleipe' Franks goes. Franks is coming off a solid statistical season, tossing 24 TD's and 6 INT's, although his completion percentage was an unimpressive 58.3%. The former four-star recruit really hasn't been the player Florida was hoping to get when they signed him. However, there is still time for him to take the next step in his development and shed the "average" starter label that seems to follow him.
He'll need his group of receivers to step up, especially potential NFL player Van Jefferson. If the redshirt junior can put together a solid season, he may be able to elevate his stock enough to make a pro squad come April/May. This offense also has a lot of depth and competition at receiver with Tyrie Cleveland and Trevon Grimes battling for a starting spot out wide. While Kadarius Toney (who Franks has singled out as a stand-out), Freddie Swain, and Josh Hammond tussle for slot duties.
The ex-factor in this tilt may end up being CB C.J. Henderson though. The junior is already receiving first-round buzz and his ball-skills fall along the line of former Gators Joe Haden and Vernon Hargreaves. If he can build on his 2018 where he amassed 4 INT's, 5 passes defended, 3 sacks, and 2 forced fumbles, then the athletic specimen should join Haden and Hargreaves as a first-round selection come April.
Prediction
Season opener's are always a little sloppy as everyone gets their feet beneath them. I'm going to go with Florida in a low-scoring defensive struggle where C.J. Henderson picks off redshirt freshman Jarren Williams twice.
Prediction: Miami 9 – 17 Florida
Written By Samit Bariana
Follow Samit and TSJ: College Football on Twitter!

Photo credit to via CanesFootball and GatorsFB via Twitter
Follow TSJ on YouTube and Twitter