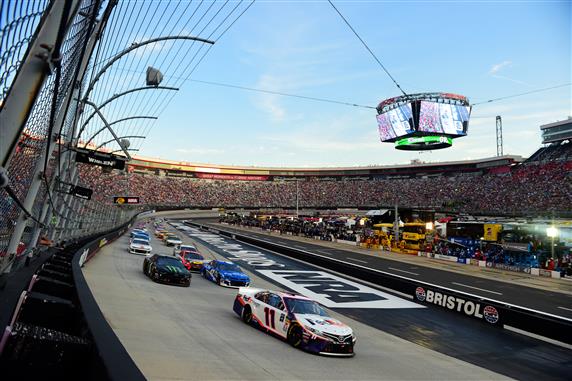 Denny Hamlin Delivers Another Win at Bristol Night Race
Denny Hamlin Scores Second Win at Bristol Night Race, 4th Victory of Season
When Denny Hamlin won the pole for the Bristol night race on Friday, many knew he would be a contender. After 500 grueling laps on the half mile circuit, the Fedex 11 battled back from adversity to triumph again. While it was celebration for Hamlin, it was heartbreak for the man right behind him. Matt Dibenedetto put together a career-best 2nd place finish in the Bristol night race. This marks Hamlin's second Bristol win, both coming in the night race. In addition, this is his 4th victory of the 2019 season.
Toyota Finally Stands On Top in Qualifying
Denny Hamlin's pole position on Friday for the Saturday night show was a significant one. It marked Toyota's first pole of the year, in race number 24. Hamlin coincidentally also scored Toyota's most recent pole, a Homestead last November. With the goose egg finally erased for qualifying, Toyota finally joins the other 2 manufacturers in winning poles for 2019.
Hamlin would be joined at the head of the pack by 3 other Toyotas in the top 10. However, prerace favorite Kyle Busch was not among them. After going out first in qualifying, the 18 would have to start 31st at Bristol. Starting just ahead of him would be Jimmie Johnson, who desperately needed a strong run. Starting to Hamlin's outside in 2nd would be the 42 of Kyle Larson, another prerace favorite.
Hamlin, Larson Both Out Front Early
When the green flag finally flew, it was the 11 of Hamlin who initially took off. By lap 6, Hamlin's lead was half a second. This would remain constant until the 11 caught lapped traffic on lap 14. By using a slower car as a pick, Kyle Larson was able to drive on by Hamlin and take the lead away. Despite his strong results here, Larson is still searching for his first Bristol win, in addition to his first victory in nearly 2 years. Larson's initial lead would be short-lived though, as Hamlin motored back by him on lap 25.
Lap 40 would see Larson take the lead again by utilizing heavy lapped traffic to his advantage. The 42 would remain there for 7 laps, until the 11 rallied again. Hamlin and Larson would be the only 2 leaders in Stage 1, as they both swapped the top spot multiple times in traffic. However, Hamlin would be forced to give up the lead when he found trouble on lap 79.
Hamlin Faces Early Adversity
Not long after putting the 18 of Kyle Busch 1 lap down, Hamlin was on point to put the 48 of Jimmie Johnson in the same boat. While running just behind the 48, Austin Dillon's 3 car blew a right front tire just ahead of them. Johnson had nowhere to go and plowed into the 3, ending his shot at a solid result. In addition, Hamlin also sideswiped the 48, giving the race leader some damage as well. Under this first caution, Hamlin would pit for repairs and fall back to 11th. This caution saw no free pass recipient, as Johnson was the first car 1 lap down, but was also involved in the incident. Hamlin's slow pit stop would hand the lead back over to Larson.
Close Racing to Close Out Stage 1
With his strongest competitor mired back in traffic, Larson set sail on the restart. The 42 would be long gone over Chase Elliott, as Stage 1 wound to a close. At this time, Matt Dibenedetto took the 3rd spot away after starting 7th. By lap 120, Elliott had reeled Larson back in for the lead and the Stage 1 win. Again in heavy lapped traffic, the 9 of Elliott could get to the 42's inside but was unable to clear for the lead. Larson would narrowly beat Elliott for the Stage win, as they came across the stripe nose-to-tail. This would mark Larson's 4th Stage win of 2019. Under Stage break pit stops however, Elliott would edge Larson out and take the lead.
New Leaders in Stage 2
On the Stage 2 start, Elliott easily took off from Larson in the preferred groove. Larson would fall back to 4th, as Kevin Harvick and Ryan Blaney passed him. While the 9 was leading, the 4 was slowly stalking him down. Martin Truex, Jr. would eventually join this battle for the lead. Harvick finally passed Elliott on lap 164, with just under 100 laps left in Stage 2. While new drivers were taking their turns leading, Hamlin was stuck back in 10th, unable to gain lost ground. Their issues only compounded when Hamlin reported a loose wheel and pitted on lap 186. The 11 went from running 10th to multiple laps down. To make matters even worse, a caution came out for Aric Almirola just after Hamlin pitted, putting him further back.
When the race restarted on lap 197, it was the 19 of Truex, Jr. who was out front. The 19 just edged the 4 out of the pits under the yellow, thus taking the lead for the first time all night. By lap 200, Larson was back in a tight battle for 2nd with Blaney, 1 second behind Truex. Also at this time, Kyle Busch entered the free pass position. A caution would put the 18 back on the lead lap, and that's what happened on lap 212.
Caution number 4 of the night occurred when Almirola spun again in turn 1 after contact from a slower car. Despite the restart, Truex held serve out front. As laps once again ticked away towards the Stage conclusion, it appeared as if the 19 had another Stage win in the bag. That would change however with a late-Stage caution on lap 242.
Disaster Averted For Stewart-Haas Playoff Bubble Drivers
Lap 242 nearly saw the Playoff chances for half of Stewart-Haas Racing take a major blow. After prematurely clearing himself off of a slower car, Clint Bowyer went for a spin in turn 2. Thankfully the 14 did not hit anything, but he was narrowly avoided by his teammate Daniel Suarez. With both the 14 and 41 on either side of the Playoff cut line, an early exit would be disastrous.
Night Over Early for Another SHR Car
While the 2 aforementioned Stewart-Haas Racing cars were able to continue, one was not. After leading laps earlier and running in the top 5, Kevin Harvick took the 4 behind pit wall under the yellow. Harvick reported a transmission issue, and this would put them out of the race. Harvick would finish last in 39th, far from expectations for the 4 team.
Quick Finish to Stage 2
This caution would set up a 2-lap dash to close Stage 2, and also had a lead change. Truex would lead a few of the front runners into the pits. This gave the lead to defending Bristol night race winner Kurt Busch. On the restart, the 1 jumped away cleanly and held on to the Stage 2 win. Behind him in desperate need of points were Suarez, Ryan Newman, and up to 4th was his younger brother Kyle Busch.
When Kurt Busch pitted following Stage 2, the lead would stay in the Busch household as the 18 gained the top spot for the first time all night. Kyle Busch would start the final Stage as the leader, and easily pulled away from Chase Elliott. 2nd place would quickly be taken over by Brad Keselowski, and the 2 took the lead away not long after on lap 265. For more than 100 laps, the 2 and 18 would trade the lead amongst themselves, as this run ended up being 104 circuits.
During this run, Brad Keselowski did suffer some damage while leading. Lap 318 would see the 21 of Paul Menard slide up in front of the 2, making contact with his nose. The slight damage from this put the 2 at an aero disadvantage, but he stayed ahead. The 18 would only regain the lead after Keselowski made slight wall contact on lap 351.
Rash of Cautions Shake Up Running Order
The next caution flag flew on lap 364 when Kyle Busch was out front. The 88 of Alex Bowman had a tire go down on entry into turn 1, and got plowed into by both Joey Logano and William Byron. Pit stops would see the 18 hold the lead, but Erik Jones just got ahead of Keselowski for 2nd. On the restart, the 18 rocketed away again over the 20. Jones would stay with Kyle though and took the lead away just before another caution flew on lap 373.
In what would become 'the big one' of the Bristol night race, Ryan Blaney cut a tire while heading into turn 1. To his outside and collected in the melee would be Ricky Stenhouse, Jr., in addition to both David Ragan and Michael McDowell. Also involved in this fray was Jimmie Johnson, who was sideswiped by Ragan. This contact sheared the 48's right side door open and ripped the safety foam out of the car. Johnson quickly made his way to the pits to have the NASCAR-mandated foam replaced. Meanwhile up front, the 20 would be ahead of the 18 for the restart.
Dibenedetto Capitalizes on Restart
When the green flew again on lap 388, Erik Jones held the lead and Kyle Busch fell back in the non-preferred groove. This restart also saw Matt Dibenedetto go around the 18 to take over 2nd. With fresher tires Matty D was chasing down Erik Jones for the lead, which he took away on lap 396. This lead change occurred as Jones made contact with the outside wall. The 20 immediately pitted, and any chance at a good finish was over for him. As the lap leader board hit 100 laps remaining, Dibenedetto led by 1 second over Elliott.
Slowly marching his way forward though after restarting 8th was Denny Hamlin. Hamlin had much fresher tires than Dibenedetto, and a stronger car on the long runs. It was only a matter of time until Hamlin entered the top 5 and had his sights set on the lead. With 90 to go, Hamlin was up to 4th.
At this same time, the race for 2nd was on between Chase Elliott and the attacking Brad Keselowski. The 9 and the 2 were nose-to-tail, which allowed the 11 to quickly catch and pass them. By lap 454, Hamlin was in the runner-up spot just 1.5 seconds back. Much like earlier, the race for the win would be decided on whoever navigated lapped traffic better.
Newman Holds Up Dibenedetto
With Dibenedetto trying to manage his ever-shrinking lead over Hamlin, lapped traffic was a constant issue. The turning point of the last run would be with 38 to go. With just an 8-tenths of a second lead, the 95 caught Ryan Newman, trying to pit him 1 lap down. With Newman's reputation as the hardest man to pass, he raced aggressively trying to stay on the lead lap. Also with his precarious points position, a win by Dibenedetto would move Newman to the last man in the Playoffs. With this situational awareness in mind, Newman did everything in his power to keep Dibenedetto at bay. This even included some contact due to blocking. It took the 95 several laps to clear the 6, which allowed the 11 to run faster laps.
Once both leaders cleared Newman, they were both in clean air and going toe-to-toe for the win. Dibby was running the laps of his life, but Hamlin kept gaining one-tenth at a time. By lap 480, the gap was 4 tenths, then 1 car length. Lap 487 would see Hamlin pull to the inside, but unable to clear Matt. 2 laps later, the 11 would successfully make the pass and clear the 95. Over the last 11 laps, the 1 drove away from the 95. At one point his lead was as much as 6 tenths. By the last lap, the lead for the 1 was half a second. Without any impeding traffic, Denny Hamlin held on to win the Bristol night race again.
Significance of the Bristol Night Race Win for Hamlin
For Denny Hamlin, the 2019 Bristol night race is his 35th career Cup Series win, now 23rd on the all-time wins list. It's also his 4th win of 2019, the most victories in a single year for the 11 since 2012. Growing up racing on short tracks throughout the south, one would think Hamlin is a multi-time Bristol winner. Until now that was not the case however.
This is only Hamlin's second win at Bristol, which he appreciates more as a short-track ace. "This race is special just in general," Hamlin said. "It was great to be able to come back obviously from two laps down, obviously to have multiple wins at every short track. Used to be I would say early in my career, it was like I just can't wait to get to the short tracks. Now I just can't wait to get to a racetrack in general. Doesn't matter if it's a road course or short track or superspeedway, anywhere. We can win every single week. Really for the last two months it's just been incredible that the adjustments we've made as the season has gone on, just keep getting better."
Denny Hamlin's consistent performance in 2019 is a level of competition we have not seen from the 11 in quite some time. Hamlin has 6-straight top 5s, a career-longest streak. His 4 wins in 2019 are also tied for the series lead with his 2 teammates Kyle Busch and Martin Truex, Jr. Is the 11 in championship form? Absolutely, and if he makes it to Homestead, he will be a strong threat for the title.
Other Notables in the Top 10
Coming home in a career-best 2nd place was Matt Dibenedetto. After learning this week that he will not return to the 95 next year, 'Matty D' led a race-high 93 laps at Bristol. "After the damage with Newman, trying to get around him I just got really tight," Dibenedetto said. "It just flipped a switch and I got too tight. Denny was strong, I thought before that I could hold him off. But man, I just am thankful for this team, Toyota, and all my sponsors. Without them I wouldn't have been able to have this performance. I wanted to win, but it's coming." With the news earlier this week that he will not return to the 95, Dibenedetto is a free agent driver actively searching for a ride in the Cup Series. Only time will tell where he ends up, hopefully the Bristol run will help.
3rd place in the Bristol night race went to Brad Keselowski. Similarly to Dibenedetto, Keselowski lost his car's handling after contact. "In that last run a nose without a hole in it would've been really good," Keselowski said. "Decent finish for us nonetheless, led a lot of laps so that's something to be proud of." The hole in his nose that Keselowski referenced came from contact with Paul Menard on lap 318.
Big Surge For Kyle Busch
After starting 31st, Kyle Busch rallied to finish 4th in the Bristol night race. "We fought hard, and were just really really loose all night long," Busch said. "We didn't really have what we needed. That one run where we were 2nd to Brad and then we passed him right before the caution came out, I thought that was our best run. We tried to make minor tweaks to it, to make it a little bit better and messed it up." Kyle Busch's bid for 9 Bristol wins will have to wait. The 18 retains the regular season championship lead now by 39 points.
Rounding out the top 5 from Bristol was Chase Elliott. "You really can't ask for anything more at Bristol than what my guys did execution-wise," Elliott said. "We'll go to work to get better." One consolation for Elliott at Bristol is the race-high 46 points he earned. This was Elliott's 3rd Bristol top 5 in just 8 starts at the half mile.
Optimism for Larson
From starting 2nd and leading 62 laps, Kyle Larson survived to finish 6th at Bristol. "It was difficult to pass out there, which it always is, but it's still fun," Larson said. "I think we maybe could have had a good run for the win, but we got some left front damage on that one pit stop. We had to come down and repair that on the next pit stop. If we didn't have to do that we would have restarted 6th, which would have been really nice. I felt like my car was really good on long runs, we were probably the 3rd-best car there at the end." Despite his love for Bristol, Kyle Larson is still winless at the famed venue in 12 starts. His best result is 2nd, in both races last year.
Major Recovery for Bowyer
After spinning on lap 244, Clint Bowyer mounted a comeback to 7th place at the end. "We had a good race, just man we were too loose," Bowyer said. "I needed more rear grip all night long, that's probably the loosest I've ever been here." With his roller-coaster of a race, Clint bluntly told me his emotions all night were "All over the place, it's a short track."
In spite of his first top 10 in 5 weeks, Clint Bowyer actually fell out of the top 16 in points. He is now 17th, just 2 points outside of the Playoffs with 2 races remaining. Currently, there are 2 SHR cars on either side of the Playoff cut line, so the last spot in may be contested among teammates.
Suarez Surges Ahead into Top 16
An 8th place finish was enough for Daniel Suarez to break into the top 16 in points. "It was a pretty solid day for us," Suarez said. "I feel like we had a top 10 car the entire weekend, and that's pretty much where we ran. We had some ups and downs on pit road, and some electrical issues that make me feel lucky to continue and finish the race with the battery. Overall I'm proud of my team, hopefully we can keep the momentum going in the next few weeks."
If the postseason started today Suarez's Bristol night race performance would have him narrowly in. Although it is at the expense of his teammate, so Bristol was an up-and-down race for SHR as a whole. Over the next 2 races Suarez has to keep putting together solid top 10 runs if he wants to stay in the Playoffs.
Quiet Consistency Again for Kurt Busch
Behind Suarez was the defending Bristol night race winner, Kurt Busch. Coming home 9th and winning Stage 2 was a solid day for the 1 team. "All night we were just tight center-out," Kurt Busch said. "Just didn't have the mojo all weekend. We were searching for rotation all weekend long from the first laps in practice, and we just didn't get it done. We gave it the best effort we could."
Big Recovery for Blaney
When he blew a tire and hit the turn 1 wall on lap 374, few would have expected Ryan Blaney to earn a top 10. That is just what the 12 team did by rounding out the top 10 in 10th place. The 12 was one of the stronger cars in practice and a prerace favorite for the win. "(Tonight was) just typical Bristol, I thought," Blaney said. "I thought the bottom was going to be a little bit more competitive. I cut the right-front tire down on the restart and plowed into a couple of them. We got it fixed and I was glad we were able to come back. I would have liked to see a caution to see what we could have done, but the thing was killed. I'm just glad we were able to salvage a decent day."
Blaney will leave the Bristol night race at 9th in points, highest of the non-winners in 2019. He will have a chance to clinch a Playoff spot early due to being 180 points over the cut line. However, Blaney needs a win if he is to be a Playoff contender.
Playoff Picture Leaving Bristol
The Playoff bubble tightened as a result of the Bristol night race, and the last man in changed hands. Erik Jones is 14th in points after finishing 22nd. The 20 team is +57 points in relation to the cut line. Bristol was the second-straight race outside of the top 10 for Jones after a streak of 4-consecutive top 4s that vaulted him into the top 16.
15th in points still belongs to Ryan Newman, as the 6 team came home in 11th. Newman is 14 points ahead of the Playoff cut line, any bad finishes over the next 2 weeks could derail his whole season. Newman and Roush-Fenway Racing are anything but comfortably in.
The last man in the Playoffs is Daniel Suarez, just 2 points over Clint Bowyer. Both teams are treading on thin ice as the regular season winds down. As it sits, the 2 SHR teammates are racing each other for the last spot in, unless an upset winner occurs.
After finishing 19th, 4 laps down, Jimmie Johnson falls to 26 points behind the cut line in 18th. A win over the next 2 races may be the 48's only hope at keeping a 100% rate of making the Playoffs alive. Either that or they need major help from one team above them stumbling.
How to Watch the Next Race
After the final off week of the season, the next Cup Series race is the Bojangles Southern 500 from Darlington Raceway. The Labor Day South Carolina classic will be on Sunday, September 1, at 6 PM EST. Coverage will be on NBCSN, MRN, and SiriusXM NASCAR Radio Channel 90. With just 2 races left in the regular season, teams have a chance to add themselves to racing history books by winning back-to-back crown jewel races. Who can claim a win at NASCAR's toughest track?
Written by Peter Stratta
Be sure to follow us on Youtube and Twitter.
Be sure to follow the writer on Twitter.
Photo credit to NASCARMedia