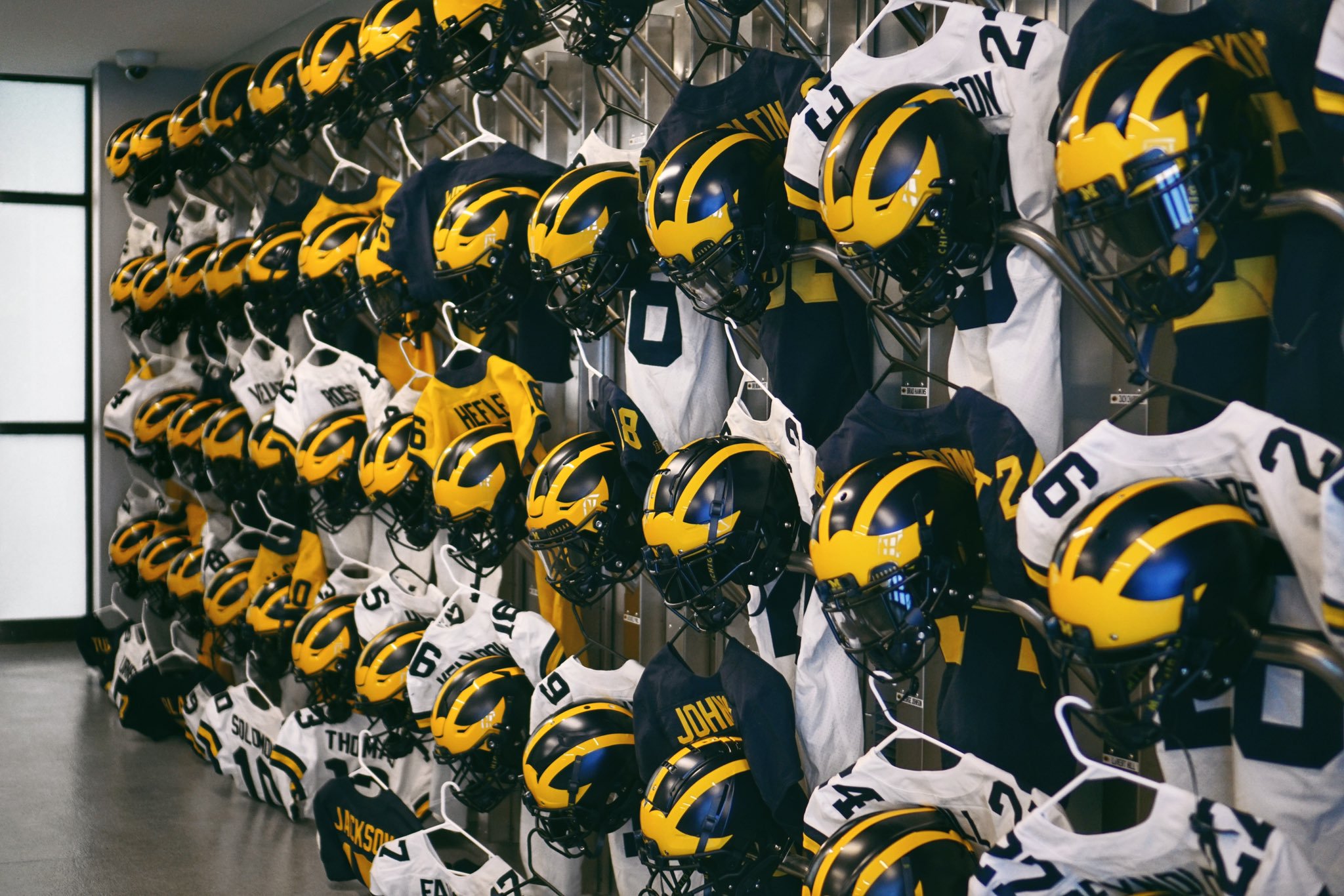 Michigan Wolverines Football Preview
The Wolverines will head into this college football season with a bit of a shake up.  New offensive coordinator Josh Gattis is bringing a different tempo to the offense in which Jim Harbaugh is embracing it. In fact, coach Harbaugh hasn't touched what Gattis has put into place.
What exactly is it that Gattis transformed about the offense? It's basically a no huddle up-tempo offense. Something Michigan hasn't seen in some time. Furthermore, Michigan is favored in majority of their games this season. Additionally, this will be the first season in which Michigan and Ohio State will face each other where Urban Meyer won't be coaching the Buckeyes. Lastly, this season will prove a lot for Michigan if things go as planned.
Offense
When it comes to the Michigan offense, there are plenty of familiar faces surrounding this Wolverines offensive scheme. At the quarterback position, there is no clear front runner. However, word from Wolverines camp is that both Shea Patterson and Dylan McCaffrey will play and split time. When it comes to the wider receivers, Donovan Peoples-Jones will be the lead receiver who leads this Wolverines offense. Coming off last year's season in which Peoples had 47 catches for 612 yards and eight touchdowns. Peoples-Jones is one of Michigan's most lethal receivers. However, since Harbaugh has had a part in what Michigan offense produced, the receivers haven't produced as much. Nico Collins is another young and experienced wide receiver returning for the Wolverines. In fact, Collins who was a starter for the first time last season, became one of Shea Patterson's favorite target in some crucial situations.
Collins will be counted on as the No. 2 receiver in Gattis' offense considering last season he finished second to Peoples-Jones in receptions and led the team with 632 receiving yards. Furthermore, among all Wolverines last season with at least 10 catches last season, Collins posted a team-best 16.63 yards per catch. Tarik Black should be the No. 3 receiver in Josh Gattis' offense. Black hardly made noise last season inly catching the football four times for 35 yards. However, one of the key positions the Wolverines necessarily don't have an answer to is running back. There is some good news, Tru Wilson as of now is the starter.
The offensive line will have four of five starters return. The offensive line will be headlined by senior left guard Ben Bredeson. Bredeson is an All-American candidate. The biggest question is at right tackle redshirt sophomore Andrew Steuber will look to be the starter based off playing experience. Starting center Will Cesar will look to have a break out season. Jon Runyan looks to become a dominant tackle.
Defense
If there is one problem with Michigan's defense this season it's the loss of veteran leadership. Both Chase Winovich and Rashan Gary are in the NFL. When it comes to the defensive end position, Mike Danna and Aidan Hutchinson are the front runners. Danna is coming off a transfer from Central Michigan where he was a first-team All-MAC in his final season. Defensive tackle starters are going to be Carlo Kemp and Donovan Jeter. When it comes to the middle linebacker, All-American Devin Bush opted for the NFL and signed with the Steelers. Currently, the plan is to play Josh Ross inside. On the other hand, Ross sat out majority of spring practice due to a hamstring injury.
Conclusion
The Wolverines are poised for a big year if the pieces fall into place. Harbaugh letting Josh Gattis take over the offense will be a big difference maker. Furthermore, This is one of coach Harbaugh's best-equipped teams at Michigan and if the formula stirs itself right, this could be a big year for the Michigan Wolverines. A bold prediction could be the Wolverines win the Big Ten East. Nothing is for sure, this is a big year for Harbaugh. He'll face an Ohio State team with no Urban Meyer and prove he can win. He's handed over offensive duties to Josh Gattis. If the pieces fall into play, Harbaugh could have a great year. On the other hand, if the pieces go south than so could the Wolverines season.
Written By Tom Johnston
Follow Tom and TSJ: College Football on Twitter!
Photo credit to UMichFootball via Twitter
Follow TSJ on YouTube and Twitter