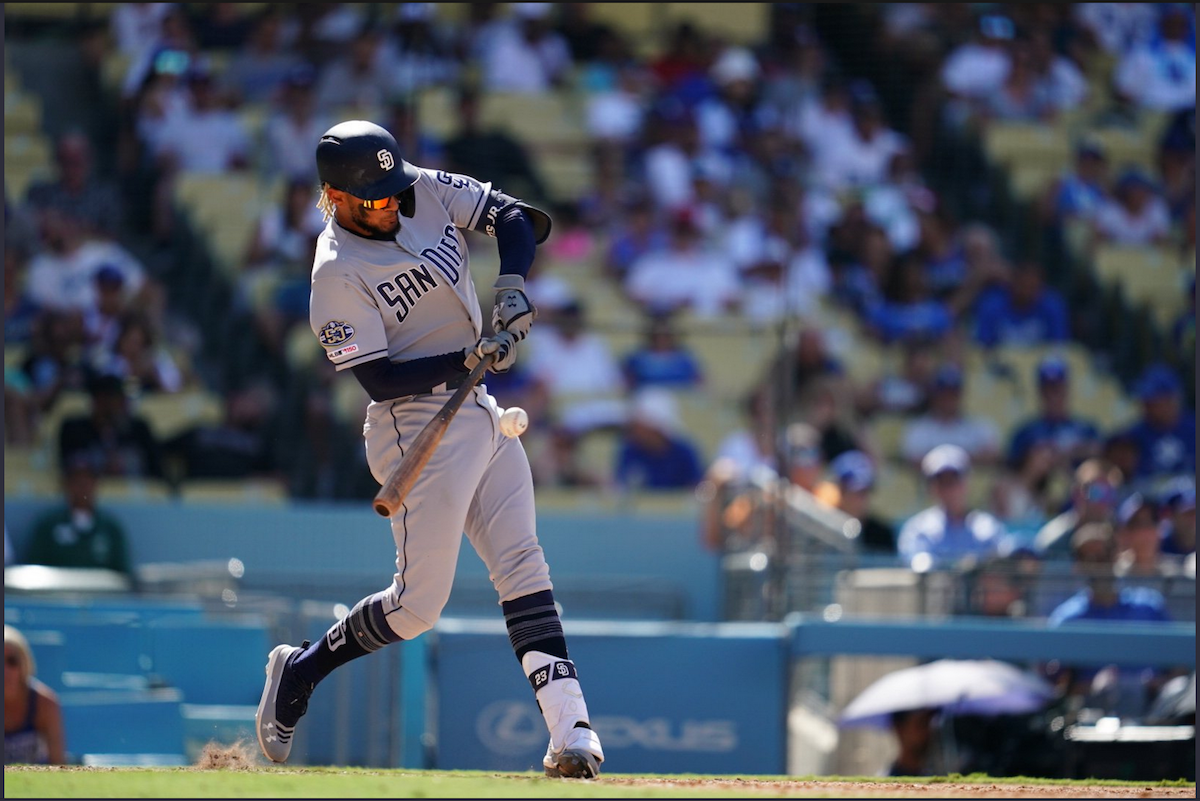 Despite Injury, Can Tatis Jr. Still Win NL ROY?
On July 15, 2018, the baseball world was largely preoccupied with pre-All-Star Game festivities as Nationals Park hosted the 20th iteration of the MLB Futures Game. But, retrospectively, those with keen eyes would have seen two of today's brightest stars suiting up for Team USA and Team World during the matchup.
The studs mentioned above are none other than Mets first baseman Pete Alonso and Padres shortstop Fernando Tatis Jr., two household names in 2019 in a league that many claim lacks alluring players.
This year, each received the call up from AAA. For Alonso, the journey was from Syracuse to Queens; for Tatis, from El Paso to San Diego. And after landing in Citi Field and Petco Park, respectively, each has set the league ablaze.
But just two days ago, Tatis was placed on the 10-day IL with a lower back strain. Much to the chagrin of Padres faithful, Friars manager Andy Green said that he expects Tatis to miss the remaining 39 games of the season.
Despite a significant furlough, could Tatis still emerge as the National League Rookie of the Year Award? Not so fast.
The Superior Hitter? The "Polar Bear."
Tatis had a stellar season offensively, posting a .317 average with 22 home runs, 53 runs batted in, a .379 on-base percentage, and a 151 OPS+ in 84 games. But those numbers all pale in comparison to the mashing that Alonso has done in 2019.
Having not played in just one of the Mets' games all season, Alonso's power has transcended the baseball landscape. His 39 HR are 4th in baseball; his 93 RBI are 8th; his .594 SLG is 6th; and his .964 OPS is 8th. Fundamentally, Alonso is having rookie seasons analogous to current stars Aaron Judge and Cody Bellinger in 2017. If Bellinger and Brewers phenom Christian Yelich had not raked historically this year, Alonso could've been a legitimate MVP candidate.
Alonso, further, defies the stigma of being a pure slugger. His .694 strikeout-to-walk ratio is better than Tatis' .786 clip.
The one area in which Tatis is clearly superior to Alonso is in regard to speed. The Padres wunderkind's 16 swiped bags rank only behind Washington Nationals first year Victor Robles.
Holistically, Alonso has undoubtedly been the more offensively dominant player. I don't think many would be surprised if he broke the aforementioned Judge's rookie home record of 52 dingers in a season. But let's examine the two prospects when they grab a glove and some sunglasses when playing the field.
For Tatis, Swag Doesn't Translate Into Fielding Success
In terms of perception, I think most fans would feel that Tatis is the better fielder—largely because he is a superior athlete. From stealing home plate to turning singles into doubles to making this catch with Nate Robinson-like hops, Tatis has been unparalleled in terms of creating excitement due to his pure ability.
On the contrary, Tatis has actually been a worse fielder than Alonso, something that certainly surprised me.
Here are Alonso's and Tatis' fielding stats side-by-side:
Alonso: 11 Errors, .987 Fielding %, -7 Defensive Runs Saved Above Average
Tatis: 18 Errors, .944 Fielding %, -2 Defensive Runs Saved Above Average
Neither player has been able to equate their scalding bat to wicked glovework, but Tatis' 18 errors are tied for the second-worst in baseball. The problem for the Padres star seems to be throwing; despite his ludicrous arm strength, 14 of his 18 errors have come due to erroneous hurls.
To bolster the concept that Alonso is actually a superior defender, FanGraphs rates Alonso as worth a Fielding value of 1.4 relative to Tatis' porous -4.9.
So while Tatis might be one of the most enthralling young stars with swagger hard to disdain, his elongated absence largely won't affect his Rookie of the Year abilities. Rather, the award was already conclusive, and engravers should have their burins ready to etch Pete Alonso's name.
Written by Bradley Locker
Follow us on Twitter: @T101Sports and @T101SportsMLB
Follow Bradley on Twitter @Bradley_Locker.
Photo credit to the Padres via Twitter.