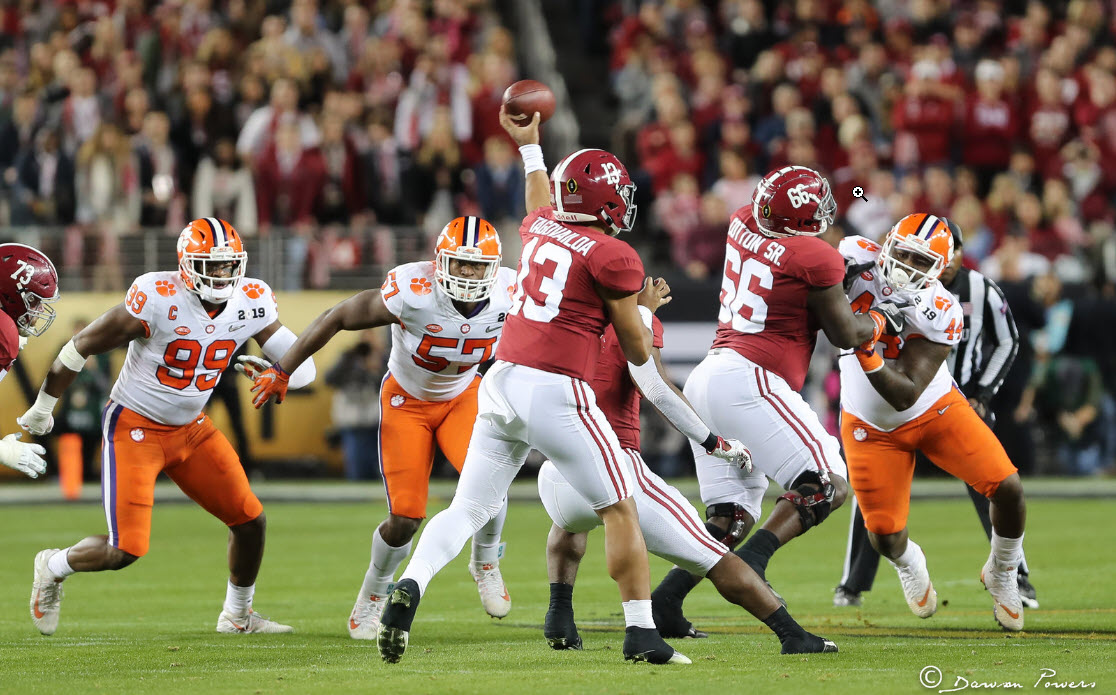 2019 College Football Playoff Predictions
Well, it's almost about that time. Time for the so-called expert to take an educated guess at which four teams will be left standing and who will win it all; only to get it completely wrong and be shamed by all of you!
Regardless, I am ready for all the smoke!
Here are my 2019 College Football Playoff predictions:
Fiesta Bowl – State Farm Stadium, Glendale, Arizona
#2 Clemson vs. #3 Georgia
In the Fiesta Bowl, we have a match-up that I thought would happen in the playoffs last year. Well, a year late still suffices. Clemson is obviously a favorite coming into the season after the magical run by Lawrence and company last year. I am not about to go full Skip Bayless and make a crazy hot take, so I'll just say that I expect them to hit the ground running, literally with Travis Etienne, and bulldoze their way into the semis.
Georgia may be the surprise pick to many. Yes, it's hard to be surprised when the team is ranked at #3 in the Coaches Poll coming in, but I do feel that the Bulldogs are a bit under-the-radar. It seems like ancient history, but this team came within a hair of a National Championship just two years ago. With junior Jake Fromm now not having to watch for Justin Fields over his shoulder, I expect him to play the best ball of his career. It also doesn't hurt to have a healthy D'Andre Swift back, along with one of the best defenses in the country that now features top recruit Nolan Smith. All in all, Georgia has had ridiculous recruiting classes for the past half-decade and I feel it is time that they finally get back on the right track of consistent contention.
Pick: Clemson wins 28-17
Peach Bowl – Mercedes-Benz Stadium, Atlanta, Georgia
#1 Alabama vs. #4 Ohio State
Obviously picking Alabama isn't a surprise for anybody. It seems like they are here every year because they are. The defense is always legit and their cupboard is always stocked full of talent everywhere. Tua is my pick to capture the Heisman after it seemed like a shoe-in throughout most of last season. The only question is, are they ready to overcome who awaits them in the final?
Yes, I picked the Buckeyes. A lot of people were probably expecting Oklahoma or Michigan, but I feel that this team can get here if either Justin Fields or Gunnar Hoak can do just enough to alleviate some pressure off of stud RB J.K. Dobbins. The quarterbacks will have some help too, in the way of K.J. Hill, who is about to become the all-time reception leader in school history. The real question mark about this team is whether the defense can play well enough to make a run. New DC Greg Mattison is charged with the duty of turning this unit around after a tough 2018. The good thing for him is that he has one of the best defensive duos in College Football to work with in DE Chase Young and CB Jeffrey Okudah. If Mattison can right the ship, the Buckeyes should be able to snag the last playoff spot.
Pick: Alabama wins 34-18
College Football Playoff National Championship – Mercedes-Benz Superdome, New Orleans, Louisiana
#1 Alabama vs. #2 Clemson
Were you expecting something else? There is no way I was picking against these two powerhouses that have been on a collision course since last year's title game ended. The only difference? I'm picking 'Bama to pull it off this time. The reason? Clemson lost its entire starting defensive line from last season with Austin Bryant, Christian Wilkins, Clelin Ferrell, and Dexter Lawrence all gone. The offense got most of the credit for the win last year, but that defensive line stifled Alabama's offensive line all day; getting two sacks, allowing four yards per carry and no rush over 15 yards. Though they are still a very stingy defense, I feel that those personnel losses may be the key difference between the two titans this season when they meet.
Pick: Alabama wins 31-30
Written By Samit Bariana
Follow Samit and TSJ: College Football on Twitter!

Photo credit to via Dawson Powers via Flickrs
Follow TSJ on YouTube and Twitter