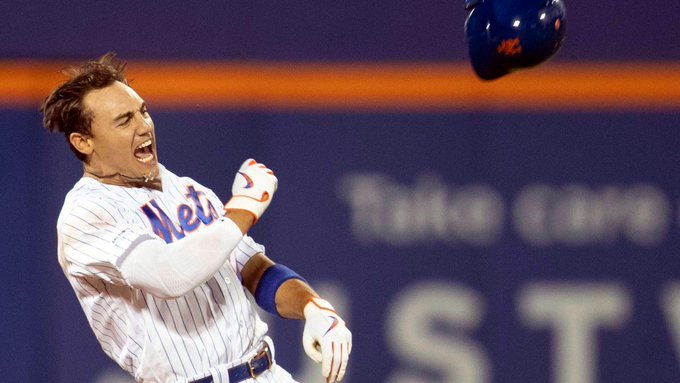 Mets Weekly Wrap-Up #20: Mets Continue To Roll Into Playoff Race
After another amazin' week of New York Mets baseball, the team continues to show they are for real in 2019. With their series win against the Nationals, they now sit 61-57 on the year. A record that has them 8.0 GB in the NL East race and just 1.0 GB in the crazy NL Wild Card race. According to FanGraphs, the Mets odds of making the playoffs now stand at 46.9%. After the team looked dead in the water, they found themselves with some late-inning magic and an improbable run still left in the tank.
As Good As It G(M)ets
The Mets have the best record in all of baseball since the All-Star break. After winning 15 of their last 17 games overall, the Mets are now 21-7 since the break. What has led to that success? The Mets offense has been super clutch and the pitching has stepped up their game tremendously.
The Mets starters have posted a 2.66 ERA since the break; which currently ranks second in all of baseball. Their starters are also starting to go deeper into games which is helping save the bullpen. Feeding off of each other, the Mets staff is starting to show why they should be considered the best in baseball.
In addition, their offense continues to tear apart opponent's pitching. Over 15 games since Dom Smith's injury, J.D. Davis is slashing .383/.446/.809 line with five home runs. He has continued to produce and is without a doubt the best acquisition of their offseason. Amed Rosario also continues to rip the cover off the ball by hitting .344 since June 29th; which is good for third in the NL. In addition, Michael Conforto is finally starting to heat up as well as he is slashing .375/.448/.917 with four homers and nine RBIs over his last seven games.
Any Cause For Concern?
The only cause for concern with the Mets right now is Edwin Díaz. Díaz has not performed like the All-Star we saw with Seattle last year. Over his last seven appearances, Díaz has posted an ERA of 11.12, allowing seven runs on six hits with four walks over 5 2/3 innings. If the Mets want to last down the stretch and into October, they are going to need Díaz to return to form and be that lockdown closer they traded for.
Written By Zach Nau
Follow Zach and TSJ: MLB on Twitter
Photo Credit to the Mets via Twitter
Follow TSJ on Facebook and Twitter