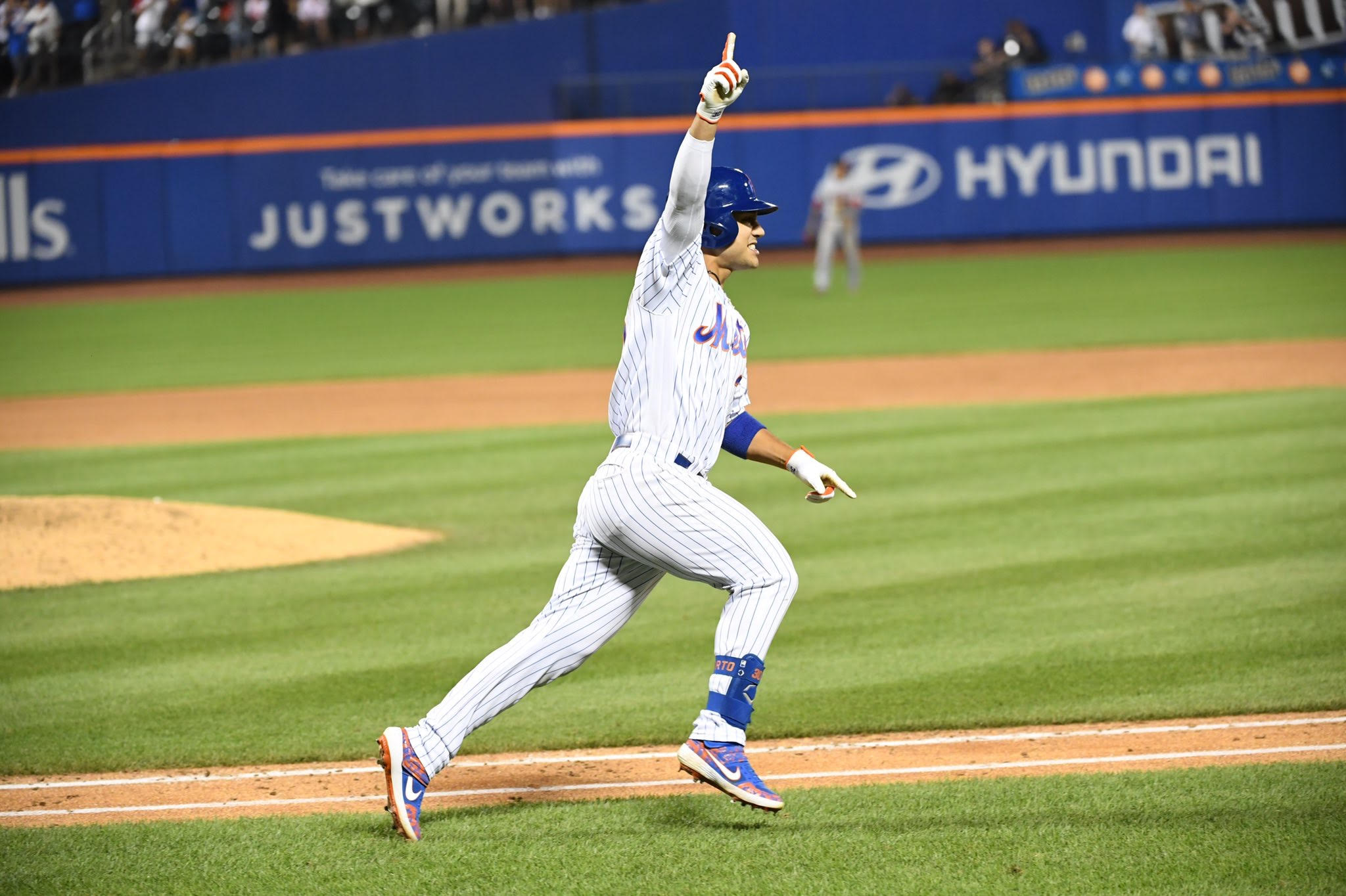 Ya Gotta Believe: Mets Pull Off The Unthinkable Over Nats
The Mets pulled off the unthinkable against the Washington Nationals. With a four-run ninth-inning, the Mets stormed back to win the game 7-6. They are now 60-56 on the year and they sit 8.0 GB in the division and just 0.5 GB in the Wild Card race. Marcus Stroman made his Mets home debut while Stephen Strasburg got the start for the Nats. Stroman was dealing early. He went six innings allowing four runs on nine hits with three walks and nine strikeouts (including seven over the first three innings). For the Nationals, Strasburg had a nice rebound after getting shelled in Arizona in his last start. He went seven innings while allowing three runs on four hits with six strikeouts and two walks. Game Two of the series will be tonight at Noah Syndergaard (8-5 with a 3.96 ERA) will face-off against Patrick Corbin (9-5 with a 3.43 ERA).
Game Recap
The Mets and Nats were in a pitchers duel until the fourth inning. With a playoff atmosphere at Citi Field, Stroman rose to the occasion and pitched fantastic until a little hiccup in the fourth inning. Anthony Rendon tripled in a run and the next hitter, Juan Soto, clobbered his 22nd homer of the year. The Mets would get those runs right back in the bottom of the fourth when Pete Alonso and J.D. Davis each homered, and tied the game at three.
Once the seventh inning rolled around, Anthony Rendon continued to torture the Mets with his 25th homer of the year. The Nationals would add an insurance run in the ninth to make it 6-3. Then, once the bottom of the ninth rolled around, things got a little crazy.
J.D Davis got things started with a double. Wilson Ramos would then single to bring up Todd Frazier with two on and nobody out.
"And Todd cranks one, deep left field, down the line that ball is OUTTA HERE, OUTTA HERE, Todd Frazier ties the game!" Frazier launched his 15th of the year to not the game at six against Nationals closer Sean Doolittle. But the Mets weren't done yet.
Michael Conforto came up with two runners on and two out. "And he drives one, deep right field, back goes Eaton IT'S OVER HIS HEAD AND THE METS WIN THE BALL GAME!" Conforto delivered for the Mets with his first career walk-off hit and the Mets beat the Nationals 7-6. It was a truly magical night at Citi Field.
Ya Gotta Believe
After winning 14 of their last 15 games, the Mets find themselves right in the thick of a playoff race. While they continue their big series with the Nationals this weekend, the Mets will look to keep the momentum going and march their way to October for the first time since 2016.
Written By Zach Nau
Follow Zach and TSJ: MLB on Twitter
Photo Credit to the Mets via Twitter
Follow TSJ on Facebook and Twitter