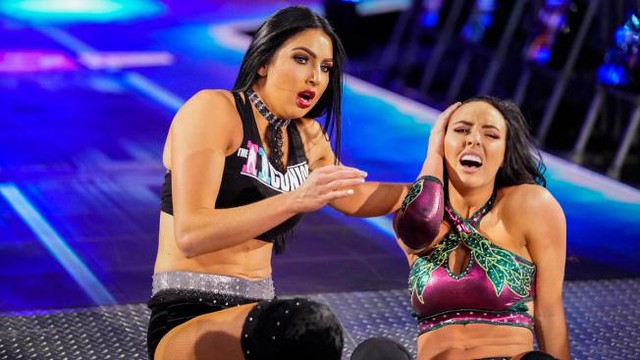 New Champions Crowned on Monday Night Raw
New Champions were crowned this past Monday Night on Raw, where we saw Alexa Bliss and Nikki Cross become NEW Women's Tag Team Champs; creating both positive and negative reactions around the WWE Universe and outside of WWE. As singles' competitors, both Bliss and Cross earned tons of respect from the fans.
Alexa Bliss
Miss Five Feet of Fury is "coincidently" a 5-time Women's Champion (2 times on Smackdown Live and 3 times on Raw). She won the "Money in the Bank" briefcase and is the second Women's Triple Crown Champion. She is much better at being a heel champion than being face; if it wasn't for her a concussion, she would still be in the main event picture rather than the tag team picture. Just like Daniel Bryan, putting him in the tag team picture so that he doesn't have to wrestle as much; something that Alexa Bliss needs now.
Nikki Cross
Outside of the WWE Universe, Cross was once in GFW (Global Force Wrestling) and TNA's British Boot Camp 2 but was unsuccessful. She was a three times Pro-Wrestling: EVE Champion. When she finally joined WWE's developmental brand NXT, she was in a six-woman tag team match defeating her tag team partner Alexa Bliss; She later re-debuted with Sanity, a fearful heel stable in NXT. Even though she didn't win the NXT Women's Championship while she was there; everyone who stepped into the ring with her knew that she's one tough adder. The most memorable match is that one she had with Asuka in the last woman standing match (the first-ever in WWE history).
During Cross' days on the WWE main roster, she was a heel in one week and a face in the next; there wasn't much direction for her until she was put into a friendship storyline with Bliss.
New Champions needs to be Meaningful rather than Random
The Women's Tag Team Titles were first won by The Boss N' Hug Connection (Sasha Banks & Bayley); however, they lost the titles to the IIconics in a fatal four-way match at Wrestlemania 35. This led to Banks' long Hiatus from WWE and her partner Bayley being drafted to Smackdown Live. Bayley would become the Smackdown Women's Champion.
WWE Creative Team did make a mistake by making The Boss N' Hug Connection loss their title way too fast; if they hold on to the titles and losing the titles to Bliss & Cross would bring more heat (storyline-wise). I have full respect to the IIconics but their title win is a bit too soon and directionless.
But Mandy Rose is right about one thing, "Tag Team" names need to be given before they got the titles.  So WWE needs to stop putting random stars together because the Sheamus & Cesaro team up success was pure luck!
TSJ Writer's Opinion on how the women's tag team titles storyline should be:
The Boss N' Hug Connection should have come out victorious at Wrestlemania 35 Fatal Four-way match and should have won at SummerSlam. Make it so that they lose the titles to Bliss & Cross due to outside interference from the Kabuki Warriors (HEEL). This way Sasha Banks wouldn't be unhappy losing it too soon to IIconics and losing clean to Bliss & Cross; meanwhile, they can have a good storyline with Kabuki Warriors and The "Blissies" (did I just give them a tag team name?)
So WWE can give Mandy Rose the Smackdown Women's Champion that she deserves, and she can feud with her tag team partner Sonya Deville. The Golden Goddess is the next Trish Stratus and deserves a main event push.
But clearly, women's talents are being wasted in the WWE main roster.
New Champions shouldn't happen without good storytelling.
WWE needs to invest in its entire Women's title scenes; that includes their Women's Championship titles in both brands and individual Tag Team Titles for each brand. Becky Lynch was once a women's version of CM Punk but it died down when WWE gave that to Charlotte Flair and turned Lynch face again the next week. They should let Lynch turn heel and wait for Charlotte to turn heel because Fans are more into Lynch turning heel than Charlotte; unless they are on different brands.
So Lynch becoming Becky "Two Belts" Lynch is a feel-good moment, but not as much of a feel great moment than winning both titles as a Heel Becky "Two Belts" Lynch. Same goes with The Boss N' Hug Connection, they have a great back-story but it ended too soon.
And now, Bliss & Cross (The Blissies or The Goddesses of Chaos) have a good story, but some still feel they were put together randomly. This causes anger with their superstars who deserve more than them, like The Kabuki Warriors and Fire & Desire.
For me, as a writer, I think they both deserve to be called WWE Women's Tag Team Champions; they both are hard workers but need a bit more time for them to bond as a team because we all know Bliss will doubleCROSS sooner or later. Maybe that's why they didn't get a tag team name, like Shawn Michaels and Diesel.
But I do hope that WWE's creative team figures out how to push the tag team division more. What do you think? Are Bliss and Cross deserving of the Tag Team Titles? Or is it too soon like the IIconies?
Leave a comment or discuss with me on Twitter.
Written by Andrew Aung
Follow us on Twitter: @T101Sports
And follow the writer: @myataungkhyne
Photo Credits to trayon hutchinson via Flickr.com