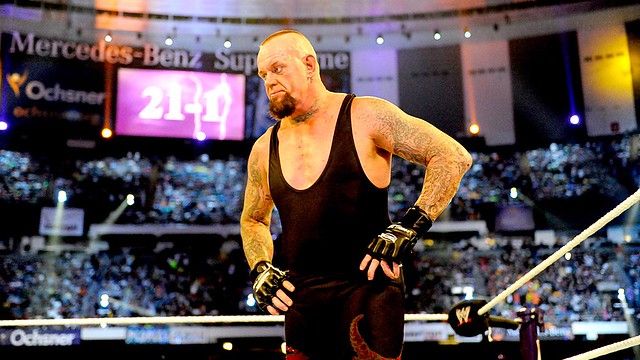 The Undertaker Signs A New "Mind Blowing" Contract With WWE
The Undertaker, The Deadman, who had a record of 21-0 at Wrestlemania; until the Chairman himself decided The Deadman had to lose the streak to Brock Lesnar at Wrestlemania 30. It is one of the most shocking losses in WWE history and then loses again to Roman Reigns at Wrestlemania 33. The first loss to Lesnar, not only surprise the fans all around the world but also surprise The Deadman himself.
Vince McMahon never values his creations until their contracts are expired, or becoming famous outside of the WWE Umbrella or using in other promotions; including The Deadman and his WWE contract.
Satan's Contract
Seven weeks after Wrestlemania 35, The Deadman broke the internet with him and his wife taking a picture with All Elite Wrestling owner Tony Khan's private jet in the background. But it was to appear at the Starrcast II convention in Las Vegas with AEW's "Double or Nothing" show is just around the corner.
Dave Meltzer from Wrestling Observer Radio also said that The Deadman was going to make $60,000 for three hours appearance and 150$ per picture.
But after Mr. McMahon heard of the official booking and the announcement for The Deadman's "meet-and-greet" appearance at Starrcast; The Satan himself sends a text message to the Prince of Darkness not to do it. And then he was given with a new contract by the WWE, in which The Deadman signed; a contract that will keep The Deadman for almost a lifetime in the WWE, reported by Wrestling Observer.
So The Phenom of WWE will not be going anywhere outside of WWE's umbrella anymore, Mr. McMahon makes sure of it; a desperate move from the WWE, because what will AEW becomes if they get The Deadman on their side; representing AEW's Heavyweight Title instead of Bert Hart.
The Undertaker knows how to play the game
It really is a very close call for Vince McMahon and his company; because someone who is very loyal to the company even during the Monday Night Wars (WWE vs WCW); jumps ship to a new rival company (AEW) and with declining ticket sales and ratings; the WWE will be in a bigger mess than they already are in.
Written by Andrew Aung
You can follow us on Twitter: @T101Sports
And follow the writer: @myataungkhyne
Photo Credits to Hector Olguin via Flickr.com