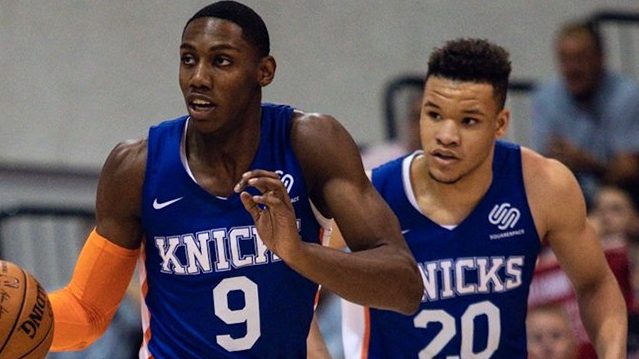 The New York Knicks Offseason Review: Where did it all go wrong?
New York Knicks Overview
2018-2019 Record: 17-65
Result: Last place in the Eastern Conference
Coach: David Fizdale
Draft: SF RJ Barrett, PF Ignas Brazdeikis
Additions: PF Julius Randle, PF/C Bobby Portis, PF Taj Gibson, PF/SF Marcus Morris, PG Elfrid Payton, SG Reggie Bullock, SG Wayne Ellington
Subtractions: SF Mario Hejonza (Signed with POR), PF Noah Vonleh (Signed with MIN), PF Luke Kornet (Signed with CHI), Emmanuel Mudiay (Signed with UTA), DeAndre Jordan (Signed with BKN), Lance Thomas (UFA), PF Henry Ellenson (Signed with BKN)
New York Knicks 2018-2019 Season Recap: Another Year, Another 50 Losses
The New York Knicks entered the season without an ounce of hope. They were playing without star Kristaps Porzingis and their lack of talent made it clear that the Knicks would be far from contention. Then midway through the horrible season the Knicks shocked the world when they traded Kristaps Pogzingis to the Dallas Mavericks along with Tim Hardway Jr, Courtney Lee, and Trey Burke. Their return of Dennis Smith Jr., DeAndre Jordan, Wesley Matthews, and picks didn't inspire much confidence in the Knicks. However, there was a silver lining to yet another disastrous season. The 17-65 record was the worst in the league, but it put them in the best position to get the number one overall pick and select Duke star Zion Williamson. The trade of Porzingis didn't get them much talent in return, but it did open up enough salary for two max players in the offseason. The Knicks dreams of landing PG Kyrie Irving and SF Kevin Durant in free agency were finally getting closer to becoming a reality. There was optimism in Madison Square Garden for the first time in five years. 
Offseason Additions: Disappointment Continues
The offseason didn't get off to a great start for the Knicks when they drew the number three overall pick at the draft lottery. They were able to draft a great talent in Duke SF RJ Barrett, but months of anticipating Zion Williamson left many disappointed. As the Knicks moved onto free agency, they were confident they'd be in play for at least one of the many stars on the market.  But that confidence didn't last long as the Knicks were shutout of any star free agents. The Knicks dream of teaming up Durant and Irving became a reality for their crosstown rival Brooklyn Nets. After that the Knicks were also spurned by Kawhi Leonard, Kemba Walker, DeMarcus Cousins, and Tobias Harris. Things were looking horrible for the Knicks offseason plans.
While the New York Knicks didn't land any stars, they made sure to add one thing: power forwards. In all, the Knicks signed a whopping four free agent power forwards in Randle, Portis, Gibson, and Morris. Randle was the big signing as he cashed in on his career year with the Pelicans and got a three year deal worth $63 million. Following the signing of the entire power forward market, the Knicks also signed guards Reggie Bullock, Elfrid Payton, and Wayne Ellington. While they didn't get the splash in free agency they were looking for, the Knicks definitely will be putting an improved team on the court next season.
Offseason Losses: Escape From New York
While the Knicks didn't have much to lose in the first place, they still lost some good players this offseason. They chose not to tender qualifying offers to Emmanuel Mudiay and Luke Kornet, who both left in free agency. Mudiay was a low-risk buy for the Knicks, costing them just Doug McDermott and a second round draft pick, but he never blossomed in New York. Mudiay will look to start over with the Jazz where he will likely be their sixth man off the bench. Kornet was never more than a bench player during his time in New York, but he still was able to land a two-year contract with the Bulls. In addition to those two, the Knicks also lost Mario Hejonza to the Trailblazers and Noah Vonleh to the Timberwolves. Both came to the Knicks last season on one year deals, but neither convinced the Knicks to sign them long-term.
The biggest loss was DeAndre Jordan, who left to join Irving and Durant with the Brooklyn Nets. Mitchell Robinson will get a chance to step into a full-time starting role now, but the Knicks will miss Jordan mentoring Robinson. Also leaving the Knicks for the Brooklyn Nets was Henry Ellenson, who will act as bench depth for the Nets. 
2019-2020 Season Preview: Here We Go Again
As we head into the upcoming season, the Knicks are facing the same predictions they've had for years: to finish at the bottom. The depth chart is:
Point Guards: Dennis Smith Jr., Elfrid Payton, Frank Ntilikina 
Shooting Guards: RJ Barrett, Allonzo Trier, Damyean Dotson, Reggie Bullock
Small Forwards: Kevin Knox, Marcus Morris, Wayne Ellington
Power Forward: Julius Randle, Taj Gibson, Ignas Brazdeikis
Centers: Mitchell Robinson, Bobby Portis
The Knicks point guards have potential but have lacked results thus far. Smith Jr. has shown flashes of his full potential and has proven to be a great finisher at the rim, but still needs to put his game all together. It's not known how much time both Payton and Ntilikina will play, but both have a lot to prove. Ntilikina has proven to be a great defender but won't have much success without some resemblance of an offensive game. On the other hand, Payton is a very good all around player but has had an inconsistent career. Each player will have something to prove this season.
While the Knicks will probably not contend, this season will still be huge in the development of their young players. This rings especially true for Mitchell Robinson, who showed glimpses of being a dominant center last season. Robinson finished fourth in the league in blocks despite receiving inconsistent playing time. Kevin Knox will also look to rebound from a rough rookie season and prove he can be a difference maker. 
Finally, the rookies. RJ Barrett will receive ample playing time while his fellow rookie Ivan Brazdeikis will look to earn more playing time. Brazdeikis impressed during his time in the summer league, but his role is unknown as of now. There will be guys ahead of him, so he'll need to earn playing time.
Predictions:
The Knicks will finish at around 32-50 and will miss out on the playoffs again. Despite missing out on a big splash in free agency, the Knicks have put together an improved team from last season to this season. However, none of their moves have made them anywhere close to being a contender. Their non-contender status makes it easier to give ample playing time to Barrett, Knox, Brazdekis, Trier, and Robinson, but non-meaningful games won't help too much. The Knicks are already well on their way to another top ten draft pick, and might already be hoping for Georgia guard Anthony Edwards. 
The Knicks search for relevance will continue this season, as it has been for the past decade. From Patrick Ewing and John Starks to Carmelo Anthony and Amare Stoudemire, Knicks fans have felt so close to a championship team numerous times, but have come up empty time and time again. This will be another brutal season in a long list of them for Knicks fans. As the NBA evolves, the New York Knicks are still trying to find their own identity.
Written by Ryan Hess
Follow Ryan and TSJ: NBA on Twitter!
Photo credit to New York Knicks via Twitter
Follow TSJ on YouTube and Twitter