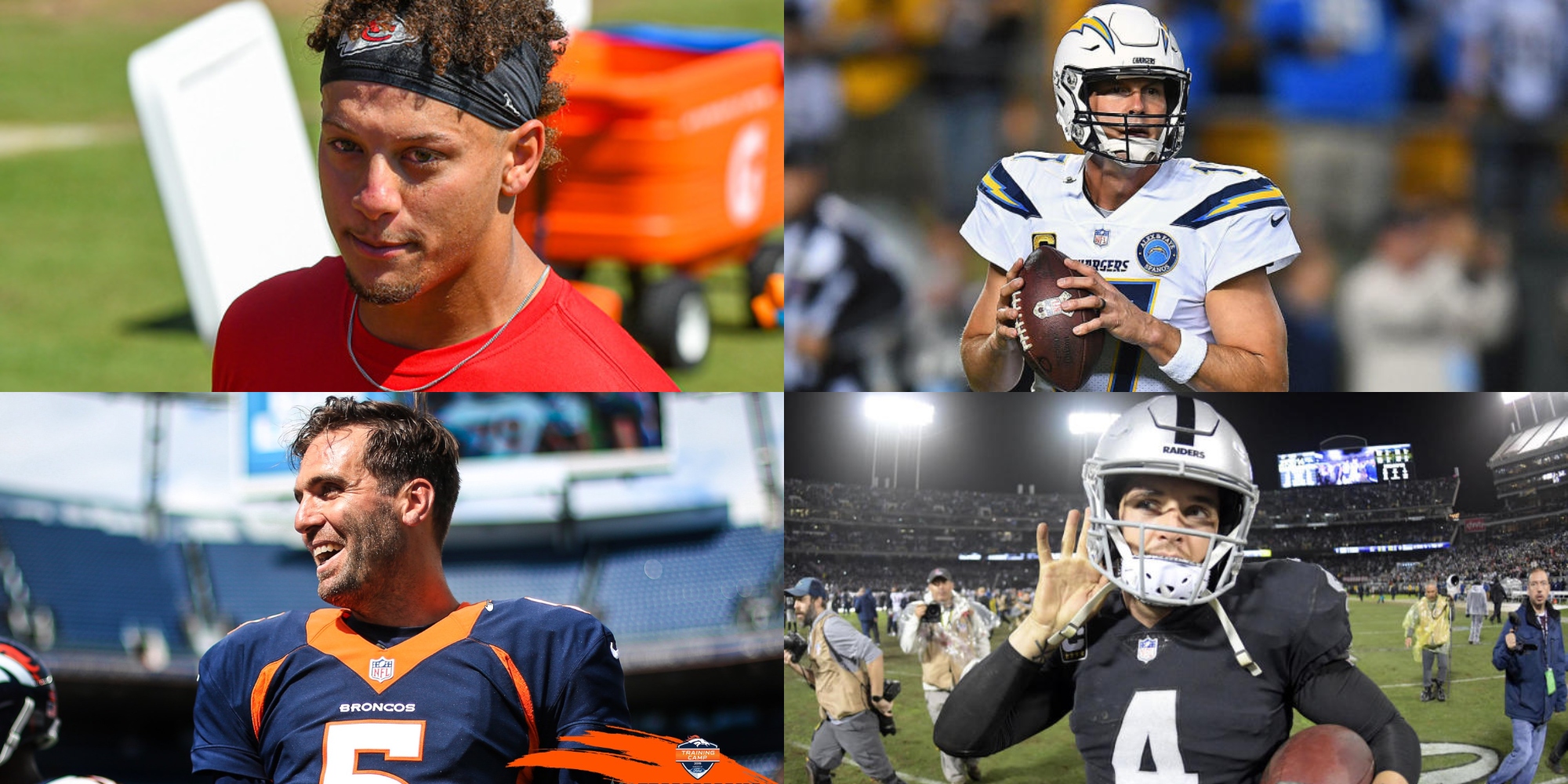 2019 AFC West Record Predictions
The AFC West Division has been extremely competitive for the past few seasons as the Kansas City Chiefs and Los Angeles Chargers are both title-contenders. With the Oakland Raiders and the Denver Broncos acquiring players like Antonio Brown and Joe Flacco, it's definitely possible that they're both playoff contenders.
1. Kansas City Chiefs (11-5)
Last season, the Kansas City Chiefs were one win away from making it to the Super Bowl. Fortunately for them, we can all expect QB Patrick Mahomes to only get better at this point. Statistically, he may take a step down, however his impact will remain the same. The Chiefs' schedule is relatively easy in the beginning of their season as just one of their first four games are against a 2018 postseason team. In December, the Chiefs will be playing three games at Arrowhead Stadium. They have proven time and time again that they are no joke when they play at home. The Chiefs are 10-2 at home in December over the past four seasons. Starting off strong will be the key for this team due to the fact that they're in a competitive division.
2. Los Angeles Chargers (10-6)
After reaching the postseason for the first time since 2013, the Los Angeles Chargers' expectation now is to win it all. With Philip Rivers still playing at an elite level, it's safe to say that this team will once again appear in the postseason. The drama with star running-back Melvin Gordon is definitely something they need to address as soon as possible. The longer they keep this headline present, the more vulnerable this team becomes. In the month of October, the Chargers are scheduled for a tough stretch as they have four of seven games on the road. That stretch also includes home games against tough teams like Green Bay, Pittsburgh, and Denver. Relatively tough schedule, but expect this team to pull through as a wild-card team.
3. Denver Broncos (8-8)
The quarterback position has been the biggest need for the Denver Broncos. By acquiring Joe Flacco through trade and Drew Lock through the draft, it will be interesting to see who will be their quarterback for the season. Flacco is the more accomplished and polished quarterback currently as we can expect him to start. Despite him struggling in these past four seasons, perhaps a change of scenery and offense can rejuvenate his career. If he can perform well efficiently, this team will be a playoff-contender. In terms of scheduling, the Broncos didn't receive the easiest schedule. They have seven games against 2018 playoff teams, as well as meetings with the improved Raiders and Browns. It's going to be an up-and-down season for them, but we can expect a record around 8-8.
4. Oakland Raiders (7-9)
The Oakland Raiders were definitely one of the more interesting teams throughout the offseason. They made multiple transactions which included them acquiring star-receiver Antonio Brown. This team definitely has the potential to be a playoff contender, however with their schedule, it may seem unrealistic to call them a 'playoff contender'. Their first seven games has them taking on opponents like Denver, Green Bay, Minnesota, Houston, Kansas City, Indianapolis, and Chicago. They could end up being winless after their first seven games for all we know. With this season being their last season in Oakland, it's definitely possible that they can give one last treat for the Raider faithful by making a playoff run. With a tough schedule and with 20 new players on the roster, expect this team to be hovering around 7-9.
Written by Shreyas Kar
Follow Shreyas and TSJ: NFL on Twitter!
Photo credit to James Weatherly, Smashdown Sports News and Smashdown Sports News via Flickr, Broncos via Twitter
Follow TSJ on YouTube and Twitter