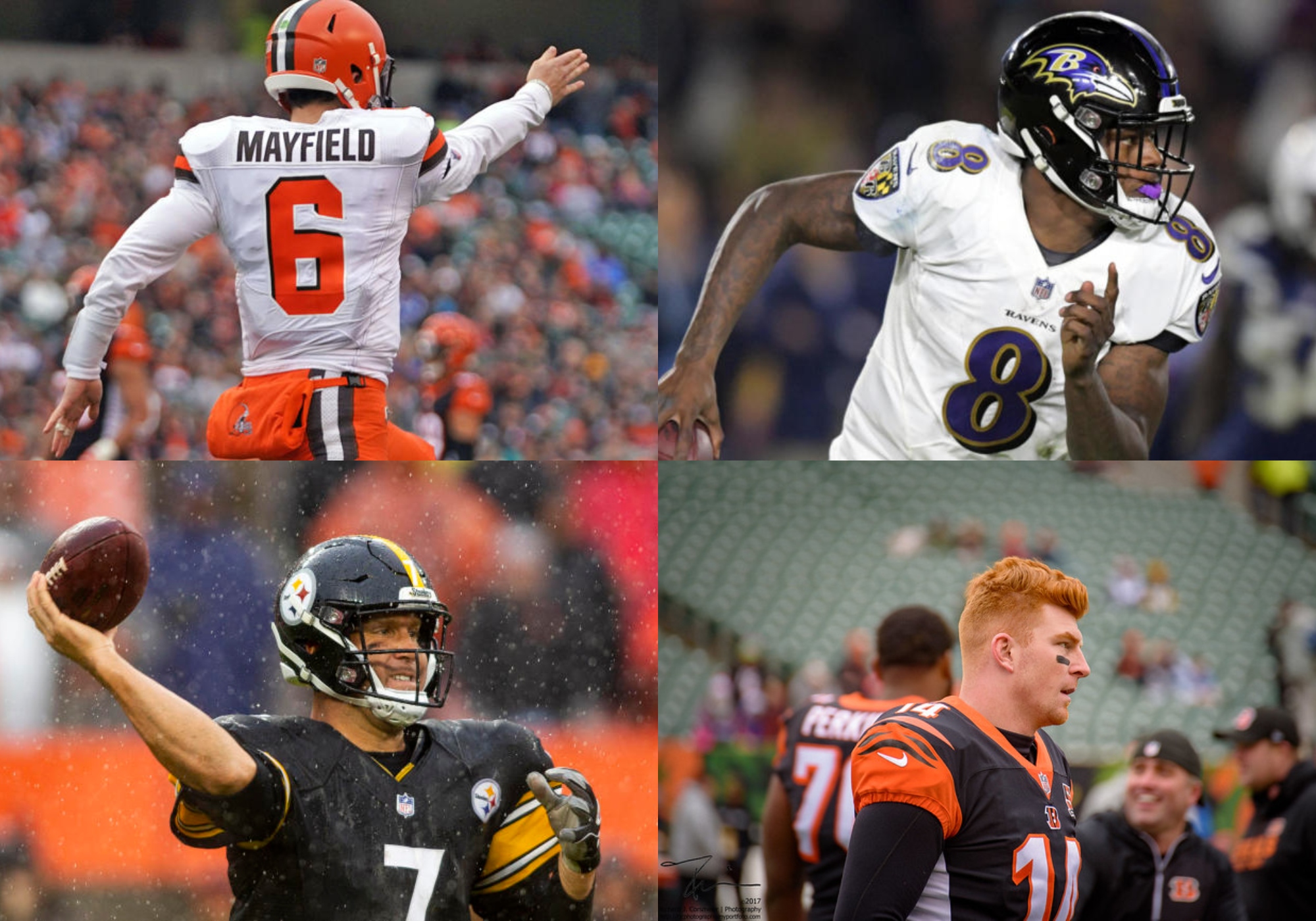 2019 AFC North Record Predictions
The AFC North Division has been dominated by the Pittsburgh Steelers for awhile now. That was the past though. Cleveland and Baltimore are now considered two potential playoff contenders. With this division being extremely competitive, it'll be tough to say who will be crowned as the AFC North Division Champs.
1. Cleveland Browns (10-6)
Surprised? The Cleveland Browns are relevant once again. It's a miracle. No more zero-win seasons for this team. Many consider this team as a potential super-team in the NFL. Let's calm down a bit. Although Cleveland's roster looks tremendous on paper, we have to wait and see how this team will play together on the field. Chemistry and fit will be two essential factors for this team's success. Quarterback Baker Mayfield had a great season last year considering the fact that the Browns were 1-32 in the two seasons before him. Adding Jarvis Landry and Odell Beckham Jr. will definitely help him more. The Browns have a favorable schedule in December as they're set to play against Cincinnati twice, Arizona, and Baltimore. This team has a lot to prove, but if you're a Browns fan, you should be excited.
2. Baltimore Ravens (9-7)
After making the postseason last year, the Baltimore Ravens are looking forward to taking a step up. Their goal is to become consistent title contenders. Starting week seven, Baltimore plays four 2018 postseason teams in a five-game stretch and if they're unable to perform well during that stretch, that may knock them out of playoff contention. People can criticize quarterback Lamar Jackson for his style of play, but when it's all said and done, he just wants to win. People just criticize him because of his preference to run. Just wait and watch for his development.  For whatever reason, many aren't giving this team the credit they deserve. If Jackson can take a step up, this team could potentially be a Super Bowl contender.
3. Pittsburgh Steelers (9-7)
The Pittsburgh Steelers could go as well as 12-4 or as horribly as 6-10. With the losses of Antonio Brown and Le'Veon Bell, it'll be interesting to see how this team adapts. We can expect JuJu Smith-Schuster to have a terrific year as he is the number one option. Schuster helps fill the void of Brown as the Steelers shouldn't have much problem there. In terms of the scheduling, the Steelers were gifted with a Week 7 bye, followed by three home games against the Dolphins, Colts, and Rams. If quarterback Ben Roethlisberger can produce efficiently at age 37, then this team is still dangerous. I wouldn't count this team out.

4. Cincinnati Bengals (7-9)
The NFL didn't do Cincinnati a favor with their scheduling. They have a relatively tough schedule that features them taking on Seattle and San Francisco within their first three games. If it wasn't already enough by having a tough schedule, their division has become more competitive than ever. In terms of travel, the Bengals will be logging to almost up to 10,000 miles. Any team that has to deal with that amount will easily struggle throughout the season. None of us know what direction the Bengals are headed in. Cleveland was able to rebuild better than them. Baltimore is the better overall team. Pittsburgh can still contend for this division title. In what world will the Bengals win this division? They could compete for a wild-card, but it's highly unlikely at this point.
Written by Shreyas Kar
Follow Shreyas and TSJ: NFL on Twitter!
Photo credit to RICHARD CORSMEIER, Astrit Kadriu, Smashdown Sports News and Smashdown Sports News via Flickr
Follow TSJ on YouTube and Twitter