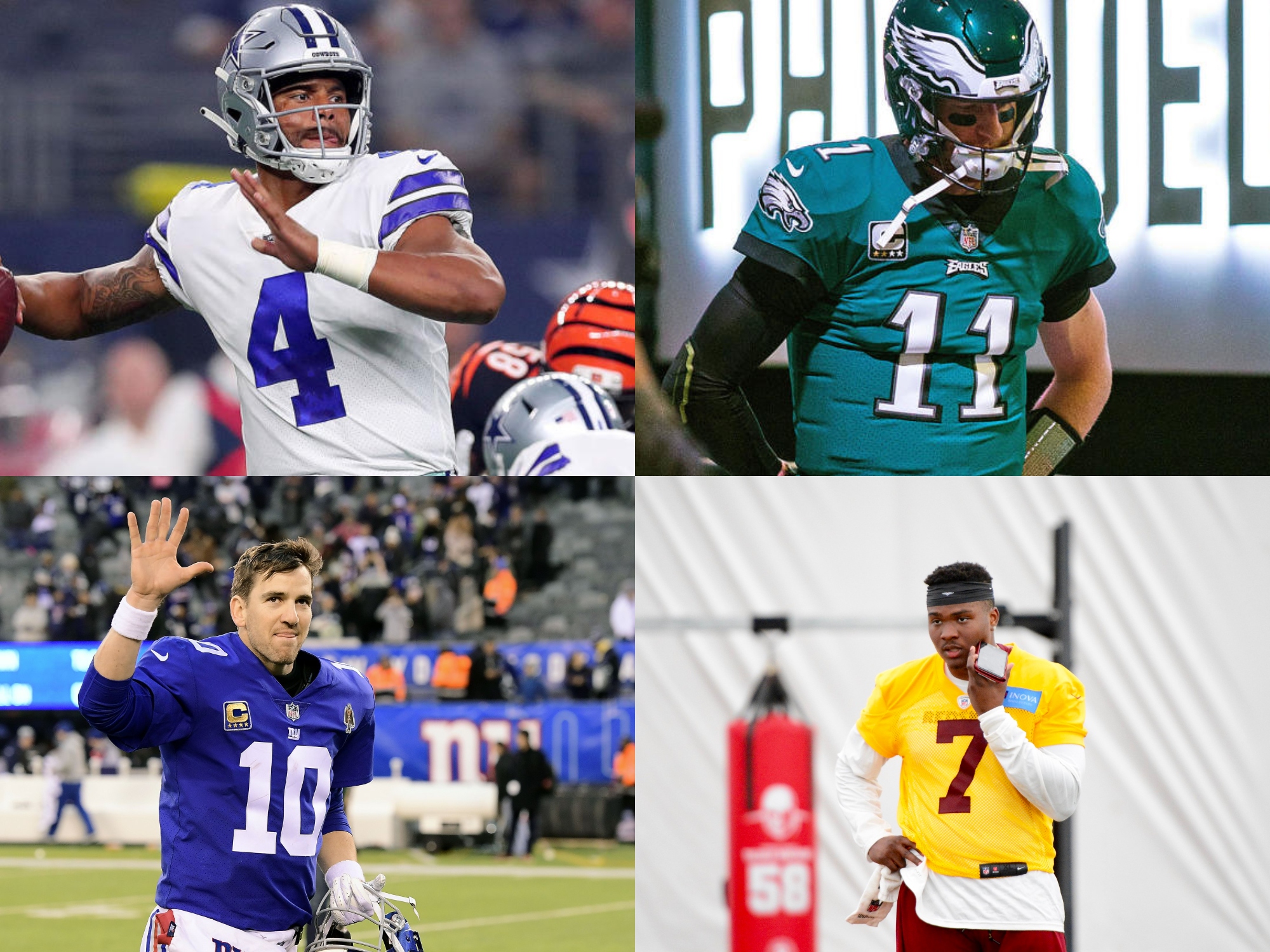 2019 NFC East Record Predictions
The NFC East Division has been interesting to say the least for the past few seasons. With the Philadelphia Eagles being fully healthy entering this year, it's easy to say that they could be the favorites to win this division. Dallas was able to win a playoff game last season as they could definitely compete for the division title. This division is definitely one to look out for.
1. Philadelphia Eagles (11-5)
The Philadelphia Eagles are title contenders, period. They could easily go 13-3 or 10-6 and still be dangerous. With them being fully healthy entering this year, many believe that Philadelphia will once again win the NFC East Division. With them having a great coach in Doug Pederson, it's safe to say that this team is going to the postseason once again. The Eagles also have a recent general manager of the year award winner. With a roster better than their recent Super Bowl winning one on paper, this team is expected to make another Super Bowl. We can expect this Eagle squad to be dangerous for years to come.
2. Dallas Cowboys (10-6)
After winning a game in the postseason last year, the Dallas Cowboys are expecting to make a jump this year. Unfortunately for them, they have an extremely tough schedule as they're set to play six games against playoff teams from last season. The issue with Coach Jason Garrett still remains. Despite the fact that the Cowboys are one of the more talented teams in the league, they're playing in a tough conference. There are many question marks moving forward with this team, but they do have the potential to win this division. With the spotlight being constantly on them, it'll be interesting to see if they can make a leap.
3. New York Giants (6-10)
It's been a weird offseason for the New York Giants to say the least. Getting rid of a top wide-receiver in Odell Beckham Jr., while shockingly drafting QB Daniel Jones in the first round of the draft this year has us questioning their front office. By acquiring Golden Tate, it somewhat fills the void of Beckham Jr. Star running-back Saquon Barkley is looking forward to having another monster season. We just have to wait and see how he will perform after having one year of experience in the NFL. Unfortunately for the Giants, they play in a tough division as they are in somewhat of a rebuilding mode currently.
4. Washington Redskins (5-11)
The Washington Redskins appear to be in a rebuilding state as they're fully confident that they have their franchise quarterback in Dwayne Haskins. For Washington, they have a brutally tough schedule to tip off the season as four of their first five games are against teams that made the postseason last year. Redskins Coach Jay Gruden hasn't really proved much as his time in Washington has been average at best. With him apparently being on the hot-seat, it'll be interesting to see what adjustments this team can make. In the past seven years, the Redskins have made the postseason just two times. It'll most likely be the same story.
Written by Shreyas Kar
Follow Shreyas and TSJ: NFL on Twitter!
Photo credit to All-Pro Reels, Smashdown Sports News, Smashdown Sports News, and World News Nest
Follow TSJ on YouTube and Twitter