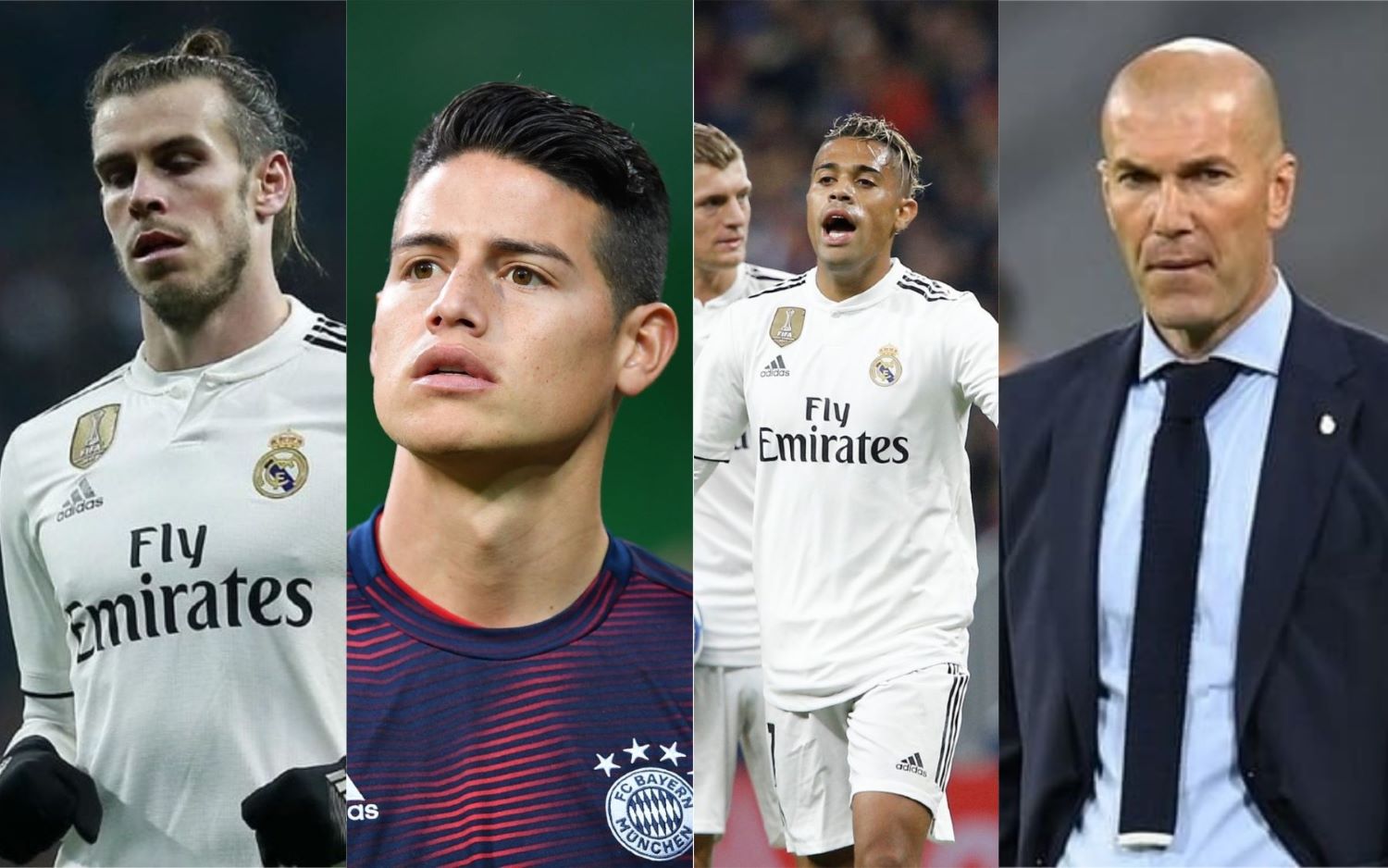 Scuttlebutt From Real Madrid: Bale, James, Mariano, Zidane
There is always something going on at the Santiago Bernabeu. Initially the season begun with a black list of players that club president Florentino Perez and manager Zinedine Zidane had worked on. Then it went into acquiring "Galactico" caliber-typed players. We are now seeing that many moves have been made while others are still pending due to injuries or transfer difficulties.
Nevertheless, Los Merengues have already shipped out Dani Ceballos to Arsenal, Jesus Vallejo to Wolverhampton and Marcos Llorentes to Atletico de Madrid.
Meanwhile, other bench players like Sergio Reguilon, Theo Hernandez and Luca Zidane have also exited the club whether on loan or sale.
Gareth Bale
The biggest pickle that Zidane have in his hands in Gareth Bale. The Welsh have in numerous (at least through his agent) said that he does not want to exit the club. However, it is clear that the French three-time UEFA Champions League champion does not want him. In fact, there was so many rumors about him staying due to the recent injury to Marco Asensio, that he was left off the squad that will participate in the Audi Cup in Germany.
Bale was really close to signing with Chinese side Jiangsu Suning, however, with just three days until the transfer deadline, the move is probably impossible.
Bale's agent also claims that Zidane just doesn't like his client and they have never had a relationship.
The situation can only get worst for both parties. The player doesn't want a pay cut to leave the club, nor the club will let him leave for free.
The question remains, can Bale sustain another year without playing at his fullest capacity?
We all believed that the departure of Cristiano Ronaldo would give him the opportunity to grow and lead the team. However, the numerous injury woes have kept him off the field.
Meanwhile, the return of Zidane to the club does not help either. Only time will tell.
James Rodriguez
Perhaps another player marked by Zidane is James Rodriguez. However, his situation comes at a time where an injury will help him stay in the club. At least the Spanish-Madrid-based media believe-so.
Despite the numerous attempts by Atletico de Madrid to sign the player, the Colombian seems destine to battling it out with Zidane for one more year.
To the misfortune of Diego Simeone, the Colombian could be a great addition to his new and improved attacking at Wanda Metropolitano.
Napoli and former boss Carlo Ancelotti were also very eager for the services of the Colombian play-maker but neither is pushing hard for the buyout clause.
Manu Sainz from AS indicates that the Colombian has been informed about staying with the club.
Mariano
Leonardo Jardim has been clear with Monaco's leadership about the addition of Mariano Diaz to the club. The Dominican Republic native wants to exit the club for some playing time. Given the recent addition of Luka Jovic, Mariano's time this season will diminish greatly.
He feels that returning to Ligue 1 will benefit his career versus staying in the club of his dreams.
Additionally, while with Lyon a year ago, he scored 21 goals in 45 appearances. Since returning to Madrid in 2018, he has only made 13 appearances while racking three goals.
Zinedine Zidane
Lastly, Zidane has come under pressure after their embarrassing defeat at the hands of Atletico Madrid last Friday. A defeat that he is calling as just a friendly and nothing else.
In reality this is true, but it is also very real that despite the newly additions, the team is still unable to pick up the pace from last season.
Everything is supposed to change once the season gets going. However, we won't know until that starts.
Winning cures all, says a very football remark. And it is just that what Zidane will have to do after going an entire blank of major trophies.
Just the FIFA Clubs World Cup counts, but it was really the only title won after coming off a third-consecutive Champions.
Written by Edgar Gomez
Follow Edgar and TSJ: Soccer on Twitter!
Photo credit to Ly Nguyen, Kalaallit_, Kalaallit_, and Indo Big
Follow TSJ on YouTube and Twitter