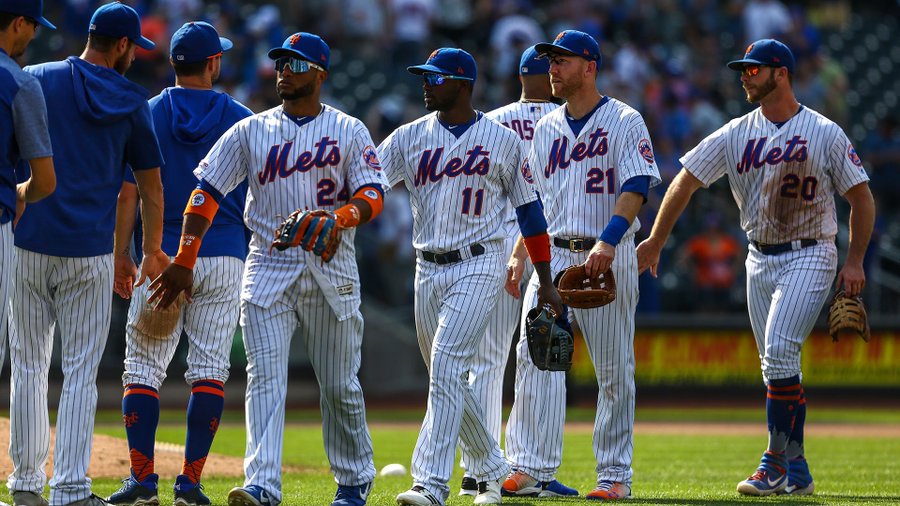 Mets Weekly Wrap-Up #18: Are The Mets Back In The Race?
After sweeping the Pirates this weekend, the Mets have no won four straight and now sit just five games under .500. In terms of the standings, they sit 11.5 GB in the NL East and 6.0 GB of the NL Wild Card. With just about two months of baseball yet to play, the Mets are setting themselves in a great position to make a run at the postseason. With the Trade Deadline on Wednesday, it will be interesting to see the moves the Mets make to make their push.
Plans At The Deadline
With the Trade Deadline just two days away, the Mets will be one of the more interesting teams to watch. With the team trading for Marcus Stroman yesterday, a lot of eyes will be on guys like Zack Wheeler and Noah Syndergaard. Arguably, these guys are the two best pitchers that may be available. However, it seems that neither is likely to move considering the Mets high asking price; especially for Syndergaard. Guys like Todd Frazier and Jason Vargas (who will be free agents after this year) will most presumably get dealt, but all eyes will still be on Wheeler and Syndergaard.
For the Mets in general, it is just a little bit of fine-tuning of the roster to set them apart. A true center-fielder and some bullpen help would be great additions to the team, however, they may have to give up what's left of their farm system to get those pieces. This roster is just one or two pieces away from being contenders.
Are The Playoffs Realistic?
Realistically? Yes. The Mets are definitely in a great position to get back to the playoffs. With the addition of Stroman, the offense being what it has been this year, and with the bullpen finally starting to come around, the Mets have a realistic shot at the postseason. The division might be a bit of a stretch but the Wild Card is certainly within reach. And there is 100% plenty of time to get there. As we get closer and closer to the final stretch of the season, the NL Wild Card race (especially with the Mets) is going to be fun to watch. "Ya Gotta Believe!"
Written By Zach Nau
Follow Zach and TSJ: MLB on Twitter
Photo Credit to the Mets via Twitter
Follow TSJ on Facebook and Twitter