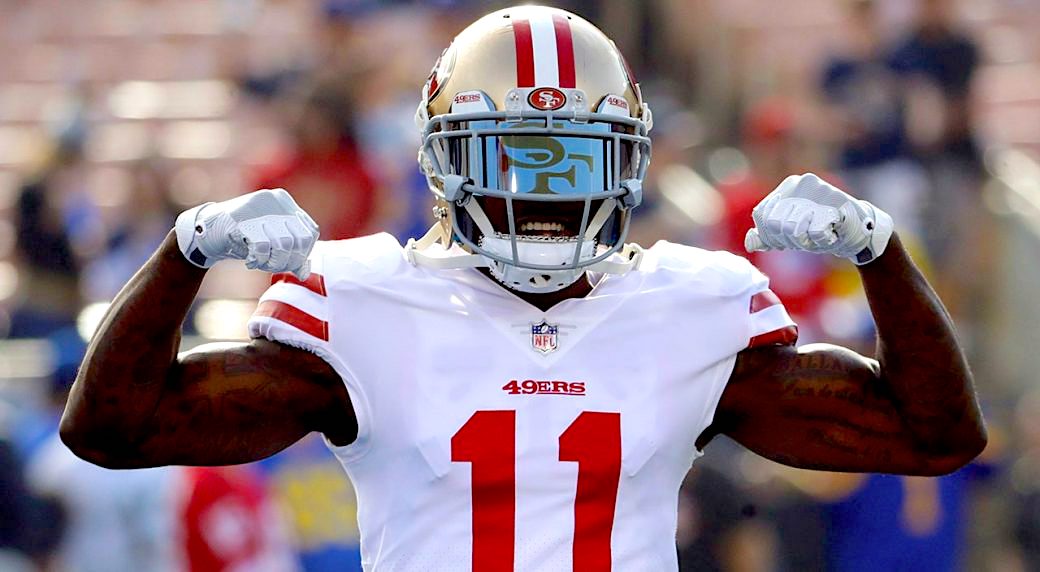 Talking Myself Out of the San Francisco 49ers
The 2019 NFL season is quickly approaching. As I write this, teams are entering training camp. You can smell it in the air, football is coming. Inevitably, this time of year always leads to teams getting lots of hype. Every year, the media picks a few teams and lavishes praise on how they're finally ready, and this is their year. Or maybe they've had a long run of disappointment, but the players are saying that they're ready and this is their year. One team that has been getting a lot of the hype this year is my beloved San Francisco 49ers.
My colleagues here have written about their revamped, powerhouse offense. Fans are salivating over their new defensive line with the additions of Nick Bosa and Dee Ford. Just the other day, I read a Bleacher Report article detailing why the players on the San Francisco 49ers see themselves as Super Bowl contenders.
Sounds Great, Right?
As a diehard 49ers fan, this initially all sounded great. My team winning the Super Bowl? Awesome! But then, I began to recall some painful memories. Of years that started out just like this, but ended in heartbreak. The Chip Kelly season, when Kelly was supposed to build an offense that steamrolled people the way his Oregon teams used to. I got my hopes built up as high as they could go, only to end in painful heartbreak as the team finished the season 2-14. More recently, there was last season. Kyle Shanahan had found his quarterback, they said. The offense was ready to roll, they said. The Niners were touted as a dark horse Super Bowl contender. But with the snap of Jimmy Garappolo's ACL, the season was gone.
These seasons were devastating for me. I had built up all of my hopes, hopped fully on the hype train, and was crushed when the seasons ended so disastrously. As excited as I am for this next season, I am afraid to allow myself to get on the hype train again. I just don't know if I can have my heart broken again. So, in this article, I am going to try to talk myself out of the 49ers hype, in order to protect my sanity come January. Let us begin.
Reason #1: Defensive Line
One of the big selling points for this year's 49ers is the new defensive line. People say that with the moves the 49ers have been making, the D-Line will be one of the best in the NFL. Perhaps the most popular move of all was the drafting of Nick Bosa with the #2 overall pick in the draft. The younger brother of the Chargers' Joey Bosa, Nick Bosa is widely regarded as one of the best defensive ends to come into the league in years. People expect him to come in and be a carbon copy of his older brother. Which, if he is, would be great for the 49ers defense.
But will this actually happen? Bosa doesn't actually have that much tape and sat out almost all of his last season in college with a core injury. What if he can't live up to the hype? What if the comparisons to his brother have led him to be overvalued? Even if he is the same as his brother, Joey Bosa has a complicated injury history that kept him off the field for a large part of last season. What if Nick Bosa is injury prone and can't stay healthy? If Bosa cannot live up to expectations, the 49ers' defensive line falls apart. Without Bosa, the team would play well below expectations.
But, Bosa did just sign his deal. And he was fantastic in college, and he used his time off to rehab and prepare for the pros. Who am I kidding? Bosa is going to be fantastic. I guess I'll have to try something else to talk myself out of the hype.
Reason #2: The San Francisco 49ers Wide Receiver Corps
Another reason not to get too excited about the 49ers is their receiving corps. The 49ers have a group of young wide receivers and none have firmly established themselves as a true number one. Dante Pettis was great when he was on the field last season, but he hasn't been in the league long enough to show anything but potential. The only star receiver the Niners have is George Kittle, and he's a tight end. At the end of the day, the Niners' receiving corps is too young and inexperienced to sustain a superstar offense.
But, Dante Pettis is one of the best receivers in Pac-12 history and this is only his second year in the league. Marquise Goodwin is the NFL's fastest man. Trent Taylor is fully healthy and has always been one of Garappolo's favorite targets. And second round pick Deebo Samuel was phenomenal in college, and just signed his deal with the 49ers. What am I even talking about? Our receivers are fantastic. They're gonna be great! (Shoot, I'm starting to get excited about this season, what do I do?)
Reason #3: Jimmy G
(This is really my last chance to talk myself off the hype train. If I can convince myself our QB isn't good, then there's no way we could be Super Bowl contenders right?) Honestly, Jimmy is unproven. He came in, won five straight games, and signed a huge deal. But then, after a few mediocre games, he tore his ACL. We haven't really seen Jimmy at his fullest yet. Everyone seems to think he'll be great, but who knows? There is a very realistic chance that the flashes we saw from him in 2017 demonstrated the peak of his game. After all, the Patriots did trade him away, and Belichick doesn't trade good players.
But, Jimmy was fantastic in those first few games. And he's been working relentlessly since tearing his ACL. He did work under Tom Brady, the GOAT, for a long time. He must've picked up a few tricks. Plus, Kyle Shanahan does have a good track record of making QBs great. Shanahan was the mastermind behind Matt Ryan's MVP, after all. And lots of sources say that Belichick wanted to keep Garappolo, but was forced to trade him away to satisfy Brady. Finally, just look at him.
Doesn't he just look like someone who's better than everyone else at everything?
Well crap, I don't think I'm gonna be able to talk myself out of this one. The San Francisco 49ers are winning the Super Bowl. All aboard the Hype Train!
Written by Timmy Gibson
Follow Timmy and TSJ: NFL on Twitter!
Photo Credit to Rick Scuteri via Wikimedia Commons
Follow TSJ on YouTube and Twitter