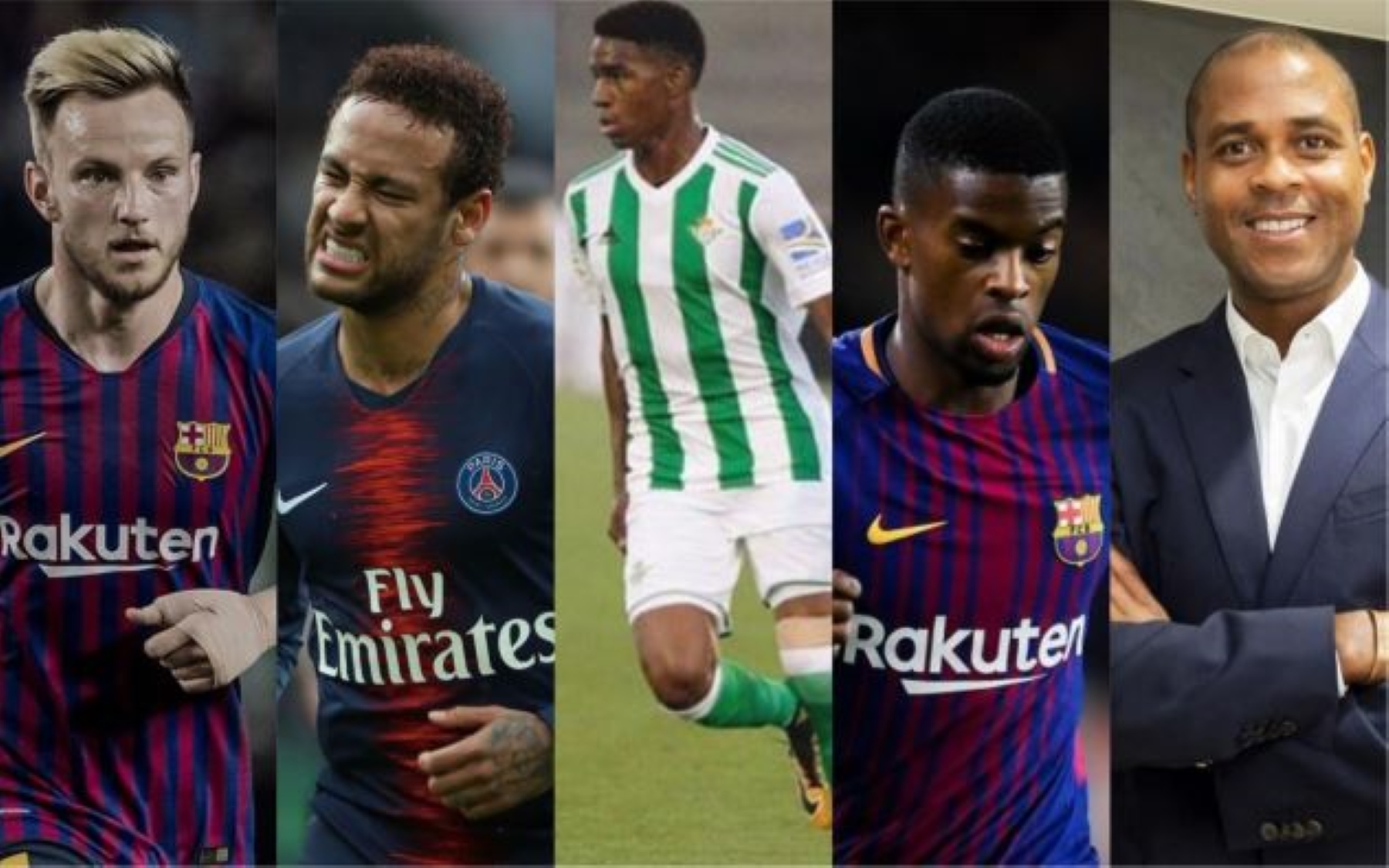 Scuttlebutt From Barcelona: Rakitic, Neymar, Firpo, Semedo And Kluivert
Several transfer news are still boiling in Barcelona this summer. One can say Barcelona is still in need of a center-back, while other are still contemplating the re-arrival of Neymar Jr. to Camp Nou.
Here are the top scuttlebutt stories coming out of the Catalan capital before the weekend.
Ivan Rakitic
Inter Milan continue to be the heavy favorites to contend for the services of Croatian midfielder Ivan Rakitic. The 31-year-old is finally accepting that the club has high interest in transferring despite his desire to stay at Camp Nou. However, the arrival of Frenkie De Jong from Ajax this year threatens his playing time given Arturo Vidal and Arthur Melo's roles under boss Ernesto Valverde.
Nevertheless, he feels that if he continues to work and show that he is better at his position that Valverde will give him the notch over the youngsters:
"Here you have to work and whoever performs the most is the one who plays, I will work hard so that the team can count on me, they know me and I want to give the best version of me and in the Coach makes the decision.
Neymar Jr.
After a crazy week where Juventus was mentioned as one of the contenders for Neymar Jr., it seems as though the options for him to return to the Catalan capital are diminishing.
ESPN Deportes claims that Barcelona have begun believing that a possible move for the Brazilian star is becoming rather difficult.
Just after two years with PSG, the Brazilian is already interested in a move out.
Let's not forget that Neymar left to Paris in 2017 for a record fee of €222m.
Meanwhile, Real Madrid are also contemplating a move for the forward should Gareth Bale leave the club.
Junior Firpo
Perhaps one of this summer's biggest need, Barcelona are still interested in acquiring a young left back. Junior Firpo, the Real Betis Dominican, is who they are considering to back up Jordi Alba. However, after loosing out on Dutch star Matthijs de Ligt, who made a move to Juventus, they are not going after a center-back.
Nevertheless, a backup to Alba is needed as he has struggled at times for the extra work he is putting on the veteran legs.
As far as his cost, Barcelona made an initial offering price on €15m and €20m. However, Firpo has a €50m release clause with the Seville club.
Firpo made 43 appearances with Real Betis but struggled towards the end of the season with some muscular problems.
Nelson Semedo
According to AS, Barcelona have rejected a numerous amount offers for right-back Nelson Semedo.
Meanwhile, none of the offers have reached the player's €100m release clause. Many of the offers have come from other Spanish clubs, English and Italian sides but none exceed €50m.
Despite this, it seems like Valverde favors versatile Sergi Roberto over Semedo during many of the key matches last season.
With several new players and an overbooking at midfield, it is likely that Sergi will remain at right-back.
Patrick Kluivert
Patrick Kluivert returns to Barcelona as the new director of youth football.
While at Barcelona, Kluivert netted 145 goals across 308 games between 1998 and 2004.
His arrival at the club comes nearing the time sporting director Pep Segura leave the club.
Barcelona have confirmed former striker Patrick Kluivert has returned to the club as the new director of youth football.
"I am very happy to be back home and looking forward to this new era, with the challenge of keeping Barça among the top teams in the world," Kluivert said, as quoted by official club media.

"I grew up at the Ajax academy, which is very similar to La Masía, and I think I can do a lot for the development of young Barça players."
Pep Segura
Perhaps the least important of all news, Pep Segura terminates his contract with Barcelona as Sporting Director.
A club statement read, "FC Barcelona publicly expresses its gratitude to Josep Segura for his commitment and dedication, and wishes him good luck and success in the future."

SPORT reported earlier this week that Segura 'told those closest to him about the decision and feels his time at Barça has run its course'.
Written by Edgar Gomez
Follow Edgar and TSJ: Soccer on Twitter!
Photo credit to soikeo .info, soikeo .info, Dinh Van Nam, Donq question via Flickr and FCBMasia via Twitter
Follow TSJ on YouTube and Twitter