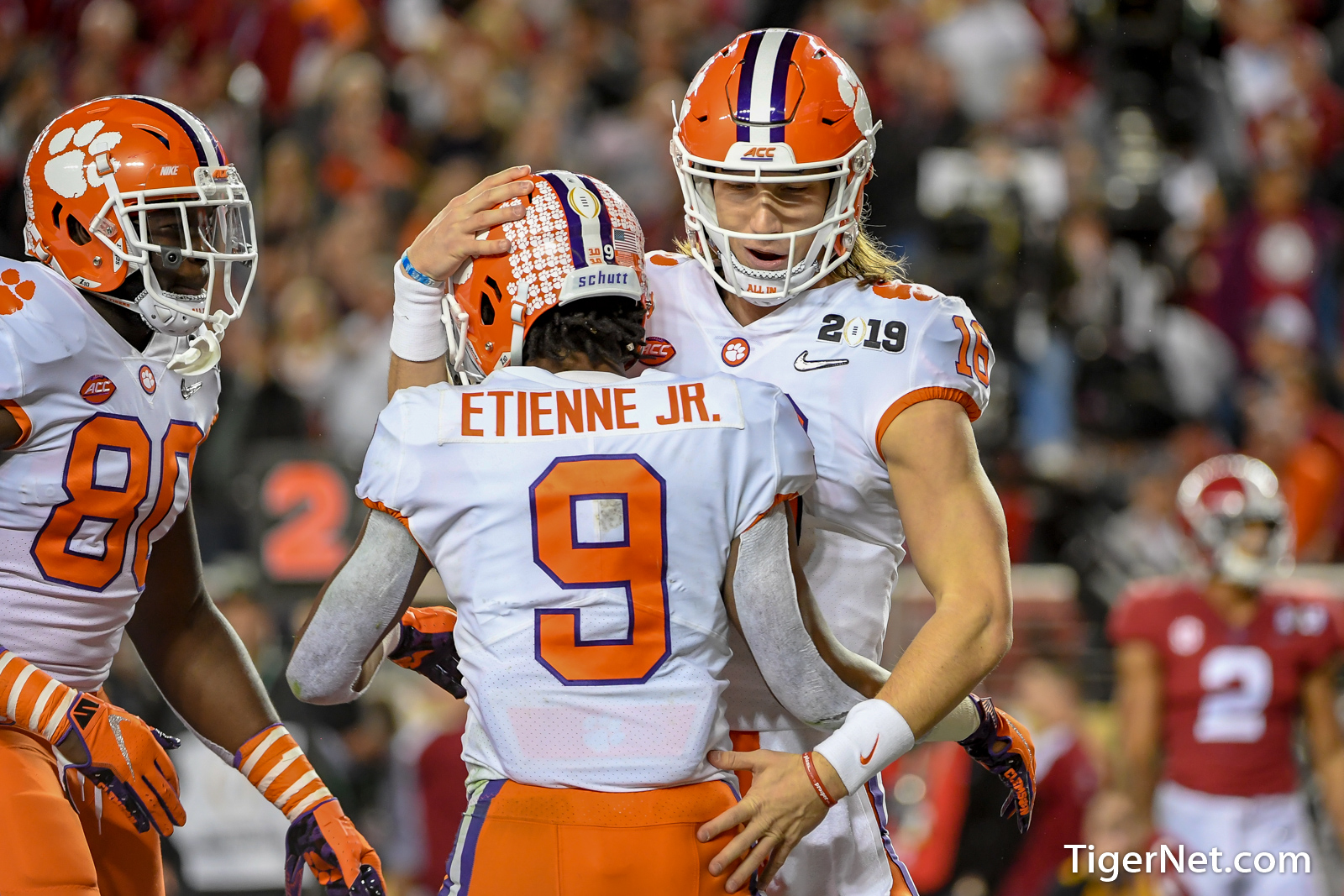 Ranking 2019's Best Offensive Duos in College Football
With the sports world fixed on the NBA's shift from super teams to a new dynamic duo era. We thought it would be cool to take a gander at College Football's versions of best offensive duos.
Here are my top 5 best offensive duos:
5) Hawaii – QB Cole McDonald & WR Cedric Byrd
Cole McDonald
Now this may be a shocker to many, but I am immensely high on the talent of the redshirt junior. Yes, he started off hot last season and then struggled down the stretch. However, I believe that rough run at the end of last season may work as a benefit for a lucky NFL team come the 2020 draft. He still ended the season with a tremendous 3,875 passing yards, 36 TD's and 10 INT's in 13 games. With that macro statistical output, McDonald had an outstanding season. If he can hold off impressive sophomore Chevan Cordeiro for the starting job, I expect him to skyrocket up draft boards for a potential first-round selection come April.
Cedric Byrd
Hawaii junior wide receiver Cedric Byrd could soon find himself following in the footsteps of former Rainbow Warrior and current Seattle Seahawk, John Ursua. Ursua's underrated production got him drafted and the same seems destined for Byrd. Quietly amassing 79 receptions, 970 yards, and 9 TD's in 14 games last season behind Ursua, Byrd is ready to take the next step and lead this feared Air Raid passing attack. Together with McDonald getting back to early season form, this duo could be the shock of the upcoming season!
4) North Texas – QB Mason Fine & WR Rico Bussey
Mason Fine
The NFL's shift to finally accept shorter quarterbacks is just in the nick of time for Mason Fine. The senior holds many records for the Mean Green, including career passing yards, and this season may actually prove to be his best. His completion percentage, yards per attempt, adjusted yards per attempt, and QB rating have climbed every season since he took over. If he continues to show his game at this currently immense level, there is no doubt that a pro quarterback job could one day be his.
Rico Bussey
Bussey exploded for 1,017 yards and led Conference USA in yards per route run among returning wide receivers (2.54) (PFF). Possessing solid height (6'2″) and weight (193 lbs) at his position, the senior gives Fine a true number one option in the passing game. This duo should have fun in their last run together and North Texas fans should definitely expect fireworks.
3) Ohio State – RB J.K. Dobbins & WR K.J. Hill
J.K. Dobbins
As Biggie once said, "if you don't know, now you know." That is the mantra I'm carrying into Dobbins' upcoming 2019 season. He very well could be ready to explode, which sounds crazy for a guy who had 1,403 rushing yards in his freshman season and parlayed that into another 1,000 yard season a year later. With Mike Weber gone, there is no limit to what Dobbins could produce. 1,000 rushing yards and a top two-round selection in the NFL draft seems like a low-hanging fruit prediction. So I'll go on record and say 1,500 rushing yards and a first-round selection come 2020!
K.J. Hill
With Parris Campbell, Terry McLaurin, and Johnnie Dixon all out the door, Hill has the chance to truly showcase himself. Hill nabbed 70 receptions, 885 yards, and 6 TD's last year, while being second in yards per route run among returning Big Ten receivers (2.73) (PFF). Along with potential starter Justin Fields, Hill and the OSU passing game will look to be a nice convoy for Dobbins and crew in the run game. A great ying and yang duo.
2) Alabama – QB Tua Tagovailoa & WR Jerry Jeudy
Tua Tagovailoa
Ouch, 2nd place again! (Sorry 'Bama fans, but I had to). Anyway, you'd probably have to be living under a rock to not know who the man they call 'Tua' is. He was the Heisman favorite for most of last season and is neck and neck with some quarterback from Clemson for that honor this season. Put simply, Tua is a stud. He passed for 3,966 yards, 43 TD's and 6 INT's in 15 games. God help the defenses he faces in 2019.
Jerry Jeudy
2018 Biletnikoff Award winner Jerry Jeudy may be the first receiver selected come April, but for now, he'll have to settle for killing college defenses. The junior will look to somehow build on a 68 reception, 1,315 yard, and 14 TD season. That may seem impossible, but I am the last guy to count out a beast like him. This duo downright scares me.
1) Clemson – QB Trevor Lawrence & RB Travis Etienne
Trevor Lawrence
Do I need to give him an introduction? He's the darling of college football, on every award watch-list, an overwhelming Heisman betting favorite, former consensus #1 high-school recruit…okay, I'll stop because this could go for a while. He, to sum it up, is the leader of the best offensive duo in the country. Yet, the scary thing is, he's just getting started. His mid-season run culminated in a National Championship, yet your head can start spinning when you try to put some expectations on his first season coming in as the unquestioned starter. According to PFF, Lawrence's passer rating was 101.2 versus pressure last season (minimum 175 attempts). Who was second you may ask? Sam Hartman of Wake Forest at 77.4. Yep, he's that good.
Travis Etienne
Don't be fooled though, the Tigers' running game is equally as dangerous as the passing attack. Led by stud junior Travis Etienne, Clemson boasts an immensely balanced offensive attack. Thus making this the most dominant of dynamic duos. Etienne is a speedster who averaged a ridiculous 8.1 yards per attempt in 2018 to a total of 1,658 rushing yards and 26 total TD's. The scary thing is that he can improve! If he can add to his receiving game, this is a surefire first rounder folks. ACC defenses are praying against it I'm sure.
Written By Samit Bariana
Follow Samit and TSJ: College Football on Twitter!
Photo credit to via TigerNet.com via Flickr
Follow TSJ on YouTube and Twitter