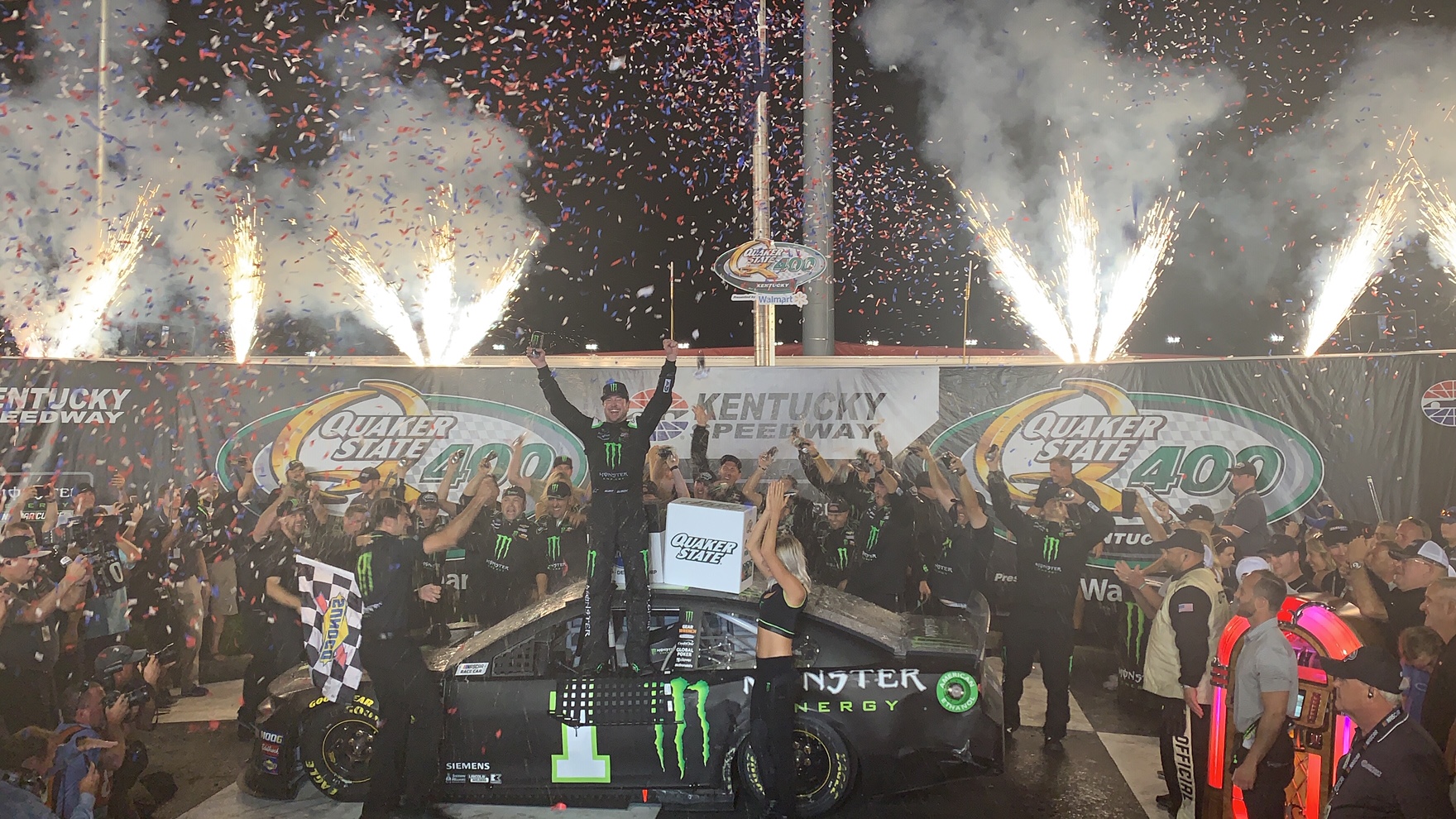 On Overtime Restart, Kurt Busch Scores First Victory of Season, First Chevrolet Win at Kentucky
"This was like that old-school Saturday night brawl, and I was happy to be part of it and come out on top," said Kurt Busch on Saturday night after winning at Kentucky Speedway. After taking 4 tires on his last pit stop, Kurt Busch had the advantage if a late caution would come. The yellow flag did fly, setting up NASCAR overtime and a Busch brothers battle to the checkers. The older Kurt was able to hold off Kyle for his first victory of the season and with Chip Ganassi Racing. This also marked the first Chevrolet win in the 9-year history of Kentucky Speedway. Overall, it was a very special night for Kurt due to how last week's race ended for the 1 team.
Stewart-Haas Starts Up Front
After single car qualifying on Friday afternoon, all 4 Ford Mustangs from Stewart-Haas Racing placed themselves in the top 7. It's been well documented that SHR was the team to beat last year with 12 wins, but have yet to reach victory lane in 2019. Polesitter Daniel Suarez felt confident in his 41 car as well as his 3 teammates. "We have very fast cars," Suarez said. "We had probably the fastest car in last practice and the fastest car in qualifying, so I'm very proud of my guys, Ford Performance, Haas Automation — everyone who makes this program possible."
When the green flag flew on Saturday night, it was Suarez who took off with the early lead. The Mexico native would pace the first 49 laps from the pole, a career-high mark for laps led in a single event. During this first stint, Suarez's teammates Aric Almirola and Kevin Harvick would move into the top 3 to make it an SHR podium early on.
Pit Stop Puts Leader Back
The first caution flag of the Quaker State 400 would fly when Chase Elliott's number 9 Chevrolet cut a tire and hit the wall on lap 48. Under this yellow, Suarez led much of field down pit road for the first round of stops. The 41 took 4 tires and fuel, putting them back in 14th. The race lead would go to 3-time Kentucky winner Brad Keselowski, but the 2 would quickly fall victim to Kurt Busch.
2 more quick yellows would occur in Stage 1, but the Monster Energy 1 of Kurt Busch would retain the lead. Kurt even had to fight off his brother Kyle on one restart, but held his ground. Kurt would go on to the Stage 1 win, his first Stage win of the year. This would also be the first-ever Kentucky Stage win for anyone other than Martin Truex, Jr.
Mixed Strategy Sees New Leaders
Following Stage 1, many drivers who previously stopped opted against pitting with the leaders. This put Ricky Stenhouse, Jr., Ryan Newman, Austin Dillon, and others up in the top 10. On the Stage 2 restart, the 17 of Stenhouse pulled away and would lead for 21 laps. This would change on lap 105 when 2-time Kentucky winner Kyle Busch took the lead for the first time. While out front, the M&M's 18 appeared to be the class of the field and began to pull away.
More Strategy Midway Through Stage 2
Just a few laps after the 18 took the lead, the fuel window for the end of Stage 2 opened. The first driver to short pit this Stage would be Daniel Suarez. Stenhouse, Logano, and a few others would follow suit on this strategy gamble. For Suarez however, this gamble did not pay off as he endured a pit road speeding penalty. This infraction would put Suarez 2 laps off the pace, and he would later lose another lap to the leaders. After starting up front, the night quickly went bad for the 41. At one point he was as far down as 32nd position.
Perfect Call by Busch
With a gap of more than 8 seconds, Kyle Busch finally came in for 4 tires and fuel on lap 149. With the Stage 2 break coming on lap 160, the 18 cycled back out front and held serve. The younger Busch gained his 6th Stage win of 2019, and made it a Busch brothers Stage sweep.
Playoff Bubble Drivers Impacted on Final Stage Restart
With 9 drivers staying out on the Stage break round of pit stops, Clint Bowyer inherited the race lead. The 14 Mustang has been on a recent downward slide in the Playoff standings, going from 12th to 16th in a matter of weeks. The 14 would pace the field for several laps, as another Playoff bubble driver had issues.
Shortly after the final Stage got underway, the 3 car of Austin Dillon was slow and heading to pit road. He reported that he lost 4th gear, and went to the garage for repairs. The 3 would later return to the race over 30 laps down, but his postseason chances suffered. Dillon's already uphill climb into the Playoffs got steeper, as he only took home 10 points from finishing 35th. The RCR driver now sits 22nd in points. The 3 Chevrolet now faces a must-win scenario to make his 4th postseason appearance.
This opening run for the final Stage would see another bubble driver face issues. Jimmie Johnson got loose and spun on lap 179. 7-time's Playoff cushion that he's built over the last few weeks was cut down to just 10 points. The 48 would continue on with damage however, as Johnson chased the first Chevrolet win at Kentucky. Despite the yellow and ensuing restart, the 14 held serve up front.
Restart Penalty on Byron
On the restart following the Johnson spin, 2nd-place William Byron was black flagged for a restart violation. In NASCAR's view, he jumped the restart and accelerated before the race leader Clint Bowyer. This was in spite of not reaching the stripe first as well as being pushed from behind by Almirola. This penalty would not cost William Byron a lap, but it did send him deep in the field. The 24 was only able to recover up to 18th at the finish. This result was far from expectations of a first career win for the 24 Chevrolet team.
Tight Racing Late for the Lead, Multiple Strategies Pay Off
After the 24 served his penalty, it was a tight battle for the lead between Bowyer and Kurt Busch. With the 2 of them racing each other hard, Kyle Busch closed in to make it a 3-way fight. The 1 of Kurt Busch led lap 202 by just 0.004 seconds, and he would clear Bowyer for the lead. However, the 18 of Kyle Busch would inherit the lead when Kurt came in for his last pit stop on lap 213. The 14 had beat the 1 onto pit road, as Bowyer came in just after losing the lead.
Even though the 18 was out front, the eventual lead was up for grabs in a tight battle between the 1 and 14. The 18 of leader Kyle Busch did not pit until 41 laps to go. Both he and Joey Logano pitted together and took just 2 tires to leapfrog the 1-14 battle. Kyle just barely edged Joey out of the pits, and an entirely new race for the win was on.
The pit cycle would not end until lap 248, when Daniel Suarez finally came in from the lead. The top spot was handed to Logano, who had to pull of a slide job to clear the 18. With Logano leading by nearly a second and the laps ticking away, the race looked well in-hand for the defending champion.
Late Yellow Sets Up Overtime
On lap 261 the entire complexion of this race would change with a late caution. Going into turn 1, the 43 of Bubba Wallace cut a left rear tire and spun into the grass. With an overtime restart now, it was anyone's race to take from Logano.
On the restart, 4th-place Kurt Busch got a major push from his teammate Kyle Larson. 3rd-place Erik Jones would also make it 3-wide with Kyle Busch, as the 2 drivers split the 18. With momentum in the high lane, Kurt edged ahead into turn 3 and at the white flag. On the last lap, the Busch brothers made contact, resulting in a tire rub on the 1. However, Kurt remained steadfast in the high groove and continued to side draft Kyle. Even though Kyle was clear into turn 3, Kurt had enough of a run to motor around the outside lane, get Kyle loose, and beat him to the stripe.
Other Notables in the Top 10
"It was unfortunate we were on the short end of the stick there," Kyle Busch said after finishing 2nd. "But I didn't know (Kurt Busch) had 4 tires, so that made sense. Overall, a good day for our M&M's Camry. I got him clear just by a little bit getting into 3 and I think I could have slid up in front of him. But I think if I did then I would have knocked the wall down on exit. It was just going to be carrying too much speed for how bad my front tires were, and how tight I was. We just didn't make the right adjustments there, got way too tight, and that's what allowed the 22 by us. We were going to lose anyway, so at least I salvaged the same place that we should have finished."
The Other Side of the Brother's Battle
On racing his brother so hard for the win, Kyle said it was "No hard feelings. That was fine, it was good. He's got to find his own ride home though, I'm not waiting for him." Kentucky marks the third time the Busches have finished 1-2, but the first time where Kurt has had the upper hand.
Lurking behind both Busch brothers in 3rd was Erik Jones, his fourth 3rd-place result of 2019. With the strong result, Jones vaults himself into the top 16 in points and is the last man in the Playoffs currently. "I've been happy with how we've performed lately," Jones said. "Take out Daytona last week and its been a good month, we just need to keep building on it." Jones has been strong at several of the upcoming races before, so maybe he can build some momentum.
Rounding out the top 5 were Kyle Larson and Denny Hamlin. Still searching for his first win since 2017, Larson was happy to push his teammate to the win. "We both want to see each other succeed and I won the All-Star Race so I beat him to victory lane."
After running strong earlier, Clint Bowyer brought the 14 home in 6th, his best result in 5 weeks. The late caution, as well as the 22 and 18 taking just 2 tires, cost Bowyer some track position.
After leading on the overtime restart, Joey Logano was forced all the way back to 7th as he "had the fastest car and didn't win." Logano wound up leading 19 laps but was the biggest loser with the late yellow.
Big Recovery for Suarez
In 8th was polesitter Daniel Suarez, who rallied back from 32nd and 3 laps down under the long green flag run. "It was an eventful day for sure. We just had a fast racecar, felt like we got better, but never got track position back," said Suarez. "Just one problem after the other, we were fast enough to overcome that but not enough to get a better finish. The good thing is we have speed, we just have to keep working to have a clean day."
Scoring his 7th top 10 of the season in 9th was Ryan Newman. Despite the strong run, he was booted from the provisional Playoff standings and is now 17th in points. "We scored some points, but not what we need," said Newman. "We need to be winning, we need to be running in the top 5, we were for a little bit, but we need to finish there."
Lastly in tenth was Chris Buescher, his 4th top 10 of 2019. "We've had better runs and mile-and-a-halfs, but this is a good finish for us," said Buescher. "I hated the final caution when it came out, I was mad. But it worked out really well for us, so I'm good now. We were the last car on the lead lap so it really put us in a good situation to take tires and capitalize." Kentucky is the home race for Buescher's sponsor Kroger, so a strong run is great for the 37 at this venue.
Significance of the First Chevrolet Win at Kentucky for Kurt Busch
Kurt Busch checked off a lot of first with this Kentucky win. It was his first win of 2019, first for Chip Ganassi Racing, and career win number 1 for crew chief Matt McCall. This marked the 1 car's first win since 2013, as well as the first Chevrolet win at Kentucky Speedway. The elder Busch has now won with 4 different race teams, and in each of the last 6 years. Overall, Kurt Busch has 31 career Cup Series wins, which is 26th on the all-time wins list.
"It's special to get Chevy to Victory Lane," said Kurt Busch. "For us at Ganassi to win with this No. 1 car, tons of guys in Victory Lane tonight that have never won a Monster Energy Cup Series race, and I'm happy that they got their first win tonight." With the win, Kurt also has locked up a spot in his 13th-career Playoffs. 13 NASCAR postseason appearances is tied for 2nd most all-time, only behind Jimmie Johnson. Kurt is the 5th Chevrolet driver to win this year and 4th to make his way into the Playoffs.
The Quaker State 400 win is also a redemption victory for Busch, McCall and the entire 1 team. Last week they were in position to win the Coke Zero Sugar 400. However, they chose to pit for new tires just before the race would have restarted. Lightning struck, rain forced an early race conclusion, and the 1 settled for 10th last week. This week, it's a vindication first win for the Ganassi 1 Chevrolet team.
How to Watch the Next Race
Race number 20 for the Monster Energy NASCAR Cup Series will be the Foxwoods Resort Casino 301 from New Hampshire Motor Speedway. Coverage will be on Sunday, July 21st at 3 PM EST on NBCSN, PRN, and SiriusXM NASCAR Radio Channel 90. Similar to Kentucky, NHMS will be using PJ1 traction compound in an attempt to get a second racing groove. This led to the infamous bump and run finish last year where Kevin Harvick took the win from Kyle Busch. Chevrolet is also on a 3-race win streak for the first time since 2015. With all of this in mind, the field of potential winners in Loudon is wide open.
Written by Peter Stratta
Be sure to follow us on Youtube and Twitter.
Be sure to follow the writer on Twitter.
Photo credit to TSJ101Sports.