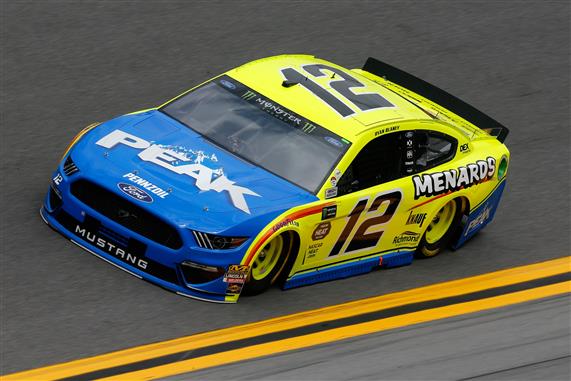 Ryan Blaney Searches for First Win of 2019 at Kentucky
This weekend the Monster Energy NASCAR Cup Series rolls into the Bluegrass State for a Saturday night showdown at Kentucky Speedway. Over the past 2 seasons, fans have seen pure domination out of Martin Truex, Jr. in Kentucky. However, don't expect that to be the case this time around. So far this year, we have seen that the 2019 aero package has made the racing at 1.5 mile ovals much tighter. With that in mind, it could mean that this weekend's race could bear a new winner for the 2019 season. One to watch for this weekend to do just that is the driver of the #12 Penske Mustang. As Ryan Blaney searches for his first win on the season.
Kentucky Shows Promise as Blaney Searches for his First Win of 2019
So far in his short career, Blaney has made just 3 starts at Kentucky Speedway. In 2016 his day was cut short by an early wreck which relegated him to a 35th place finish. However, in his 2 starts since, Blaney has shown improvement each time. In 2017 Blaney did not score points in either stage and went home 10th. It was a solid but not spectacular day for the sophomore driver. 2018 is when the major improvement came for Blaney. Blaney placed 4th and 3rd in the first two stages of the race and went home with a 2nd-place finish. A great day for the young driver who finished second to only Truex. Truex Jr. is the man who has tallied the most points possible at Kentucky since 2017.
Blaney on Kentucky's Changes
"You just have to be able to carry speed everywhere," Blaney said on racing the new package at Kentucky. "The corner speeds are high, especially through 3 and 4, you're going a lot faster than what you usually go. It's a lot about commitment, about tempting yourself to keep your right foot down, it's just not what has been the narrative for the past handful of years. Since I've been in the Cup Series the spoilers have been way smaller and it's been all about backing corners up, trying to get runs off the corner. Now it's just not really the car, you have to be able to maintain speed all around. It's different, here's different, you just have to learn to adapt to the higher corner speeds."
If his trend of yearly improvement at the track continues, that bodes well for Blaney. The only better result he can get is a win. As Ryan Blaney searches for his first win of the season in Kentucky, he may very well find what he is looking for. Blaney has been running better as of late after a mid-season slump. There would be nothing better for Ryan than to get a win and roll into the Playoffs with momentum.
Be sure to follow us on Youtube and Twitter.
Written by Conor Borus
Photo credit to NASCARMedia.