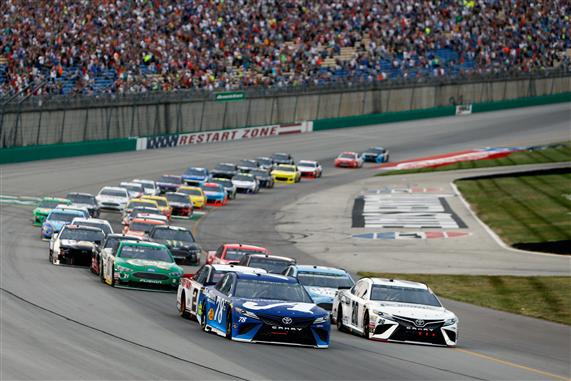 Playoff Shakeup Following Daytona; Ahead Of Kentucky
An Intense Race At Daytona Shakes Up Playoff Standings For Kentucky
There's no doubt that Daytona provided a number of shocking storylines this past weekend.  One of the most interesting of those would be the intense battle for a spot in the playoffs.  With 8 races remaining in the regular season, many big-name drivers currently sit on the playoff cut line.  Following an intense race in Daytona, a few drivers will need to turn things around quickly.  This weekend they look to Kentucky to do just that.
Drivers Just Above The Cutline
When we take a look at drivers just above the playoff cutline you'll notice some big names.
Right now 21-year old William Byron sits in the 12th spot 58 points to the good.  In just his sophomore season, it seems the entire 24 team has been able to turn themselves around.  In the last 7 races, he's claimed over 70 points to go from below the cutline to a semi-comfortable 12th spot.
Currently In the 13th spot sits Jimmie Johnson.  Many have wondered what it will take to get Jimmie back to winning contention.  Although this season has been a big struggle early, with two top-five finishes in a row Johnson may be on the uprise.  The 7-time champion currently sits just 34 points above the cutline.
Right behind Johnson is fellow California native, Kyle Larson.  With only 33 points holding him above, Larson has had decent speed without results all season.  He was almost able to punch his ticket with his pass of Alex Bowman in the closing laps at Chicago but was not able to hold the lead.  Looking forward the team just needs consistency.  Finishing races without incident is their biggest task.
In the 15th position sits Clint Bowyer.  Bowyer has quickly become an example of how fast things can change.  Following Pocono in early June, Bowyer sat 10th in the points standings.  Since then he's had 3 DNF's in the last 4 races.  That quickly dropped the Kansas native to 15th with only 4 points separating him and a chance at missing the post-season.
The final driver on the inside looking out is Ryan Newman.  Newman will need to continue his aggressive driving style and decent finishes to remain in contention.  He currently sits just 3 points above.
Drivers Just Below The Cutline
Drivers just below the playoff cutline include Daniel Suarez (-3), Erik Jones (-13), Ricky Stenhouse Jr. (-45), and Paul Menard (-53).  The two most surprising on this list are Suarez and Jones, both who are drivers that compete for top tier teams.  Though Stewart Haas Racing, the team Suarez currently competes with, is still winless this season, they've had decent success.  As for Erik Jones, he remains the only driver that is winless this season for Joe Gibbs Racing.  Both young drivers have now become "regulars" in the Cup Series and need to start showing better performance.
Who Will Win Kentucky And Improve From Daytona?
Will it be another first-time winner this weekend at Kentucky?  Could this weekends winner throw a major shakeup into the current playoff standings?  Make sure to catch all the action Saturday night at 7:30 PM EST on NBCSN as Daniel Suarez leads the field to green.
Written by Noah Lewis
Be sure to follow us on Youtube and Twitter.
Be sure to follow the writer on Twitter.
Photo credit to NASCARMedia.