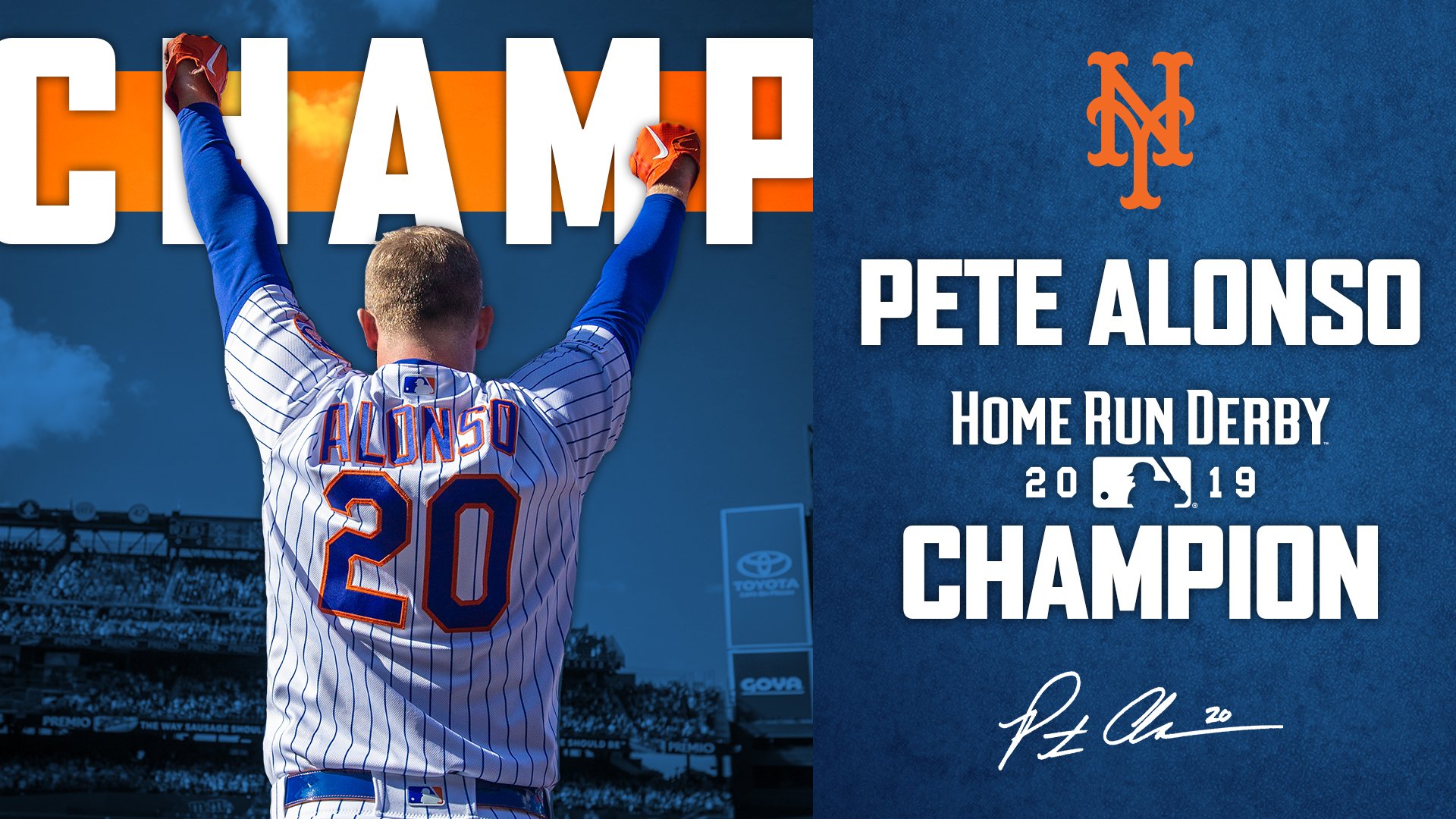 Pete Alonso 2019 Home Run Derby Breakdown
First Round
The first round of the 2019 Home Run Derby paired Met's rookie Pete Alonso against the Cleveland slugger Carlos Santana. If this year's derby was as typical as years before a 13 home run first round would be almost a guarantee to move on. However, this year that would not be enough. Pete Alonso smacked 14 home runs to advance while only using the regulation time. Pete earned the 30 extra seconds during this round, but it wasn't necessary in order beat Santana. During this round we were provided with a glimpse of the power Alonso wields when driving the baseball.
Second Round
The second round of the 2019 Home Run Derby pitted Alonso against the Braves switch-hitting outfielder Ronald Acuña Jr. Acuña had a very impressive showing launching 24 home runs in Round 1 and 19 in Round 2. The reason that Acuña was so effective was that he wasn't trying to pull everything to left field but instead he was just receiving the ball and driving it out of the park to all sides of the field. Alonso once again got off to a slow start in the round but once he got into that rhythm he was unstoppable. He launched 20 home runs to continue on in the derby. Miraculously Alonso once again was able to defeat his opponent without using extra time that he had earned. During this round he was able to deliver a 469 foot home run.
Championship Round
The championship round set the heavily favored Vladimir Guerrero Jr. against the Mets' slugger Pete Alonso. Vladimir set the single round record with 29 home runs, and the most home runs ever hit in a single competition with 91. Guerrero Jr. was the favorite to win the event due to how much raw power he possesses when hitting a baseball along with all of the hype that he draws being the son of Vladimir Guerrero who's a Hall of Famer. He ended up hitting 22 home runs in the final round which everyone knew would be a challenge to overcome. Alonso was explosive using all parts of the ballpark and earning the extra time for the third consecutive round. The pitch was middle in and is crushed to deep left field. Pete Alonso has just won the 2019 Home Run Derby. Alonso is a player with a lot of power. This accolade will continue to mark him as a force to be reckoned with at the plate.
Written By Anthony Carroll
Follow TSJ: MLB on Twitter
Photo credit to Mets via Twitter
Follow TSJ on Facebook and Twitter