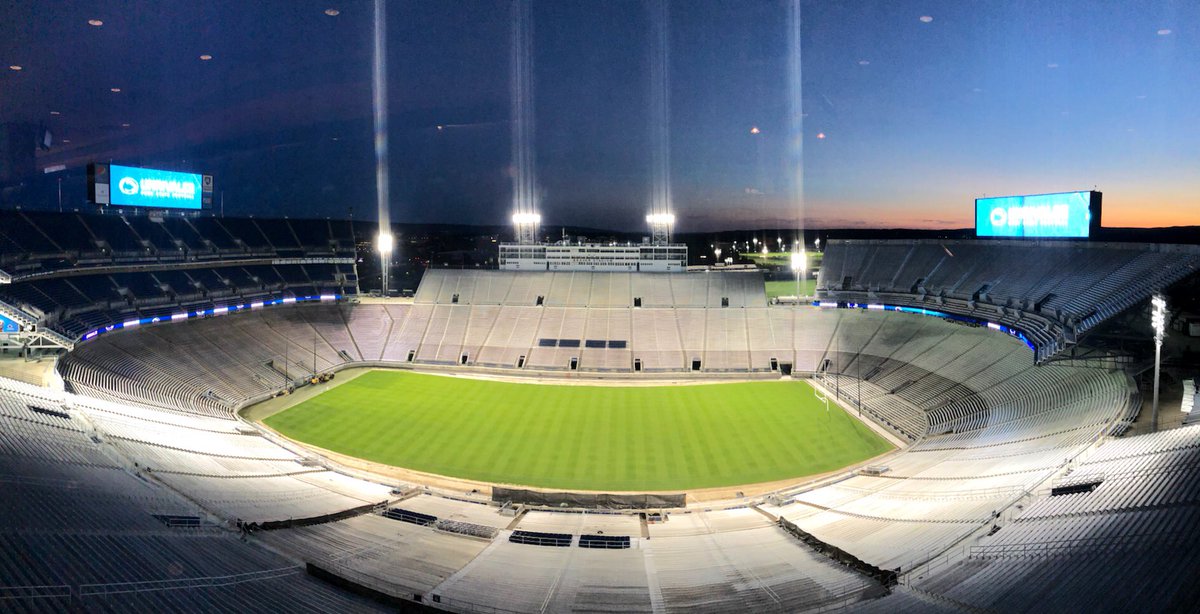 Penn State Football Preview
Let's all be honest, we miss College Football. Well the good news is that the College Football season is less than a month and a half away. So without further delay, let's begin with a Penn State Football preview.
Season Preview
Penn State Football will play an interesting schedule this season. It all starts in week one when they Welcome Idaho to Happy Valley on August 31st. The Vandals were originally an FBS school when this match-up was agreed upon. However, Idaho moved to the FCS division a couple years ago. The Nittany Lions will continue with two more home games against Buffalo in week two and then the much anticipated week three showdown with the Pitt Panthers. This showdown with Pitt will be the 100th meeting between the two Keystone state rivals. Furthermore, Penn State will have four other home dates which include homecoming against Purdue, Whiteout against Michigan and dates with Indiana and Rutgers.
Dress Code Games
Penn State Football fans are some of the nation's most devoted fans on earth. The student body along with fans ultimately enforce specific dress codes for specific games. This upcoming season is no exception. The match-up with the Pitt Panthers will be the stripe out game. The game against Michigan will be the obvious White Out game.
Offensive Departures/Replacements
This upcoming season will be a unique one considering all that Penn State lost due to the 2019 NFL Draft. Let me start with one of the most obvious position: running backs. With Miles Sanders in the NFL, Ricky Slade will take the No. 1 spot for running backs followed by Journey Brown in the second slot. Early enrolle Noah Cain participated in spring ball and has become familiar with the system. Devyn Ford arrived earlier in the summer too. The most obvious position to see a change is the quarterback position. Trace McSorley is with the Ravens and former front-runner Tommy Stevens transferred to Mississippi State. Sean Clifford the red-shirt freshman seems to be the guy, Additionally, wide receiver corps will look a bit different due to the transfer of Juwan Johnson to Oregon and DeAndre Thompkins who was a senior. KJ Hamler will look to have another stellar season. On the other hand, Justin Shorter and Jahan Dotson should get reps while Mac Hippenhammer will be a back up and the Nittany Lions will welcome two grad transfers in Weston Carr and George Campbell. Lastly, the offensive line lost two key starters in Ryan Bates and Connor McGovern. The left side will see left guard Steven Gonzalez return for his final year. Left Tackle has a chance to see Rasheed Walker to win the job. The right side of the line will see some veteran presence with Will Fries and CJ Thorpe. Center Michal Menet will return at center.
Defensive Departures/Replacements
There is no question that this season the defense for Penn State football should be scary good. returning is linebacker Micah Parsons who led the team in tackles with 82. Albeit that Koa Farmer is gone. On the other hand, twp starters on last year's squad won;t be returning in defensive end Shareef Miller and defensive tackle Kevin Givens. However, guys like Junior defensive end Yetur Gross-Matos will be returning after a break out season that witnessed 54 tackles and 20 of those were for loss with eight sacks too. Robert Windsor also returns which solidifies experience up front. Additionally, defensive tackle Antonio Shelton and defensive end Jayson Oweh will provide experience as well.
Senior Jan Johnson will also be in the linebacker role along with outside linebacker Cam Brown who is entering his senior season. The linebacker position on this team is one that has not only depth but talent. Sophmore Jesse Luketa along with true freshmen Brandon Smith and Lance Dixon (both are top recruits at their position) will solidify what is a talented group of linebackers. The secondary loses two key starters but veteran John Reid and junior Tariq Castro-Fields will look to take over the cornerback positions. Lastly, at safety, junior Lamont Wade will look to show why he's one of Pennsylvania's top recruits. Garrett Taylor will fulfill the other safety spot.
Predicting Overall Schedule
Penn State may have an easy schedule to begin with the three straight home games. However, the heart of their schedule is what matters and will test the true talent of this team. The Nittany Lions' toughest three-game stretch will be at Iowa October 12th, home against Michigan October 19th and away at Michigan State October 26th. If the Iowa game is at the time slot it was two year's ago, it'll definitely be considered at trap game. Penn State football preview, James Franklin will have his team ready to most certainly battle the tough Big Ten schedule.
Conclusion
Penn State Football preview. I think this Penn State team could win ten games. On the other hand, Michigan, Ohio State and Michigan State will be tough opponents along with Iowa. The Nittany Lions will need to take advantage of the early Big Ten teams and win often. This could be a special season if things fall into place.
Written by Tom Johnston
Photo Credit to PennStateFootball via Twitter
Follow TSJ on YouTube and Twitter