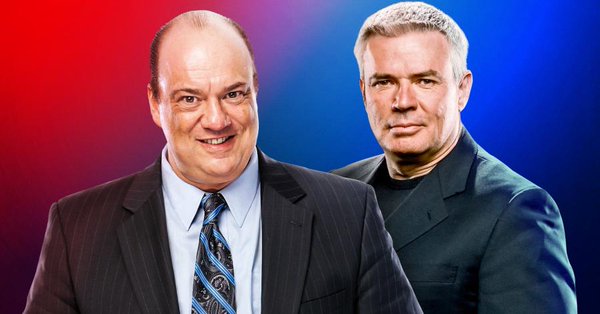 Eric Bischoff
Eric Bischoff and Paul Heyman are now officially appointed as New Chief Executive Directors (full-time), by Mr.McMahon.  Easy E will handle Smackdown meanwhile Heyman handles Raw, but even though they have the creative control over Raw and Smackdown; both needs to report directly to the WWE Chairman Mr.McMahon.
Is it best for business?
They were the GMs of Raw and Smackdown respectively once before but it didn't work out. But now they have a much higher power in the creative department; they still have to directly report all their ideas to Mr.McMahon. It's not totally a bad thing because World Wrestling Entertainment is still owned by Vince McMahon. Since it's his company, and being the chairman, it's his right but one thing Mr.McMahon needs to do is not treat them like his previous Smackdown's creative BG James (Road Dogg).
What Mr.McMahon needs to do about his newly appointed Chief Executive Directors
Let them interact with wrestlers; allow them to have their own ways of running the shows. Like Bischoff said about the brand split and the newly added wild card rules in an interview:
"I think after going through my own experience and having been a part of WWE's experience, the advice that I have would be to be as disciplined as you can possibly be at keeping the brands distinct.

If you don't make them feel completely different, it won't work. And part of that is creating stakes, part of that is, it's got to feel real, it's got to be believable or nobody's going to buy into it.

But don't let the talent start transitioning back and forth because you dilute the concept. They won't feel like two brands, they'll just feel like two different shows, which is what they already feel like."
Eric Bischoff continues,
"It needs to feel a little gritty, at least one of them. They both don't have to feel gritty but one of them has to feel a little edgy, a little dangerous like something's going to happen that you wouldn't expect on one show, because it's a little less sophisticated.

That's the magic and if they both start feeling very well produced, almost glossy in their presentation, and the talent is jumping back and forth, I won't give it six months.

You won't hear the term brand extension six months from now. It'll suffer the same fate that it suffered the last time they tried it because that's what happened the last time they tried it."
For Paul Heyman, he has been working subprojects within WWE with megastars like Charlotte Flair, Ronda Rousey, and Brock Lesnar. Later with Goldberg, Becky Lynch and Aleister Black; now we know who knocks his door and which brand he will be featured in.
Official Statement from WWE,

"In their executive roles, Heyman and Bischoff will oversee the creative development of WWE's flagship programming and ensure integration across all platforms and lines of business. The creation of these roles further establishes WWE's ability to continuously reinvent its global brand while providing two distinct creative processes for its flagship shows."
All of the fans will look forward to this shake up and I for one will say this that the first hour of Raw next week will surely go up.
Even the COO himself took it to his official Twitter, welcoming the legendary former promoters back to the team. This is what the Game tweeted:
"Two people who pushed our industry and @WWE forward over the last 25+ years. Great to have @HeymanHustle and @EBischoff working on #Raw and #SDLive. Welcome BACK to the team,"
Eric Bischoff will also have on-screen time like Raw's Chief Executive Director Paul Heyman
WWE Fans questions were being answered in the advertisement of next week Raw and Smackdown that both might be appearing on their respective shows or maybe on Raw.  The former WCW president will have his hands full because Smackdown show will be going to FOX network which will give him more pressure than the former owner of ECW. But Nitro beats RAW for 83 straight weeks; he has no problem running the land of opportunity, Smackdown Live to a much better show.
TSJ Writer Andrew Aung's Suggestion
For Raw, Mr.Heyman needs to push EC3, Robert Roode and Cesaro (The Main Event Muscle Men) rather than Baron Corbin because Corbin needs to return back to his NXT debut style.
How can he go back?
Through Bray Wyatt! Let Bray brainwash him into a monster, and re-debut as he once was before with a mask and long hair; ask Abyss to join the freak show too. Another thing is rather than Aj Styles turning heel, Heyman should make a twist and turn Balor heel by good brothers (Luke Gallows and Karl Anderson) joining with Balor and double-crossing Styles. It's better because Styles is retiring with a year or two so why not give the spotlight to someone who still has a lot more in his tank.
For Smackdown, Mr.Bischoff now need to do what he said in his previous interview; totally change the show to something different than RAW. Something more edgy, more unpredictable while put some weight classes in men's division. The mid-class superstars can only eligible to challenge the heavyweight class if they are 3 times Intercontinental Champion or US Champion. This way the mid-level title will have more value and meaning to fight for.
Eric Bischoff needs to make an impact by bringing back classic titles starting with Tag Team Titles
Smackdown already got one classic title; why not bring back the classic tag team titles that will bring the much-needed division a boost! And rename the Women's title Queen of the Ring Title with a stipulation like always defending it in a triple threat match, or something challenging; the reason those two titles needs to be changed is that those two are the only two similar with RAW titles. If Mr.Bischoff wants to completely look, feel differently with what Raw is bringing; he needs to start with the titles that are similar.
Smackdown needs to push Samoa Joe to a top heel champion who has the similar reaction like stone cold while he was feuding with Brock Lesnar Last year but WWE screwed it up and his popularity when down like Braun Strowman. What these two Chief E. Directors needs to do is like any game, do a superstar exchange, no more wild card BS, just simple one exchange: Bobby Lashley and Finn Balor.
Why?
Raw already has Brock Lesnar but Smackdown doesn't have a dominator like Bobby Lashley; his talent is being wasted like he is being punished for leaving WWE in the past. For Balor, he gave up the IC title, goes to RAW and he can either feud with Seth Rollins or Ricochet and then with Aj Styles like in the above.
These will surely bring ratings back to 3.0 at least.
What do you think? Please discuss and leave a comment below.
And follow TSJ on Twitter:
@T101Sports and @T101SportsWWE
Follow the writer:
photo credit to WWE via Twitter