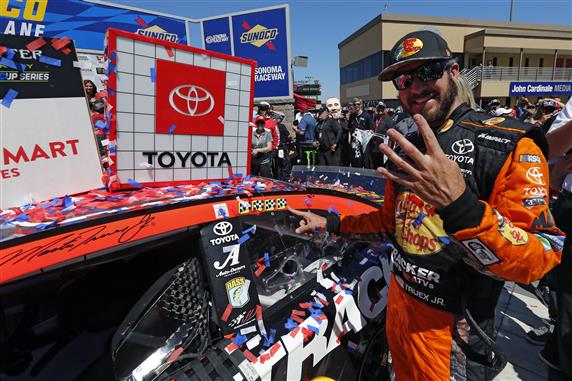 Martin Truex, Jr. Leads the Way in Strong Toyota Run at Sonoma
The Joe Gibbs Racing 19 crew and Martin Truex, Jr. picked up right where they left off in Sonoma. While Truex did have challengers throughout the day, he went on to his second-straight victory on the northern California track. Behind him though, all of Toyota had a strong run in the manufacturer's home state. By the end of the race, 5 Toyota Camrys would be in the top 8 positions. It truly was a banner day for Toyota, as this marks their 10th win of 2019.
Byron Blasts Away Early
Although the day would eventually belong to Toyota, a couple of Hendrick Chevrolets were pacing the field early on. After starting 2nd, William Byron beat Kyle Larson at the start to gain the lead. By the end of lap 1, Larson had fallen back to 3rd behind Byron's teammate Chase Elliott. The first lap at Sonoma would mark Byron's first ever lap led on a road course.
Further back on the opening lap, Kurt Busch made contact while racing Clint Bowyer for the 15th position. The 1 did have a significant tire rub, but was able to continue without issue.
By lap 3, Byron's lead was over a second. Despite only having 1 prior Sonoma start, Byron had plenty of on-track time at Sonoma due to simulations. This extra preparation was paying dividends early on, as the 24 was the class of the field.
Pit Strategy Affects Stage 1 Results
With pit strategy at a premium on road courses, many teams opt to come in for service prior to Stage breaks in order to gain position. This was the case during Stage 1, as pit road got very busy before the lap 20 yellow. On laps 17 and 18, all but 12 cars would pit. This included 2nd place Chase Elliott and 3rd place Martin Truex, Jr. Due to already being in the Playoffs, both of these teams could afford to sacrifice Stage points in this early run.
The Stage 1 win would go to William Byron, his first ever Stage victory. Behind the 24, Denny Hamlin, Joey Logano, Kyle Larson, and Aric Almirola all gained Stage points by not pitting. Under the Stage break, the top 12 would stop and be put back in traffic. On pit road, both Hamlin and Larson would pass Byron. The Stage 1 winner would start Stage 2 in 15th.
New Leaders Up Front For Stage 2
Due to pitting prior to the end of Stage 1, Chase Elliott and Martin Truex, Jr. would inherit the top spots for Stage 2. Both of these drivers were road course winners a year ago; Truex won at Sonoma while Elliott won at Watkins Glen. Despite restarting with the lead, Elliott would succumb to Truex in turn 1 by running too wide. The 19 was clear by turn 2, and began pulling away from the field. 10 laps into the 20 lap segment, Truex's advantage over Elliott was nearly 2 seconds. Meanwhile, Kyle Busch had maneuvered his way into 3rd. Busch was perhaps Truex's biggest competition for the Sonoma win, as both Toyotas had a strong run in practice.
Pit strategy would again come into play late in Stage 2. By forgoing Stage points, teams would be able to make the race on just 1 more pit stop. On lap 37, the top 3 all made their way into the pits for service. This would hand the lead to Denny Hamlin, who was 3 seconds ahead of Brad Keselowski. Hamlin would take the Stage 2 win, his second of the year.
Once again, the Stage would end with 15 drivers who had yet to pit. All 15 of them would come in for fuel and tires, with the first out being Hamlin. Due to much of the field pitting before the Stage break, Hamlin would restart outside the top 20. Little did anyone know at the time, but the Stage 2 break would be the last caution flag of the afternoon from Sonoma. The final Stage would be a nonstop 50 lap run to the checkers.
Toyota Teammates Surge Ahead in Final Run
When racing resumed with 46 laps to go, Truex would again clear Elliott for the lead by turn 2. Ryan Blaney would briefly take 2nd away from Chase Elliott, but the 9 motored back around the 12 a lap later. On lap 47, Kyle Busch made a slight misjudgment and got into Blaney. The 12 would be pushed wide by the 18 and Kyle took the 3rd position. Kyle immediately came over his radio to apologize for the contact, saying "that was my bad, I'm an idiot." By lap 51, Busch caught and passed Elliott for 2nd place, several seconds behind Truex. Despite some significant nose damage, Busch began to run down Truex.
Contender's Run Ends Early in Final Pit Cycle
With 30 laps remaining, the field began to trickle into the pits for their final stops of the day. On lap 61, Chase Elliott came in from 3rd reporting a problem. Elliott claimed that he was "blowing up," as his car was smoking in the pits. The 9 team would push their Chevrolet behind pit wall and out of the race. After being up front all day, Elliott was relegated to a dismal 37th place finish. This marked only the second engine failure of his Cup Series career, and his worst finish in more than 2 years.
Truex, Jr. would make his final pit stop on lap 63, but amazingly Busch opted to stay on track. The 18 would pace the field for 3 circuits before coming in. Prior to Truex's pit stop, the top 2 were separated by 1.5 seconds. Now the gap was over 8 seconds, but the 18 had fresher tires. With 3rd-place Ryan Blaney being more than 25 seconds behind Truex, the race was on between the top 2 with 23 to go. During this run, Kyle was putting up consistently faster lap times, including his personal best of the day. By lap 78, the gap was below 2 seconds.
Significance of the Win For Truex
Despite catching some lapped traffic late, Truex was able to manage his gap and win by 1.8 seconds over Busch. This win marked Truex's 4th checkered flag of the year, tied with Kyle Busch for the series record. Truex has now won at Sonoma 3 times, including the last 2 years. Lastly, this is the 23rd Cup Series win for MTJ, tying him with Ricky Rudd and Joey Logano for 34th in all-time wins.
Other Notables in the Top 10
Behind Truex and Busch, Ryan Blaney tied his season-best result in 3rd place. Matt Dibenedetto set a career-best finish at his home track, bringing home the 95 Leavine Racing Toyota in 4th. This is Dibenedetto's first career top 5, his previous best result was 6th at Bristol. Rounding out the top 5 was Denny Hamlin, who made a late charge to put 4 Toyotas up front.
Following Hamlin was Kevin Harvick, who had an uncharacteristically quiet day mired outside the top 10 until late in the race. Ryan Newman also tied his season-best run in 7th, bringing home another top 10 for Roush-Fenway Racing. Erik Jones' late rally put all 4 Joe Gibbs Racing Toyotas in the top 8, his second top 10 at Sonoma. Aric Almirola was able to recover from a spin to finish 9th, his first top 10 run since Talladega. Lastly, polesitter Kyle Larson bounced back from an early drop off to come home 10th.
How to Watch the Next Race
The next stop for the Monster Energy NASCAR Cup Series is Chicagoland Speedway, now on NBC Sports. The NASCAR On Fox 2019 season is over, and with it Darrell Waltrip ends a 19-year career as a commentator. The Camping World 400 at Chicagoland Speedway marks the 2019 return of NASCAR On NBC, on Sunday, June 30 at 3 PM EST. Coverage will be on NBCSN, MRN, and SiriusXM NASCAR Radio Channel 90. Last year's Chicagoland finish was one for the ages, can another dramatic conclusion happen this time around?
Be sure to follow us on Youtube and Twitter.
Written by Peter Stratta
Be sure to follow the writer on Twitter.
Photo credit to NASCARMedia.