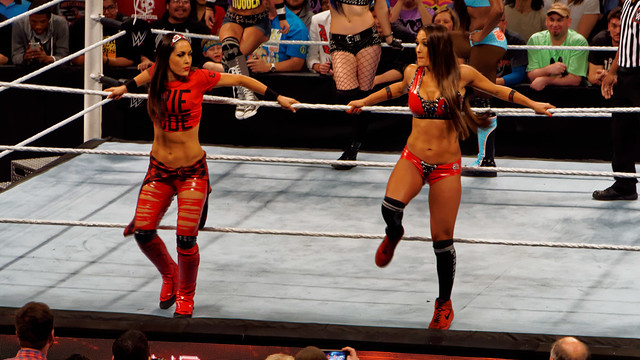 Nikki Bella Confirms In-Ring Career is Over
As always, I'm here to report the Bella news. And unfortunately, this news tragedy about Nikki Bella's in-ring career is heartbreaking.
During their appearance on "The Tonight Show with Jimmy Fallon," Nikki Bella revealed that a return was actually discussed between the twins. Brie had interest in going after the new Women's Tag Team Championship titles. Undoubtedly, they would have had an excellent run given the opportunity. However, that won't happen due to Nikki's ongoing health concerns. In fact, during the interview, Nikki told the world that her in-ring WWE career was completely over. Her neck issues have become too serious to risk anymore, and she revealed that she has a cyst on her brain.
"I've always had my beck issues. And after neck surgery, it hasn't been okay. I feel like I needed to get that check up before we went back for the tat titles. I herniated the disc above where I had surgery. I had all this inflammation around the metal, and I have a cyst on my brain."
That's pretty scary news in itself. TMZ caught up with Nikki, and posted the following video on their YouTube channel:
The Bella Twins haven't appeared on WWE television since last October's Evolution pay-per-view. During that all-women's event, Brie was in Nikki's corner for a RAW Women's Championship against former UFC fighter, Ronda Rousey. Both Bellas announced their retirement just a few months ago while on their television show, Total Bellas.
Brie Bella Might Still Have "One Last Match" in Her
Just because Nikki's in-ring career has ended doesn't mean we've seen the end of the Bellas completely.
Brie Bella hasn't been in the ring because she's been busy being a mom and working on all of their companies. However, Nikki suggested on Twitter that Brie and Daniel Bryan could tag-team against another power couple, Seth Rollins and Becky Lynch.
Never say never, I guess.
(But as a fan, I say no thanks to that one!)
Written by Ashley Sweetly
Follow Ashley Sweetly and TSJ:WWE on Twitter!
Photo credit Miguel Discart via Flickr
Follow TSJ on YouTube and Twitter