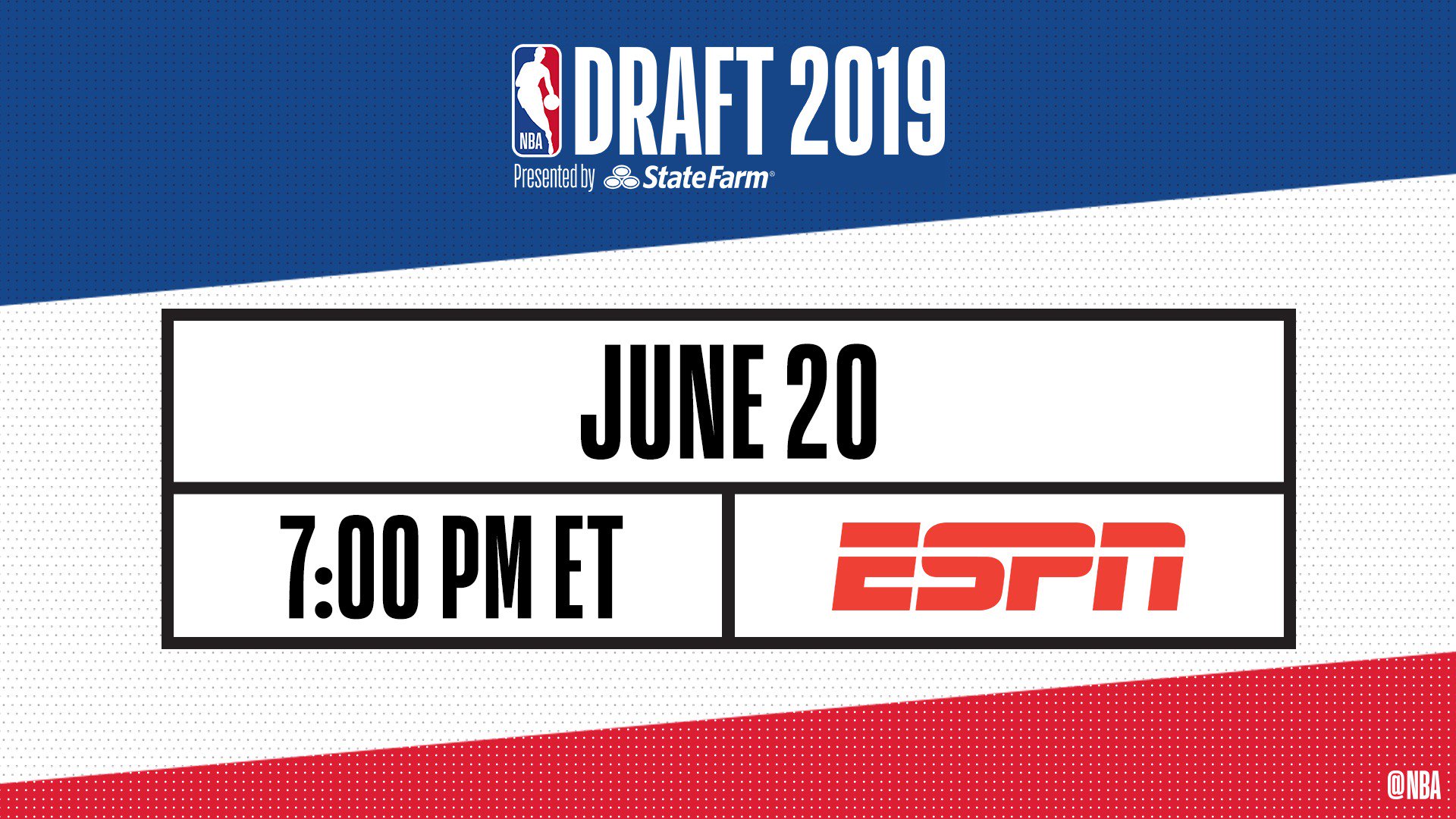 NBA offseason: 2019 NBA Draft-Mock Top 10
The 2019 NBA Draft takes place Thursday night live on ESPN
The NBA offseason will begin for all teams in tomorrow's 2019 NBA Draft. The order has been set but many trades are expected before and during the draft. Many people expect the New Orleans Pelicans to pick former Duke freshman Zion Williamson with the first overall pick, but there may be some surprises. Here is TSJ101sports' mock draft for the 2019 NBA Draft top 10:
Pick # 1 –New Orleans Pelicans: Zion Williamson 6'6" PF-Duke
This pick has been a no-brainer months before the draft. After he survived his injury scare at Duke, Williamson has cemented his place at the top of this draft. New Orleans was extremely lucky when they won the NBA draft lottery last month, and have already moved on from their last number one overall pick, Anthony Davis. He was traded away to the Lakers last week, and this team will be built around Williamson. He was a force at Duke taking home to Wooden and Naismith Awards for the Nations top college player last season.
Pick #2 – Memphis Grizzlies: Ja Morant 6'3″ PG-Murray St.
Memphis was also a winner in last month's Draft Lottery. They only had a 6% chance to land the top two picks, yet they managed to land the number two pick. This pick has also been a no-brainer, as Morant showcased his high flying style, as well as his court vision in this past NCAA season. He led Murray St. to the NCAA tournament and put on a show in the two games he played. Memphis has made room for him by trading away former point guard Mike Conley to Utah and look to rebuild around Morant and last year's number four pick Jaren Jackson Jr.
Pick #3 – New York Knicks: RJ Barrett 6'7″ SG-Duke
The Knicks finished last season with the worst record in the NBA last season. They may have felt like losers in the lottery after having the best odds to land the number one pick but ended up at number three. Barrett may be a blessing in disguise for the Knicks. They will get a talented player that wont have to worry about becoming the franchise savior like he would if this were the number one pick. Barrett is a big scorer that plays above the rim, and has a quick first step. He is a good shooter but not great, and will have to improve his range to become a NBA level 3-point threat.
Pick #4 – New Orleans Pelicans: Darius Garland 6'2″ PG-Vanderbilt
The Pelicans received this pick from the Lakers in the Davis trade. Most people believe that they will be trying to move this pick before or during the draft. Garland is considered the second best point guard behind Morant. The NBA has become a point guard league this pick makes sense if New Orleans is trying to make a move with it. If they keep the pick, don't be surprised if the look for a wing player. For now, this pick gives them the most flexibility, with multiple teams behind them looking for a point guard of the future. Garland only played five games this past season for Vandy but is still considered top-5 talent in this year's draft.
Pick #5 – Cleveland Cavaliers: DeAndre Hunter 6'7″ SF/PF-Virginia
The Cavs have many holes in their roster, so pretty much any player that they pick here will be a fit. Hunter is coming off a tremendous NCAA tournament were he led Virginia to a National Championship. He is a long, athletic forward that can guard many different positions. He does everything well, but is not really great at one thing. This will be a safe pick for the Cavs who can plug Hunter into the rotation, and immediately improve their team defense. Other players they could look at here are Jarett Culver or Coby White.
Pick #6 – Phoenix Suns: Coby White 6'5″ PG-North Carlonia
The Suns are in desperate need of a point guard and a very talented one could fall to them at pick number six. White is a lightning quick combo guard that can score as well as facilitate the offense. He would pair well with Sun's superstar Devin Booker, and would fill a need that Phoenix has had for the past three seasons. White is the last of the top-10 level point guards so he will not make it past Phoenix. The Suns may be involved in trading up with New Orleans as they are looking to move the number four pick.
Pick #7 – Chicago Bulls: Jarrett Culver 6'6″ SG/SF-Texas Tech
The Bulls are looking to build upon their young core they have collected over the past few seasons. Culver would help build upon what the Bulls are trying to do. He is an athletic wing that has a tremendous first step, as well as the ability to defend multiple positions. He became a big name after he led the Red Raiders to the National Championship game. His defense is probably his strongest asset as well as a high basketball IQ. He would provide another quality piece to the baby Bulls rebuild project.
Pick #8 – Atlanta Hawks: Cam Reddish 6'8″ SG/SF-Duke
This is Atlanta first of their two top-10 picks in this draft. They will look to add scoring help to last years top pick Trae Young. Reddish was highly touted out of high school and joined fellow freshman at Duke, Williamson and Barrett. He never really lived up to his hype, and was inconsistent at Duke. He was a up-and-down shooter that would score 20 one game and then single digits the next. His shooting percentages are also a concern for someone who is considered an offensive minded player. Reddish upside will get him into the top-10 but it comes with a risk. Atlanta may be the perfect team for him, because they are still a few years away from contending.
Pick #9 – Washington Wizards: Sekou Doumbouya 6'9″ SF/PF-France
The Wizards will use this pick on potential and not immediate need. Doumbouya has the physical tools to make it in the NBA, and is the youngest player in this years draft. He will be a project that the Wizards will have to take their time to develop. He will be a defensive player at first, and his offense will come with maturity. The Wizards need young players that they can build on. They were a bottom of the league defensive team so this is the type of player they need to take and build around.
Pick #10 – Atlanta Hawks: Jaxon Hayes 6'11" PF/C-Texas
The big man from Texas will be the first big to go off the board in this year's draft. He he makes it past the Wizards at pick nine, the Hawks will be quick to grab him. Haynes is a young, athletic, rim protector that will provide an immediate presence on the defensive end. This past season he led the Longhorns with 2.2 blocks per game, playing only 23 minutes a night. He has a 7'4″ wingspan and can run the floor with the best of them. His weakness is strength and will need to fill in with muscle to be able to handle the league's big men but that will come with age.
Written by Blair Young
Follow Blair and TSJ: NBA on Twitter!
Photo credit to NBA Draft via Twitter

Follow TSJ on YouTube and Twitter